What are the popular places to visit in Melbourne?

Melbourne is an inspiration in disguise of a swanky city. The erstwhile capital of Australia is not only about skyscrapers, heritage trams, rooftop bars, beer or edgy cafes, but also about a vibrant art scene, commitment to culture, and a passion for cricket. It's a city where literature has enough space to grow, street art flourishes in complete freedom, and a cosmopolitan crowd celebrates in unison. Melbourne is defiantly modern with a strikingly rich history which the Victorian-era buildings can vouch for.
Melbourne Facts
It is also known as the 'Cultural Capital of Australia.'
National Gallery of Victoria has the largest stained glass ceiling in the world.
The Tram network of Melbourne covers a stretch of 155 miles with around 493 trams plying across the city.
The speed limit for cars in Melbourne is about 194 miles/h.
The famous Australian beer, Fosters, was first brewed in Melbourne.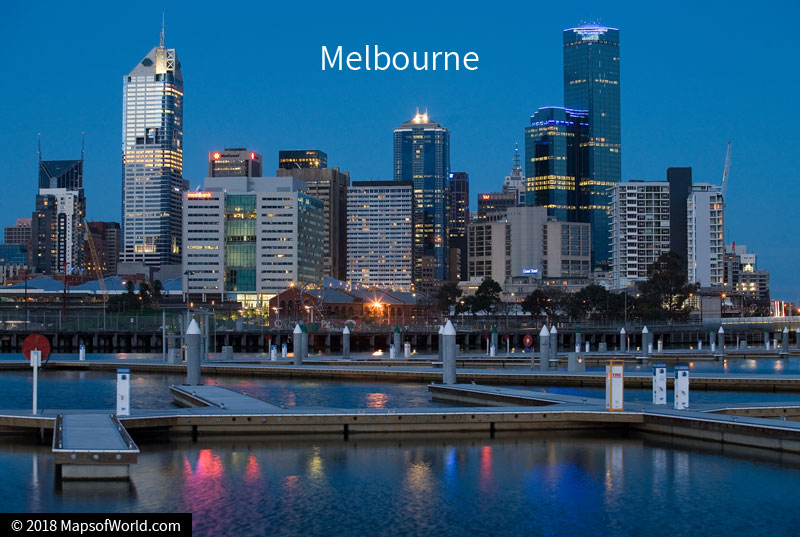 Places to visit in Melbourne
State Library of Victoria – Since its inception in 1854, the State Library has been the mecca for Melbourne's literary and literate population. It's a paradise for readers who can choose from more than two million books.
Royal Exhibition Building – This UNESCO World Heritage Site was built in 1880 as a venue for the International Exhibition. The magnificent Victorian structure, which is a symbol of the glorious past, continues to host exhibitions and other events.
Chinatown – A wonderful concoction of Asian and Chinese restaurants is what draws travelers to this place. Nowhere in Melbourne will you see Chinese New Year being celebrated with so much vim and vigor.
Royal Botanic Gardens – It's no exaggeration to say that it's one of the best botanic gardens in the world. It houses both Australian and global flora. The gardens, located beside the Yarra River, host theater performances in summer.
Melbourne Museum – Get acquainted with the natural and cultural history of Australia by visiting this treasured museum. From examples of giant squid to dinosaur fossils, the largest museum in the Southern Hemisphere showcases every facet of the past.
Queen Victoria Market – Replenish your stock of soft cheese, sausage, kangaroo biltong, or wine by shopping at the largest open-air market in the southern hemisphere.
Flagstaff Gardens – The oldest park in Melbourne is also one of the most visited ones. It's highly regarded for its historical and horticultural importance.
Melbourne Cricket Ground – Even if you can't make it to a game, it's always a pleasure to walk through the stands, have a look at the ground and imagine the frenzy that rocks the stadium when 100,000 enthusiasts cheer for their team.
Things to Do in Melbourne
Balloon Flight at Dawn – Discover the magical side of Melbourne by taking a hot air balloon ride over the city skyline at dawn. This one-hour ride with optional champagne breakfast is the best way to start the day.
Phillip Island – Take a day trip to Phillip Island to watch kangaroos and koalas at the wildlife park. Give an amusing twist to the trip by visiting Summerland Beach at sunset and watching penguins from a close range as they parade the beach.
Winery Tour to Yarra Valley – Wine tasting should happen when you are in Yarra Valley. This day-long trip takes you to some of the renowned wineries such as Yering Station and Domaine Chandon. The Picturesque setting comes as a complimentary gift.
Dinner Cruise – When the city lights come out, it's time to take a cruise across the Yarra River. This 3-hour dinner cruise is a fine experience as wine and surrounding vistas keep you in high spirits. Read more
Accommodations
Those who prefer a luxurious stay can check in at The Hotel Windsor, Crown Towers, InterContinental Melbourne, The Langham Melbourne, Sheraton Melbourne Hotel, or Melbourne Marriott Hotel. If mid-range accommodation is on your mind, you can count on Hotel Sorrento, Holiday Inn Melbourne on Flinders, Radisson on Flagstaff Gardens, or Middle Park Hotel. Hotels such as The Prince, Crossley Hotel, Hotel Causeway, and Tribeca Serviced Apartments cater to budget travelers.
Restaurants
You have a wide range of options to choose from. The names such as Attica, Vue de Monde, Cumulus Inc., and Woodland House are preferred addresses for trying local cuisines. While Supernormal is an excellent eatery to explore the best of Asia, Kenzan Japanese Restaurant is one of the best options for those keen on trying authentic Japanese cuisines. Andrew's Hamburgers is there to offer you burgers like no other eateries in Melbourne. MoVida is known for its Spanish delicacies.
Best Time to Visit
You can visit Melbourne all through the year. The city wears its true colors during the summer (October to March) – weather remains hot and humid. It becomes more pleasant from April and stays so until September.
How to Reach?
By Air – The premier airport serving the city is Melbourne Airport at Tullamarine, the second busiest in the country. It is about 14.5 miles from Downtown Melbourne and just a half-an-hour drive away.
By Train – The Flinders Street Railway Station is the city's main station located at the banks of Yarra River. It's located in the heart of the city. The Tram is the lifeline of the city. In fact, Melbourne has the world's largest tram network.
By Road – Melbourne takes pride in its extensive range of public transport including buses, cabs, motorbikes, and bicycles.
Know more:
Related Maps: