Australian Culture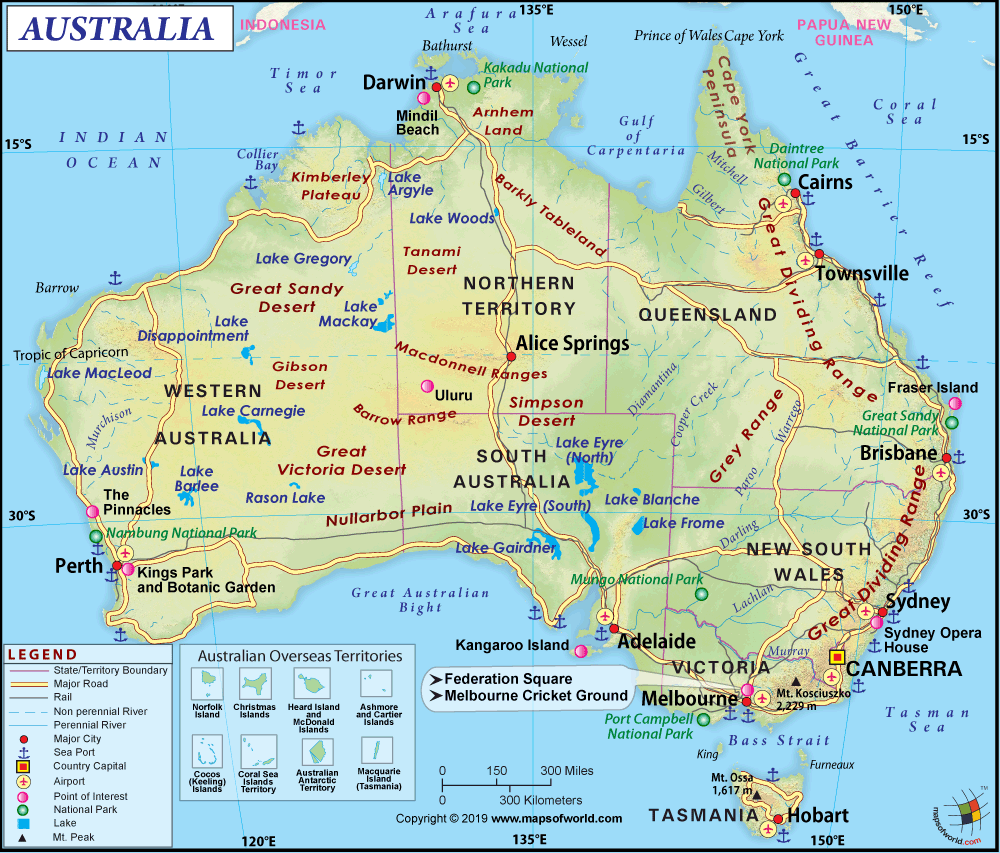 Food
Australian cuisine has been heavily influenced by the British and Irish, since the island was a British Colony. However, derived from its aboriginal hunter-gatherer traditions, indigenous Australian cuisine based on Kangaroo, Emu, and crocodile meat is also popular in the country. The nation's multi-cultural immigration population has ensured a wide range of multi-ethnic foods as well as fusion cuisine. Roast dinners, meat pies, and the omnipresent fish & chips, are some of the country's most popular meals.
Music
Australian music finds its origin in both, indigenous aboriginal, as well as its colonial culture, and today it is multi-cultural and multi-ethnic. Indigenous Australian music has produced the iconic sound instrument – the didgeridoo. Australian folk music and bush ballads are also well known, the most famous being Waltzing Matilda.
Art and Painting
Australian Art can be divided into the Aboriginal, Colonial, Landscape, Modernist, and Contemporary periods. Aboriginal Art includes rock, body, and bark paintings; rock engravings and cave paintings. When the first European settlers came to Australia, they realized that the classical European style of painting could not capture the vast incredible landscapes of the Australian countryside; the Australian painters thus came up with their own style of landscape painting. Artists like the convict John Eyre, who produced paintings and engravings; and the landscape painter Conrad Martens (1801-1878) were the prominent painters in the early years of settlement.
The Heidelberg School is considered to be one of the most important art movements in Australia. It took place in the latter half of the 19th century, and was centered at Heidelberg, where artists like Frederick McCubbin (1855-1917), Tom Roberts (1856-1931), Arthur Streeton (1867-1943), and Charles Condor (1868-1909), painted 'en plein air' (in the open air), in the style of the European impressionists. This is the movement that gave Australian art a sense of identity rooted in the love of landscape and the Bush.
Sculpture
Sculpture is a part of everyday public life in Australia, and is visible in streets, parks, public squares, and buildings. Australia has several sculpture parks such as the McLelland Gallery and Sculpture Park, near Melbourne; Herring Island Environmental Sculpture Park, Yarra River; Macquarie University Sculpture Park, Sydney; and the National Gallery of Australia Sculpture Garden, Canberra.
Design and Architecture
The most famous and easily recognizable building in Australia is the Sydney Opera House, designed by Jorn Utzon (1918-2008). The New Parliament House in the Australian capital of Canberra by Romaldo Giurgola (born on 2 Sept 1920) is also one of the country's most noted buildings. Since Australia was originally a penal colony, some of Australia's most prominent landmarks have been designed by convict architects; like the Port Arthur penal settlement and Point Puer Boys Prison by Henry Laing (1802-1842).
Responding to the climate and terrain, and vast coastlines, beach houses and 'wool sheds' are popular in the country.
Literature
Historically Australia was a collection of British colonies, thus its literature is predictably rooted in English literature. The most notable Australian writers include novelists Marcus Clarke (1846-1881), Miles Franklin (1879-1954), Christina Stead (1902-1983), Patrick White (1912-1990), Morris West (1916-1999), David Malouf (born in 1934), Thomas Keneally (born in 1935), and Colleen McCullough. Patrick White (1912-1990) is the only Australian to have received the Nobel Prize in Literature. Other well-known names in Australian literature include, Bush poets Banjo Paterson (1864-1941), and Henry Lawson (1867-1922); historians Manning Clark (1915-1991), and Geoffrey Blainey; playwright David Williamson, and expatriate writers Barry Humphries, Robert Hughes (1938-2012), Clive James, and Germaine Greer.
Fashion
Although the seasons in the northern and southern hemisphere are different, the Australian fashion industry has emulated the trends of the northern hemisphere; albeit using local Australian textiles such as cotton and wool. Natural fibers emanating from Australia which have become popular in the international market include Cashmere, Mohair, and Alpaca fibers. The showcase of Australian fashion is presented annually in the Mercedes Australian Fashion Week, in Sydney. Some well-known Australian designers are; Carla Zampatti, Charlie Brown, Nicole and Simone Zimmermann, Lisa Ho, Saba, and Marcs and Collette Dinnigan.
Cinema
The first public screening of films in Australia took place in October 1896, and the first-ever feature film produced in Australia was the Story of the Kelly Gang in 1906. The Australian film industry has remained robust, producing internationally renowned films. Australia has produced many well-known actors in both their domestic market, and in Hollywood. Some notables are; The original Road Warrior, Mel Gibson, Guy Pearce, Nicole Kidman, Geoffrey Rush, Toni Collete, Russel Crowe, Hugh Jackman, Cate Blanchett, Heath Ledger, Naomi Watts, Eric Bana, and Sam Worthington.
Sports
Sport is not only considered an integral part of Australian culture, but an obsession. The most popular sports in Australia include Cricket, Football, Rugby, Horse Racing, Swimming, and Tennis. It has been said, that if beer drinking was a sport, Australians would be world champions.