What are the visa requirements for Australian citizens?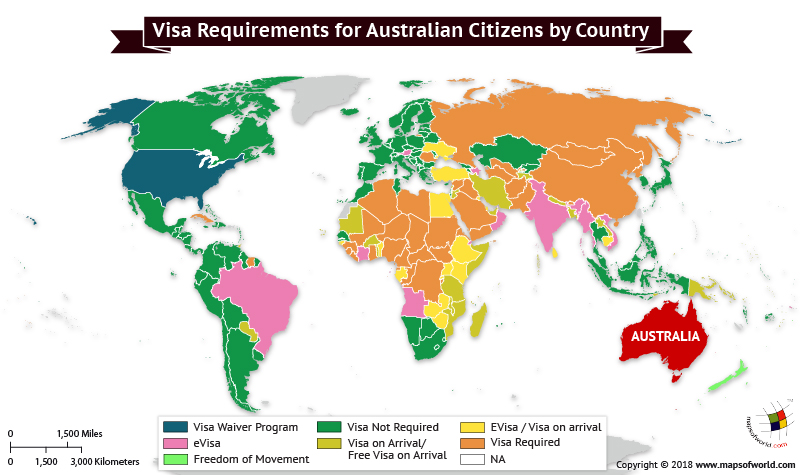 Australian passport ranks 6th in terms of travel freedom as per the Henley Passport Index. Citizens of Australia have the liberty of traveling to 183 countries and territories, visa-free or with access of visa on arrival.
Belgium, Bulgaria, Canada, Colombia, Cyprus, Denmark, Finland, France, Greece, Hungary, Iceland, and Japan are some of the prominent nations where a visa is not required. Australians have the liberty to travel to these countries whenever they wish to, without worrying about the hassle of going through visa application process.
A few nations avail Australians a visa on arrival, to make their travel easier. Some of these nations are; Cambodia, Egypt, Iran, Oman, Qatar, Rwanda, Uganda, Paraguay, and Zimbabwe.
The United States of America offers Australians a visa waiver program. As per this program, citizens of Australia, can travel to the United States for tourism or business purpose for up to 90 days without having to apply for a visa. Thus, Australians can easily move back and forth to USA for a certain amount of time, as much as they need.
There are countries providing e-visas to Australian citizens as well. Getting a visa through online application is way better than having to stand in lines for a visa. India, Myanmar, Turkey, Kuwait, and Kenya, are few prominent nations which offer the same.
Meanwhile, there are several nations which require Australians to apply for a visa in advance, these include; Bhutan, Ghana, Russia, Saudi Arabia, Brazil, China, etc.
The table below provides information on the visa requirements for Australian citizens by country.
| | |
| --- | --- |
| Country | Visa requirement |
| Afghanistan | Visa required |
| Albania | Visa not required |
| Algeria | Visa required |
| Andorra | Visa not required |
| Angola | E-Visa |
| Antigua | Visa not required |
| Argentina | Visa not required |
| Armenia | Visa not required |
| Austria | E-Visa |
| Azerbaijan | E-Visa |
| Bahamas | Visa not required |
| Bahrain | EVisa / Visa on arrival |
| Bangladesh | Visa on arrival |
| Barbados | Visa not required |
| Barbuda | Visa not required |
| Belarus | Visa not required |
| Belgium | Visa not required |
| Belize | Visa not required |
| Benin | EVisa / Visa on arrival |
| Bhutan | Visa required |
| Bolivia | Visa not required |
| Bosnia and Herzegovina | Visa not required |
| Botswana | Visa not required |
| Brazil | E-Visa |
| Brunei | Visa on arrival |
| Bulgaria | Visa not required |
| Burkina Faso | Visa on arrival |
| Burundi | Visa required |
| Cambodia | EVisa / Visa on arrival |
| Cameroon | Visa required |
| Canada | Visa not required |
| Cape Verde | Visa on arrival |
| Central African Republic | Visa required |
| Chad | Visa required |
| Chile | Visa not required |
| China | Visa required |
| Colombia | Visa not required |
| Comoros | Visa on arrival |
| Congo | Visa required |
| Cook Islands | Visa required |
| Costa Rica | Visa not required |
| Cote D'Ivoire | E-Visa |
| Croatia | Visa not required |
| Cuba | Tourist Card required |
| Cyprus | Visa not required |
| Czech Republic | Visa not required |
| Denmark | Visa not required |
| Djibouti | E-Visa |
| Dominica | Visa not required |
| Dominican Republic | Visa not required |
| Ecuador | Visa not required |
| Egypt | EVisa / Visa on arrival |
| El Salvador | Visa not required |
| Equatorial Guinea | Visa required |
| Eritrea | Visa required |
| Estonia | Visa not required |
| Ethiopia | EVisa / Visa on arrival |
| Federated States of Micronesia | Visa not required |
| Fiji | Visa not required |
| Finland | Visa not required |
| France | Visa not required |
| Gabon | EVisa / Visa on arrival |
| The Gambia | Visa not required |
| Georgia | Visa not required |
| Germany | Visa not required |
| Ghana | Visa required |
| Greece | Visa not required |
| Grenada | Visa not required |
| Guatemala | Visa not required |
| Guinea | Visa required |
| Guinea-Bissau | EVisa / Visa on arrival |
| Guyana | Visa not required |
| Haiti | Visa not required |
| Honduras | Visa not required |
| Hungary | Visa not required |
| Iceland | Visa not required |
| India | E-Visa |
| Indonesia | Visa not required |
| Iran | Visa on arrival |
| Iraq | Visa required |
| Ireland | Visa not required |
| Israel | Visa not required |
| Italy | Visa not required |
| Jamaica | Visa not required |
| Japan | Visa not required |
| Jordan | Visa on arrival |
| Kazakhstan | Visa not required |
| Kenya | EVisa / Visa on arrival |
| Kiribati | Visa not required |
| Kuwait | EVisa / Visa on arrival |
| Kyrgyzstan | Visa not required |
| North Korea | Visa required |
| South Korea | Visa not required |
| Laos | Visa on arrival |
| Latvia | Visa not required |
| Lebanon | Visa on arrival |
| Lesotho | Visa not required |
| Liberia | Visa required |
| Libya | Visa required |
| Liechtenstein | Visa not required |
| Lithuania | Visa not required |
| Luxembourg | Visa not required |
| Macedonia | Visa not required |
| Madagascar | Visa on arrival |
| Malawi | Visa on arrival |
| Malaysia | Visa not required |
| Maldives | Visa on arrival |
| Mali | Visa required |
| Malta | Visa not required |
| Marshall Islands | Visa on arrival |
| Mauritania | Visa on arrival |
| Mauritius | Visa not required |
| Mexico | Visa not required |
| Moldova | Visa not required |
| Monaco | Visa not required |
| Mongolia | Visa required |
| Montenegro | Visa not required |
| Morocco | Visa not required |
| Mozambique | Visa on arrival |
| Myanmar | E-Visa |
| Namibia | Visa not required |
| Nauru | Visa required |
| Nepal | Visa on arrival |
| Netherlands | Visa not required |
| New Zealand | Freedom of movement |
| Nicaragua | Visa not required |
| Niger | Visa required |
| Nigeria | Visa required |
| Norway | Visa not required |
| Oman | E-Visa |
| Pakistan | Visa required |
| Palau | Visa on arrival |
| Panama | Visa not required |
| Papua New Guinea | Free Visa on arrival |
| Paraguay | Visa on arrival |
| Peru | Visa not required |
| Philippines | Visa not required |
| Poland | Visa not required |
| Portugal | Visa not required |
| Qatar | EVisa / Visa on arrival |
| Romania | Visa required |
|  Republic of the Congo | Visa required |
| Russia | Visa required |
| Rwanda | EVisa / Visa on arrival |
| Saint Kitts and Nevis | Visa not required |
| Saint Lucia | Visa not required |
| Saint Vincent and the Grenadines | Visa not required |
| Samoa | Entry Permit on arrival |
| San Marino | Visa not required |
| Sao Tome and Principe | E-Visa |
| Saudi Arabia | Visa required |
| Senegal | Visa not required |
| Serbia | Visa not required |
| Seychelles | Visitor's Permit on arrival |
| Sierra Leone | Visa required |
| Singapore | Visa not required |
| Slovakia | Visa not required |
| Slovenia | Visa not required |
| Solomon Islands | Visitor's Permit on arrival |
| Somalia | Visa on arrival |
| South Africa | Visa not required |
| South Sudan | Visa required |
| Spain | Visa not required |
| Sri Lanka | EVisa / Visa on arrival |
| Sudan | Visa required |
| Suriname | Visa required |
| Swaziland | Visa not required |
| Sweden | Visa not required |
| Switzerland | Visa not required |
| Syria | Visa required |
| Tajikistan | Visa on arrival |
| Tanzania | Visa on arrival |
| Thailand | Visa not required |
| Timor-Leste | Visa on arrival |
| Togo | Visa on arrival |
| Tonga | Visa on arrival |
| Trinidad and Tobago | Visa on arrival |
| Tunisia | Visa not required |
| Turkey | EVisa / Visa on arrival |
| Turkmenistan | Visa required |
| Tuvalu | Visa on arrival |
| Uganda | EVisa / Visa on arrival |
| Ukraine | EVisa / Visa on arrival |
| United Arab Emirates | Visa on arrival |
| United Kingdom | Visa not required |
| United States of America | Visa Waiver Program |
| Uruguay | Visa not required |
| Uzbekistan | Visa required |
| Vanuatu | Visa not required |
| Vatican (Holy Sea) | Visa not required |
| Venezuela | Visa not required |
| Vietnam | Evisa |
| Yemen | Visa required |
| Zambia | EVisa / Visa on arrival |
| Zimbabwe | EVisa / Visa on arrival |
Know more:
Know more:
Related Maps: