Map of Queensland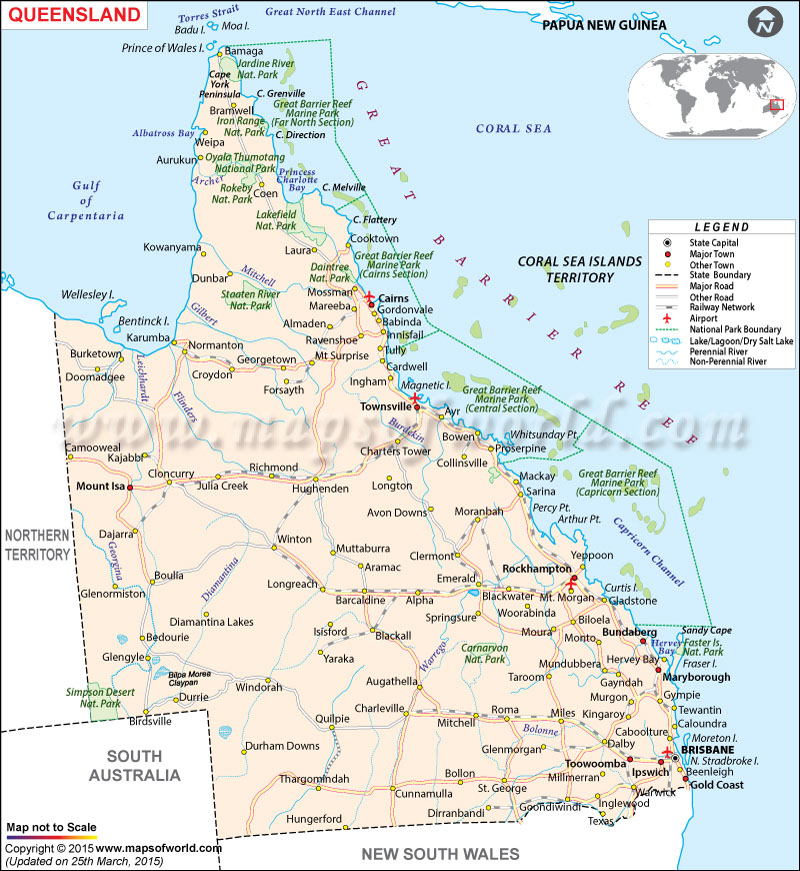 Facts about Queensland State of Australia
| | |
| --- | --- |
| Capital | Brisbane |
| Demonym | Queenslander, Banana Bender (colloquial) |
| Government | Constitutional monarchy |
| Area | 1852642 sq km |
| Population | 4,883,739 |
| Time zone | UTC+10 (AEST) |
| Web site | www.qld.gov.au |
| Places to Visit | Paronella Park, Fraser Island, Australia Zoo, Portside Maryborough, Whale Watching – Hervey Bay, Guurrbi Tours, Australian Stockman's Hall of Fame, Qantas Founders Museum, Riverlife Adventure Centre, Moreton Island, Chinchilla Melon Festival, Currumbin Wildlife Sanctuary, Skyrail – Cairns, Lone Pine Koala Sanctuary, Waltzing Matilda Centre, Agnes Water and the Town of 1770, Great Barrier Reef, Brekky Creek Hotel, Dreamworld, the Bundaberg Rum Bondstore |
Referred to as Australia's Sunshine State, Queensland is a state located in the north-east part of the country. The state shares borders with the Northern Territory to the west, South Australia to the south-west, and New South Wales to the south. On the east, the state is bordered by the Coral Sea and Pacific Ocean. Covering a total area of 715,309 square miles, Queensland is the second-largest Australian state by area. As per the 2010 census, the estimated population of the state is 4,516,361; it is third-most populous state in Australia.
Brisbane is the capital of Queensland. It is the largest city in the state with an area of 2,279.9 square miles. The estimated population is 4,516,361.
The history of the state of Queensland goes back to over 40,000 years ago when the region was inhabited by indigenous Australians and Torres Strait Islanders. On June 6, 1859, the state was made a British colony. On January 1, 1901, Queensland was made a federal state. Women were given the right to vote in the year 1905.
The government of Queensland functions in the framework of a constitutional monarchy. The Governor is the highest authority in the state. Penelope Wensley is the current Governor of Queensland. The Governor appoints a Premier who exercises all the executive powers of the state. Anna Bligh is the current Premier.
The economy of the state is heavily dependent on tourism. Some of the major destinations that attract tourists worldwide include Brisbane, Port Douglas and the Daintree Rainforest, the Great Barrier Reef, Townsville, Daydream Island, Magnetic Island, Sunshine Coast, North Stradbroke Island and South Stradbroke Island, Hamilton Island, and Whitehaven Beach.
Major Cities
Mount Isa, Cairns, Townsville, Rockhampton, Bundaberg, Maryborough, Toowoomba, Ipswich, Brisbane, Gold Coast.
Places to Visit in Queensland
| | |
| --- | --- |
| Torres Strait | Cloncurry |
| Jardine River National Park | Winton |
| Barmaga | Aramac |
| G. Grenville | Longton |
| Great Barrier Reef Marine Park (Far North Secition) | Emerald |
| C. Direction | Mt. Morgan |
| Weipa Aurukun | Great Barrier Reef Marine Park (Capricorn Section) |
| Coer | Bundaberg |
| Princess Charlotte Bay | Gympie |
| Roxby National Park | Tewantin |
| Lakefield National Park | Gold Coast |
| Laura | Goondiwindi |
| Cooktown | Hungerford |
| Port Douglas | Cooper Creek Quilpie |
| Messman | Simpson Desert National Park |
| Corodonvale | Birsville |
| Bentinck. Magnetic L. Great Barrier Reef Marine Park (Central Section) | Diamantania Lakes |
| Charters Town | |
Local Government Areas of Queensland
| S.N. | Name | Council Seat | Region | Area (sq km) | Population (2016) |
| --- | --- | --- | --- | --- | --- |
| 1 | City of Brisbane | Brisbane | South East Queensland | 1,367 | 956,129 |
| 2 | Gold Coast City | Surfers Paradise | South East Queensland | 1,358 | 455,419 |
| 3 | City of Ipswich | Ipswich | South East Queensland | 1,089 | 142,525 |
| 4 | Lockyer Valley Region | Gatton | South East Queensland | 2,273 | 31,138 |
| 5 | Logan City | Logan Central | South East Queensland | 913 | 253,864 |
| 6 | Moreton Bay Region | Strathpine | South East Queensland | 2,011 | 337,846 |
| 7 | Redland City | Cleveland | South East Queensland | 537 | 126,964 |
| 8 | Scenic Rim Region | Beaudesert | South East Queensland | 4,256 | 34,659 |
| 9 | Somerset Region | Esk | South East Queensland | 5,379 | 19,291 |
| 10 | Sunshine Coast Region | Nambour | South East Queensland | 3,126 | 290,026 |
| 11 | Shire of Banana | Biloela | Wide Bay-Burnett | 28,577 | 15,773 |
| 12 | Bundaberg Region | Bundaberg | Wide Bay-Burnett | 6,451 | 86,364 |
| 13 | Aboriginal Shire of Cherbourg | Cherbourg | Wide Bay-Burnett | 32 | 1,250 |
| 14 | Fraser Coast Region | Hervey Bay | Wide Bay-Burnett | 7,125 | 86,747 |
| 15 | Gympie Region | Gympie | Wide Bay-Burnett | 6,898 | 42,820 |
| 16 | North Burnett Region | Gayndah | Wide Bay-Burnett | 19,708 | 10,668 |
| 17 | South Burnett Region | Kingaroy | Wide Bay-Burnett | 8,399 | 29,734 |
| 18 | Goondiwindi Region | Goondiwindi | Darling Downs | 19,294 | 10,720 |
| 19 | Southern Downs Region | Warwick | Darling Downs | 7,120 | 32,610 |
| 20 | Toowoomba Region | Toowoomba | Darling Downs | 12,973 | 151,283 |
| 21 | Western Downs Region | Dalby | Darling Downs | 38,039 | 30,018 |
| 22 | Central Highlands Region | Emerald | Central Queensland | 59,884 | 26,824 |
| 23 | Gladstone Region | Gladstone | Central Queensland | 10,488 | 51,351 |
| 24 | Isaac Region | Clermont | Central Queensland | 58,862 | 20,443 |
| 25 | Mackay Region | Mackay | Central Queensland | 7,621 | 100,260 |
| 26 | Rockhampton Region | Rockhampton | Central Queensland | 18,361 | 103,297 |
| 27 | Aboriginal Shire of Woorabinda | Woorabinda | Central Queensland | 391 | 1,035 |
| 28 | Shire of Burdekin | Ayr | North Queensland | 5,052 | 17,020 |
| 29 | Charters Towers Region | Charters Towers | North Queensland | 68,388 | 12,280 |
| 30 | Shire of Hinchinbrook | Ingham | North Queensland | 2,811 | 12,260 |
| 31 | Aboriginal Shire of Palm Island | Palm Island | North Queensland | 71 | 1,984 |
| 32 | City of Townsville | Townsville | North Queensland | 3,733 | 164,008 |
| 33 | Whitsunday Region | Bowen | North Queensland | 23,856 | 30,719 |
| 34 | Shire of Aurukun | Aurukun | Far North Queensland | 7,375 | 1,044 |
| 35 | Cairns Region | Cairns | Far North Queensland | 4,128 | 142,723 |
| 36 | Cassowary Coast Region | Innisfail | Far North Queensland | 4,701 | 30,843 |
| 37 | Shire of Cook | Cooktown | Far North Queensland | 106,188 | 3,464 |
| 38 | Hopevale | Hopevale | Far North Queensland | 1,118 | 914 |
| 39 | Aboriginal Shire of Kowanyama | Kowanyama | Far North Queensland | 2,576 | 1,021 |
| 40 | Lockhart River | Lockhart River | Far North Queensland | 3,545 | 642 |
| 41 | Mapoon Aboriginal Shire | Mapoon | Far North Queensland | 530 | 214 |
| 42 | Napranum Aboriginal Shire | Napranum | Far North Queensland | 1,995 | 813 |
| 43 | Northern Peninsula Area Region | Bamaga | Far North Queensland | 1,030 | 2,175 |
| 44 | Aboriginal Shire of Pormpuraaw | Pormpuraaw | Far North Queensland | 4,433 | 600 |
| 45 | Tablelands Region | Malanda | Far North Queensland | 64,999 | 42,145 |
| 46 | Shire of Torres | Thursday Island | Far North Queensland | 886 | 3,233 |
| 47 | Torres Strait Island Region | Thursday Island | Far North Queensland | 489 | 4,434 |
| 48 | Weipa | Weipa | Far North Queensland | 11 | 2,830 |
| 49 | Wujal Wujal Aboriginal Shire | Wujal Wujal | Far North Queensland | 11 | 379 |
| 50 | Aboriginal Shire of Yarrabah | Yarrabah | Far North Queensland | 158 | 2,322 |
| 51 | Shire of Burke | Burketown | North West | 40,126 | 481 |
| 52 | Shire of Carpentaria | Normanton | North West | 64,373 | 2,290 |
| 53 | Shire of Cloncurry | Cloncurry | North West | 48,113 | 3,834 |
| 54 | Shire of Croydon | Croydon | North West | 29,578 | 319 |
| 55 | Aboriginal Shire of Doomadgee | Doomadgee | North West | 1,862 | 1,236 |
| 56 | Shire of Etheridge | Georgetown | North West | 39,332 | 851 |
| 57 | Shire of Flinders | Hughenden | North West | 41,538 | 1,974 |
| 58 | Shire of McKinlay | Julia Creek | North West | 40,880 | 1,013 |
| 59 | Shire of Mornington | Gununa | North West | 1,232 | 1,044 |
| 60 | City of Mount Isa | Mount Isa | North West | 43,349 | 21,201 |
| 61 | Shire of Richmond | Richmond | North West | 26,602 | 1,148 |
| 62 | Barcaldine Region | Barcaldine | Central West | 53,677 | 3,503 |
| 63 | Shire of Barcoo | Jundah | Central West | 62,001 | 450 |
| 64 | Blackall-Tambo Region | Blackall | Central West | 30,451 | 2,069 |
| 65 | Shire of Boulia | Boulia | Central West | 61,102 | 547 |
| 66 | Shire of Diamantina | Bedourie | Central West | 94,823 | 304 |
| 67 | Longreach Region | Longreach | Central West | 40,638 | 4,664 |
| 68 | Shire of Winton | Winton | Central West | 53,935 | 1,544 |
| 69 | Shire of Balonne | St George | South West | 31,150 | 5,627 |
| 70 | Shire of Bulloo | Thargomindah | South West | 73,807 | 457 |
| 71 | Maranoa Region | Roma | South West | 58,830 | 12,648 |
| 72 | Shire of Murweh | Charleville | South West | 40,742 | 5,026 |
| 73 | Shire of Paroo | Cunnamulla | South West | 47,714 | 2,114 |
| 74 | Shire of Quilpie | Quilpie | South West | 67,633 | 1,049 |