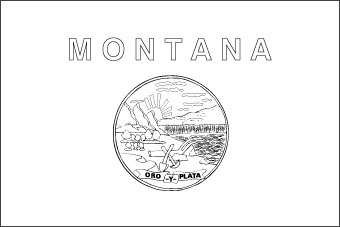 Download Picture of Blank Montana Flag For Kids to Color
History of Montana Flag
In 1981, the Legislature stated that the word Montana should be placed above the state seal. However in 1985 it was specified that Montana should be written in 'Helvitica bold'.
Montana was the 41th state to gain admission into the Union officially.
As for the description of the Montana Flag, it is a beautiful blue flag having golden fringes both at the top and bottom borders. In the center of the Montana Flag is the state seal of Montana, that portrays a captivating natural scenery.
For flags of other states of the USA, check the Flags of the 50 States.