Montana City Maps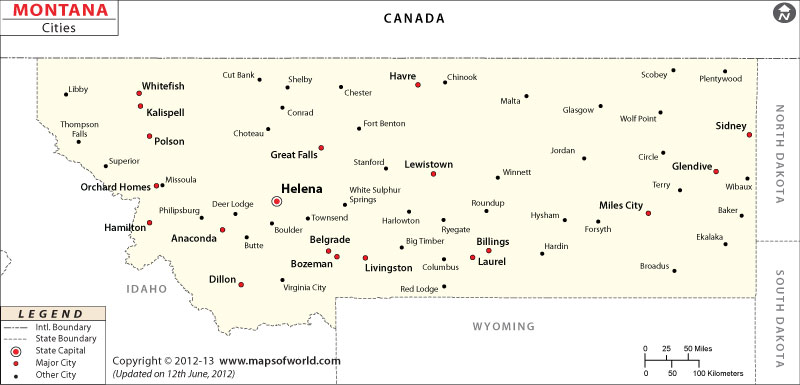 Montana is located in the northwestern region of the United States. Montana is ranked as the 4th largest state in the county in terms of land area. However, it is the 3rd sparsely populated state with approximately 1,042,520 people. Billings, the seat of Yellowstone County, is the largest city in Montana. As of 2016, the city comprised a population of 110,323 inhabitants. Missoula is the second largest city, with a population of 72,364 people. Great Falls is the third largest city, with an estimated 59,178 inhabitants. Cities that have a population of more than 20,000 residents are Bozeman, Butte, and Helena. Ismay, a town in Custer County, is the least populated. As of 2016, it had an estimated population of 21 residents.
The state is divided into 56 counties. Helena is the state capital, while Billings is the most populous city in Montana. Anaconda is the largest city in land area. Nicknamed 'the Electric City', Great Falls is the third largest city in the state. Kalispell, in northwestern Montana, is a gateway to Glacier National Park.
As 'The Garden City, Missoula is home to the University of Montana. Miles City, where cowboy traditions live, is called the "Cow Capital of the West." The city of Bozeman houses the Museum of the Rockies, which features the most extensive collection of dinosaur remains in the US. Butte, Livingston, Polson, and Havre are other major cities in Montana.
Getting In and Around
The Bozeman Yellowstone International Airport (BZN) and Billings Logan International Airport (BIL) are the busiest airports in the state.
Amtrak's Empire Builder has few regular and seasonal stops in Montana.
Interstate Highways (I-90, I-15, and I-94) and other numbered highways form a dense road network.
List of Cities in Montana
| City Name | County | Population (2010) |
| --- | --- | --- |
| Alberton | Mineral | 420 |
| Anaconda | Deer Lodge | 9,298 |
| Baker | Fallon | 1,741 |
| Belgrade | Gallatin | 7,389 |
| Belt | Cascade | 597 |
| Big Sandy | Chouteau | 598 |
| Big Timber | Sweet Grass | 1,641 |
| Billings | Yellowstone | 104,170 |
| Boulder | Jefferson | 1,183 |
| Bozeman | Gallatin | 37,280 |
| Bridger | Carbon | 708 |
| Broadus | Powder River | 468 |
| Brockton | Roosevelt | 255 |
| Browning | Glacier | 1,016 |
| Butte | Silver Bow | 34,525 |
| Cascade | Cascade | 685 |
| Chester | Liberty | 847 |
| Chinook | Blaine | 1,203 |
| Choteau | Teton | 1,684 |
| Circle | McCone | 615 |
| Clyde Park | Park | 288 |
| Colstrip | Rosebud | 2,214 |
| Columbia Falls | Flathead | 4,688 |
| Columbus | Stillwater | 1,893 |
| Conrad | Pondera | 2,570 |
| Culbertson | Roosevelt | 714 |
| Cut Bank | Glacier | 2,869 |
| Darby | Ravalli | 720 |
| Deer Lodge | Powell | 3,111 |
| Denton | Fergus | 255 |
| Dillon | Beaverhead | 4,134 |
| Drummond | Granite | 309 |
| Dutton | Teton | 316 |
| East Helena | Lewis and Clark | 1,984 |
| Ekalaka | Carter | 332 |
| Ennis | Madison | 838 |
| Eureka | Lincoln | 1,037 |
| Fairfield | Teton | 708 |
| Fairview | Richland | 840 |
| Forsyth | Rosebud | 1,777 |
| Fort Benton | Chouteau | 1,464 |
| Fromberg | Carbon | 438 |
| Geraldine | Chouteau | 261 |
| Geyser | Judith Basin | 527 |
| Glasgow | Valley | 3,250 |
| Glendive | Dawson | 4,935 |
| Great Falls | Cascade | 58,505 |
| Hamilton | Ravalli | 4,348 |
| Hardin | Big Horn | 3,505 |
| Harlem | Blaine | 808 |
| Harlowton | Wheatland | 997 |
| Havre | Hill | 9,310 |
| Helena | Lewis and Clark | 28,190 |
| Hot Springs | Sanders | 544 |
| Hysham | Treasure | 312 |
| Joliet | Carbon | 595 |
| Jordan | Garfield | 343 |
| Kalispell | Flathead | 19,927 |
| Laurel | Yellowstone | 6,781 |
| Lewistown | Fergus | 5,901 |
| Libby | Lincoln | 2,628 |
| Livingston | Park | 7,044 |
| Lodge Grass | Big Horn | 428 |
| Malta | Phillips | 1,997 |
| Manhattan | Gallatin | 1,520 |
| Miles City | Custer | 8,123 |
| Missoula | Missoula | 66,789 |
| Nashua | Valley | 290 |
| Philipsburg | Granite | 820 |
| Pinesdale | Ravalli | 917 |
| Plains | Sanders | 1,048 |
| Plentywood | Sheridan | 1,734 |
| Polson | Lake | 4,598 |
| Poplar | Roosevelt | 810 |
| Red Lodge | Carbon | 2,125 |
| Ronan | Lake | 1,871 |
| Roundup | Musselshell | 1,788 |
| Ryegate | Golden Valley | 245 |
| Scobey | Daniels | 1,017 |
| Shelby | Toole | 3,376 |
| Sheridan | Madison | 642 |
| Sidney | Richland | 5,191 |
| St. Ignatius | Lake | 842 |
| Stanford | Judith Basin | 401 |
| Stevensville | Ravalli | 1,809 |
| Sunburst | Toole | 375 |
| Superior | Mineral | 812 |
| Terry | Prairie | 605 |
| Thompson Falls | Sanders | 1,313 |
| Three Forks | Gallatin | 1,869 |
| Townsend | Broadwater | 1,878 |
| Troy | Lincoln | 938 |
| Twin Bridges | Madison | 375 |
| Valier | Pondera | 509 |
| Walkerville | Silver Bow | 675 |
| West Yellowstone | Gallatin | 1,271 |
| White Sulphur Springs | Meagher | 939 |
| Whitefish | Flathead | 6,357 |
| Whitehall | Jefferson | 1,038 |
| Wibaux | Wibaux | 589 |
| Wolf Point | Roosevelt | 2,621 |