Map of Montana Cities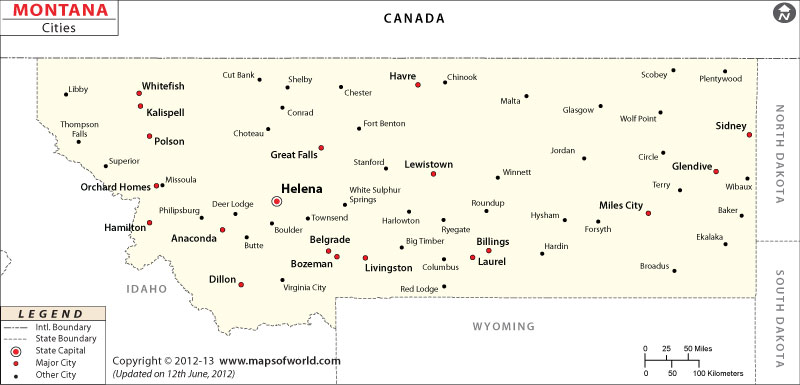 Map of Montana Cities
Learn all about the different cities in Montana with the Map of Montana Cities. This map allows you to explore the various cities of the state of Montana, making it easier to locate the cities on the map.
Cities in Montana
Montana has many cities, and each one is different and special. Some cities are busy with lots of things to do, while others are calm and found in pretty places. Montana's cities have something for everyone. If you like the excitement of the city, the peacefulness of nature, or the interesting things in town, you'll find something special in Montana. It doesn't matter if you like outdoor fun, exploring new things, or just enjoying the local feeling – you can do it in Montana.
How Many Cities are in Montana
In Montana, there are a bunch of cities – exactly 129 of them. Each city makes Montana special in its own way. Whether you want the busy feeling of a big city or the comfy feeling of a small town, Montana's cities give you lots of options. The Map of Montana Cities makes it simple to find and explore each one.
Largest Cities in Montana
The biggest cities in Montana are really busy with lots of things happening. Some of the most important cities in Montana are Billings, Missoula, Great Falls, Bozeman, Butte, and Helena. These cities have cool places to visit, important sites, and lively arts and culture. People who live there and people visiting have many chances to have fun and enjoy themselves.
Safest Cities in Montana
Some cities in Montana really care about keeping people safe and happy. They do things to make sure everyone feels protected and welcome. Places like Whitefish, Sidney, Glasgow, and Dillon are known for being very safe. These cities work hard to have very little crime and make sure everyone feels really secure. This makes these cities nice and safe places for families and people to feel good.
Best Cities to Live in Montana
Montana has some really great cities that give you a wonderful life with lots of good things. Some of the best cities to live in Montana are Bozeman, Missoula, Billings, Helena, and Kalispell. These cities have good jobs, great schools, and fun things to do. Whether you really like being outside, enjoy learning about interesting things, or just want to have a cozy and happy life, these cities have something special for everyone. They make sure you have a great and enjoyable life.
Feel free to explore the Map of Montana Cities, you can find all the cities marked on the map.
Population of Cities in Montana

City Name
County

Population Approx. (2021)

Alberton
Mineral
473
Anaconda
Deer Lodge
8,918
Baker
Fallon
1,778
Belgrade
Gallatin
9,862
Belt
Cascade
639
Big Sandy
Chouteau
593
Big Timber
Sweet Grass
1,736
Billings
Yellowstone
109,577
Boulder
Jefferson
1,200
Bozeman
Gallatin
50,970
Bridger
Carbon
718
Broadus
Powder River
488
Brockton
Roosevelt
252
Browning
Glacier
1,019
Butte
Silver Bow
34,190
Cascade
Cascade
688
Chester
Liberty
875
Chinook
Blaine
1,213
Choteau
Teton
1,676
Circle
McCone
641
Clyde Park
Park
404
Colstrip
Rosebud
2,280
Columbia Falls
Flathead
5,448
Columbus
Stillwater
2,055
Conrad
Pondera
2,457
Culbertson
Roosevelt
988
Cut Bank
Glacier
3,000
Darby
Ravalli
798
Deer Lodge
Powell
3,108
Denton
Fergus
242
Dillon
Beaverhead
4,345
Drummond
Granite
338
Dutton
Teton
296
East Helena
Lewis and Clark
2,306
Ekalaka
Carter
357
Ennis
Madison
1,000
Eureka
Lincoln
1,303
Fairfield
Teton
708
Fairview
Richland
929
Forsyth
Rosebud
1,736
Fort Benton
Chouteau
1,469
Fromberg
Carbon
425
Geraldine
Chouteau
261
Geyser
Judith Basin
169
Glasgow
Valley
3,210
Glendive
Dawson
4,935
Great Falls
Cascade
58,434
Hamilton
Ravalli
4,694
Hardin
Big Horn
3,805
Harlem
Blaine
803
Harlowton
Wheatland
925
Havre
Hill
9,621
Helena
Lewis and Clark
31,429
Hot Springs
Sanders
562
Hysham
Treasure
330
Joliet
Carbon
700
Jordan
Garfield
420
Kalispell
Flathead
24,602
Laurel
Yellowstone
6,778
Lewistown
Fergus
5,815
Libby
Lincoln
2,719
Livingston
Park
7,673
Lodge Grass
Big Horn
428
Malta
Phillips
1,996
Manhattan
Gallatin
1,662
Miles City
Custer
8,381
Missoula
Missoula
74,428
Nashua
Valley
304
Philipsburg
Granite
850
Pinesdale
Ravalli
987
Plains
Sanders
1,122
Plentywood
Sheridan
1,657
Polson
Lake
4,846
Poplar
Roosevelt
900
Red Lodge
Carbon
2,194
Ronan
Lake
1,992
Roundup
Musselshell
1,925
Ryegate
Golden Valley
248
Scobey
Daniels
1,029
Shelby
Toole
3,253
Sheridan
Madison
710
Sidney
Richland
6,777
St. Ignatius
Lake
1,021
Stanford
Judith Basin
408
Stevensville
Ravalli
1,960
Sunburst
Toole
363
Superior
Mineral
869
Terry
Prairie
605
Thompson Falls
Sanders
1,302
Three Forks
Gallatin
2,008
Townsend
Broadwater
2,088
Troy
Lincoln
938
Twin Bridges
Madison
381
Valier
Pondera
490
Walkerville
Silver Bow
679
West Yellowstone
Gallatin
1,402
White Sulphur Springs
Meagher
896
Whitefish
Flathead
8,245
Whitehall
Jefferson
1,066
Wibaux
Wibaux
634
Wolf Point
Roosevelt
2,856