Hawaii City Maps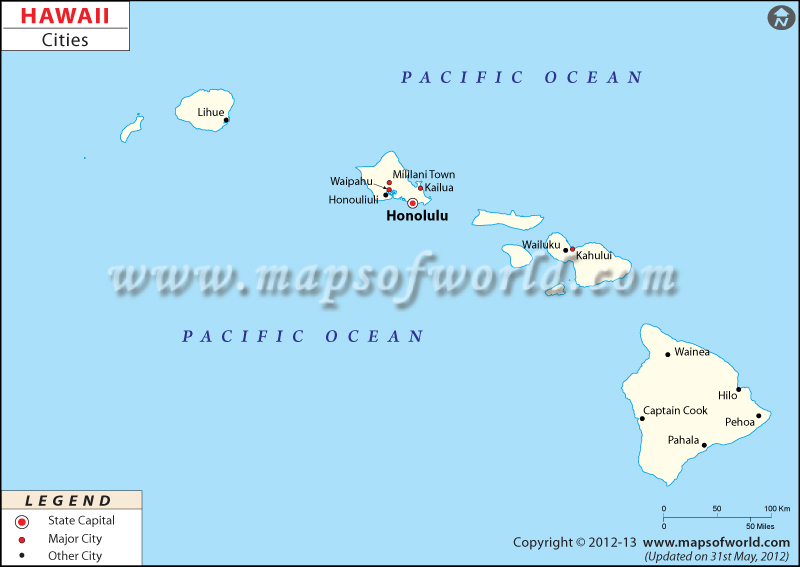 Located in Oceania, Hawaii is the 43rd most extensive and the 40th most populous state in the United States. Honolulu is the capital as well as the largest city of the state. As of 2016, the city comprised a population of 351,792 inhabitants. The second most populated is East Honolulu, which is a census-designated place. East Honolulu comprised a population of 49,914 people. Some of the other most populated census-designated places or cities are Pearl City, Hilo, Kailua, Waipahu, etc. Manele, with a population of just 29 people, is the least populous city in the state.
There are five counties in the state. The eight main islands are Ni'ihau, Kaua'i, O'ahu, Moloka'i, Lāna'i, Kaho'olawe, Maui, and Hawai'i Island.
Nicknamed "Crossroads of the Pacific," Honolulu is the remotest city of its size in the world. It is the second-most populous city in Polynesia after Auckland. The Bishop Museum, Honolulu Zoo, Foster Botanical Garden, 'Iolani Palace, and Diamond Head are major attractions in Honolulu.
Pearl City, Hilo, Kailua, and Wailuku are other notable cities in Hawaii.
Getting In and Around
Honolulu International Airport (HNL) is the gateway to Hawaii.
Interstate H-1, H-2, and H-3 along with state highways
Largest Cities in Hawaii by Population
| Rank | Name | Population | County |
| --- | --- | --- | --- |
| 1 | Honolulu ↑↑ | 337256 | Honolulu |
| 2 | East Honolulu | 49914 | Honolulu |
| 3 | Pearl City | 47698 | Honolulu |
| 4 | Hilo ↑ | 43263 | Hawaii |
| 5 | Kailua | 38635 | Honolulu |
| 6 | Waipahu | 38216 | Honolulu |
| 7 | Kaneohe | 34597 | Honolulu |
| 8 | Mililani Town | 27629 | Honolulu |
| 9 | Kahului | 26337 | Maui |
| 10 | Ewa Gentry | 22690 | Honolulu |