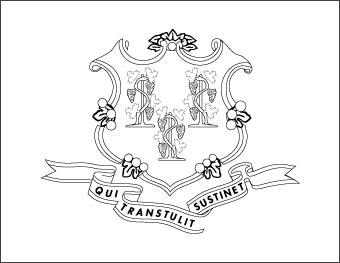 Download Picture of Blank Connecticut Flag For Kids to Color
The Connecticut flag had been subjected to a lengthy process of evolution, but the outcome is a beautiful blue flag, flying with all its glorious colors.
History of Connecticut Flag
Although Connecticut was the 5th colony to sign, the Constitution of the US in 1788, even after 100 years, it did not have any state flag to call its own. A special Connecticut Flag had to be planned. This was noticed by the Anna Warner Bailey Chapter from the Daughters of the American Revolution, who moved to Governor William Coffin, with their proposal. Thus in a way they were the designers of the Connecticut Flag. In 1895, the Governor brought in a proposal to the Connecticut General Assembly, for the Connecticut Flag for the first time. Finally the official Connecticut Flag was adopted on 1897.
Description of Connecticut Flag
The dimensions and features of the Connecticut Flag are as per the criteria decided by the Connecticut Flag Law. The Connecticut Flag measures 4 feet, 4 inches in width and 5 feet, 6 inches in length. On a brilliant azure blue field there is a decorative argent white shield. The state calls this the rococo design, which is marked by fantastic curves and ornamental patterns. The shield bears the pictures of 3 grape vines supporting 3 bunches of dark grapes. The rims of the shield are decorated with groups of acorns and white oak leaves. Below the emblem, a clefted white ribbon with brown and gold borders, bears the state motto of Connecticut. Written on it is Qui Transtulit Sustinet or "He who transplanted still sustains".
Symbolism of Connecticut Flag
The 3 bunches of grapes stand for the 3 colonies of Saybrook, New Haven and Connecticut, which together formed Connecticut in 1665. Vines are associated with never-ending friendships and grapes are said to be harbingers of good fortunes. The oak leaves and acorns are powerful symbols of antiquity, endurance and energy.
The Connecticut Flag is symbolic of the history of the state and bears the magnificent Arms of the State on either side.
For flags of other states of the USA, check the Flags of the 50 States.