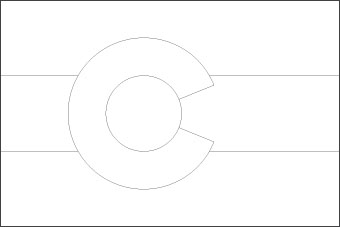 Download Picture of Blank Colorado Flag For Kids to Color
The person who designed the Colorado Flag in 1911, was Andrew Carlisle Johnson. The Colorado Flag Law have certain statutes that decide all the aspects of the flag, right from the details of its description to the shades that need to be used.
Description of Colorado Flag
As per the the Colorado Flag Law, the field is made of 3 horizontal stripes of equal width, that are at right angles to the flag pole. There are 2 blue stripes separated by a white stripe at the center. This blue color is of the same shade used for the flag of the USA. At the pole end of the flag there is a circular, red colored letter C. The letter is placed at a distance of one-fifth of the entire length of the flag from the pole end. The diameter of this letter is about the two-thirds the breadth of the Colorado Flag. The width of both the inner and the outer lines of the letter has to adhere to some measurement specifications too. The center of this letter is colored with a golden shade.
Symbolism of Colorado Flag
The hues of the Colorado Flag aptly denote the characteristics of the State environment. The deep blue color signifies the clear azure skies enveloping Colorado like a giant umbrella. The golden shade symbolizes the golden, abundant and luxurious sunshine that pervades the state. Red in the flag stands for the red tinted soil covering the state, whereas white is a representation of the beautiful snow-clad mountains of Colorado.
For flags of other states of the USA, check the Flags of the 50 States.