Arizona Map with Cities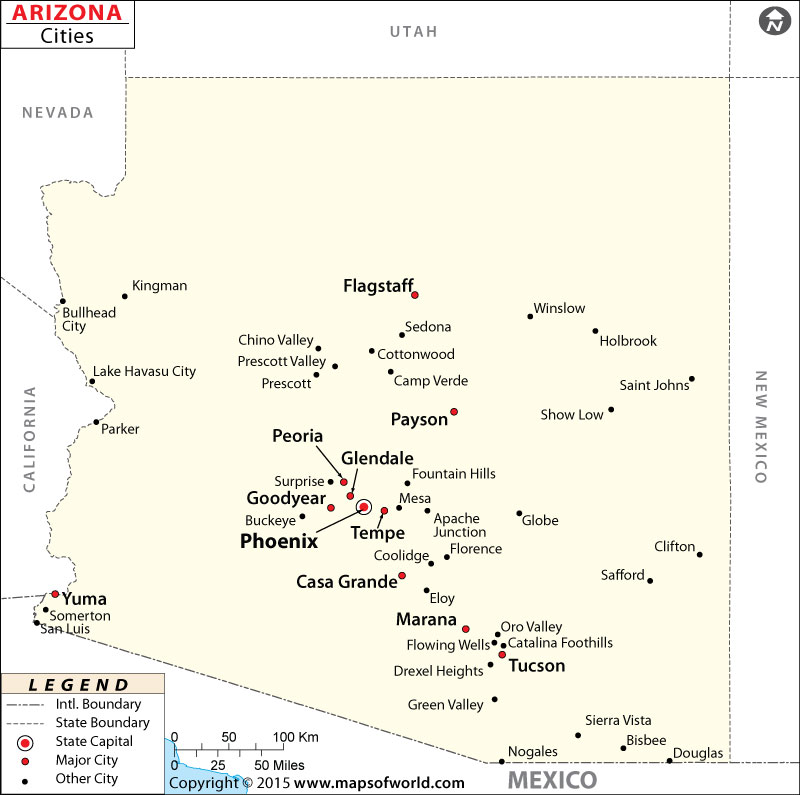 Map of Arizona Cities
Map of Arizona Cities provides a comprehensive visual overview of the cities located throughout the state of Arizona. This map allows you to easily explore and navigate the diverse locations of each city.
Cities in Arizona
Arizona has many cities, each with its own special attractions and character. From lively cities to charming desert towns, there's something for everyone in Arizona. Whether you love outdoor adventures, learning about Native American history, experiencing cultural events, or enjoying the beauty of the desert, Arizona's cities have it all.
How Many Cities are in Arizona
Arizona has many cities, with a total of 91 incorporated municipalities. These cities are spread out across the state, offering a wide range of experiences and attractions. The Map of Arizona Cities can help you see where each city is located.
Largest Cities in Arizona
The largest cities in Arizona are the ones with the most people and lots of things to do. Some of the biggest cities in Arizona are Phoenix, Tucson, Mesa, Chandler, and Scottsdale. These cities have exciting downtown areas, famous places to visit, and a variety of fun activities.
Safest Cities in Arizona
Some cities in Arizona are known for being very safe and caring about the well-being of their people. These cities work hard to keep everyone secure and protected. They have lower crime rates and use good strategies to make sure everyone feels safe. People living or visiting these cities can feel secure and protected.
Best Cities to Live in Arizona
Arizona has several cities that are considered among the best places to live in the state. Some of the best cities to live in Arizona include Phoenix, Tucson, Mesa, Chandler, and Scottsdale. These cities offer a high quality of life, excellent amenities, and a range of opportunities for residents. From vibrant cultural scenes and diverse dining options to outdoor recreational activities and strong community support, these cities provide a welcoming and fulfilling living experience.
Major Cities of Arizona

City
Population
County
Region
Notable Attractions

Phoenix

1,660,272

Maricopa

Central

Desert Botanical Garden, Heard Museum

Tucson

545,975

Pima

Southern

Saguaro National Park, University of Arizona

Mesa

518,012

Maricopa

Central

Mesa Arts Center, Usery Mountain Regional Park

Chandler

257,165

Maricopa

Central

Arizona Railway Museum, Tumbleweed Park

Scottsdale

258,069

Maricopa

Central

Old Town Scottsdale, McDowell Sonoran Preserve