Arizona City Maps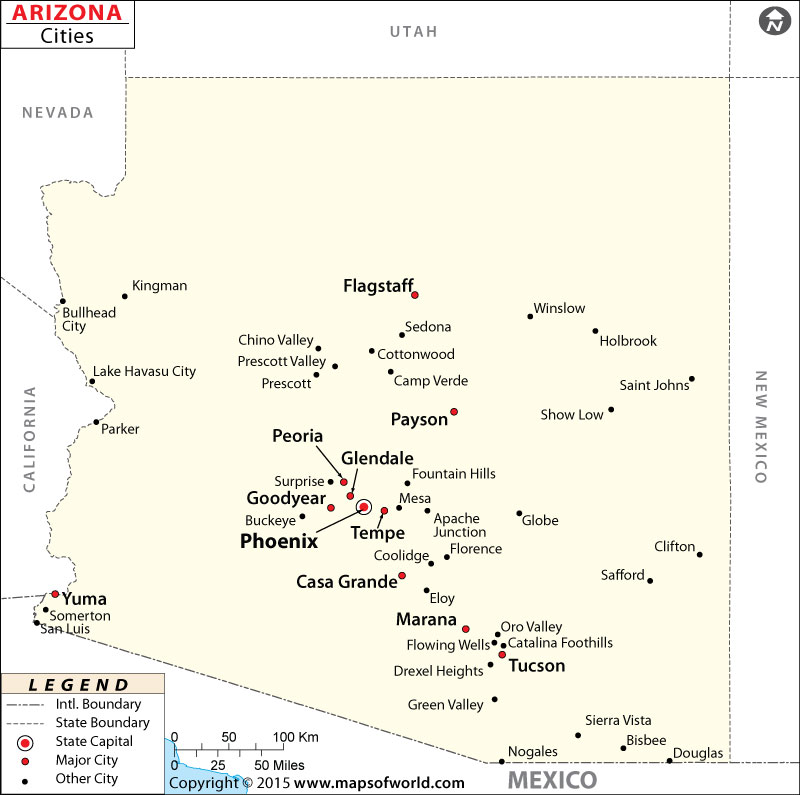 Arizona Cities Map, Arizona is the sixth largest state in the United States and has 91 incorporated cities and towns. Phoenix is the capital and the largest city of Arizona by population and the sixth most populated city in the United States. Phoenix, which is located in Maricopa County, is home to 1,615,017 people, as of 2016. The other cities in the state which are ranked among the 100 most populous in the United States are Gilbert, Mesa, Scottsdale, Chandler, and Glendale. Tuscon is Arizona's oldest incorporated place, while Tusayan is the most recent. Tuscan was incorporated in 1877 and Tusayan in 2010.
About Arizona Cities Map
Nicknamed 'The Grand Canyon State, Arizona is in the southwestern United States. Coconino County, one of 15 counties in Arizona, is the second-largest county in the lower 48 US states by land area.
The state capital and also the largest city in Arizona is Phoenix. Mesa and Glendale are two other cities in Phoenix Metropolitan Area. Located in southern Arizona, Referred to as 'The Old Pueblo', Tucson is the state's second-largest city. The city of Yuma hosts several fairs and festivals throughout winter.
Famous for red sandstone formations, Sedona features several hiking and mountain biking trails. Other major cities in Arizona include Chandler, Scottsdale, Gilbert, Tempe, and Flagstaff.
Getting In and Around
The Phoenix Sky Harbor International Airport (PHX) is the busiest airport in Arizona.
Amtrak operates the Southwest Chief, Sunset Limited, and Texas Eagle passenger trains through the state.
Main interstate highways in Arizona are I-17, I-19 (south-north), I-8, I-10, I-40 (west-east), and I-15.
List of Counties in Arizona
| City Name | County | Land Area |
| --- | --- | --- |
| Apache Junction | Pinal | 35.00 sq mi (90.6 km²) |
| Avondale | Maricopa | 45.65 sq mi (118.2 km²) |
| Benson | Cochise | 41.46 sq mi (107.4 km²) |
| Bisbee | Cochise | 5.16 sq mi (13.4 km²) |
| Buckeye | Maricopa | 375.39 sq mi (972.3 km²) |
| Bullhead City | Mohave | 60.18 sq mi (155.9 km²) |
| Camp Verde | Yavapai | 43.15 sq mi (111.8 km²) |
| Carefree | Maricopa | 8.81 sq mi (22.8 km²) |
| Casa Grande | Pinal | 109.67 sq mi (284.0 km²) |
| Cave Creek | Maricopa | 37.92 sq mi (98.2 km²) |
| Chandler | Maricopa | 64.52 sq mi (167.1 km²) |
| Chino Valley | Yavapai | 63.43 sq mi (164.3 km²) |
| Clarkdale | Yavapai | 10.57 sq mi (27.4 km²) |
| Clifton | Greenlee | 15.0 sq mi (38.8 km²) |
| Colorado City | Mohave | 10.34 sq mi (26.8 km²) |
| Coolidge | Pinal | 56.58 sq mi (146.5 km²) |
| Cottonwood | Yavapai | 16.41 sq mi (42.5 km²) |
| Dewey-Humboldt | Yavapai | 18.59 sq mi (48.1 km²) |
| Douglas | Cochise | 9.98 sq mi (25.8 km²) |
| Duncan | Greenlee | 2.16 sq mi (5.6 km²) |
| Eagar | Apache | 11.24 sq mi (29.1 km²) |
| El Mirage | Maricopa | 10.09 sq mi (26.1 km²) |
| Eloy | Pinal | 111.57 sq mi (289.0 km²) |
| Flagstaff | Coconino | 63.91 sq mi (165.5 km²) |
| Florence | Pinal | 52.49 sq mi (135.9 km²) |
| Fountain Hills | Maricopa | 20.42 sq mi (52.9 km²) |
| Fredonia | Coconino | 7.32 sq mi (19.0 km²) |
| Gila Bend | Maricopa | 55.37 sq mi (143.4 km²) |
| Gilbert | Maricopa | 68.15 sq mi (176.5 km²) |
| Glendale | Maricopa | 60.13 sq mi (155.7 km²) |
| Globe | Gila | 18.20 sq mi (47.1 km²) |
| Goodyear | Maricopa | 191.52 sq mi (496.0 km²) |
| Guadalupe | Maricopa | 0.81 sq mi (2.1 km²) |
| Hayden | Gila | 1.27 sq mi (3.3 km²) |
| Holbrook | Navajo | 17.37 sq mi (45.0 km²) |
| Huachuca City | Cochise | 2.81 sq mi (7.3 km²) |
| Jerome | Yavapai | 0.86 sq mi (2.2 km²) |
| Kearny | Pinal | 2.81 sq mi (7.3 km²) |
| Kingman | Mohave | 34.82 sq mi (90.2 km²) |
| Lake Havasu City | Mohave | 44.48 sq mi (115.2 km²) |
| Litchfield Park | Maricopa | 3.34 sq mi (8.7 km²) |
| Mammoth | Pinal | 1.04 sq mi (2.7 km²) |
| Marana | Pima | 122.20 sq mi (316.5 km²) |
| Maricopa | Pinal | 47.57 sq mi (123.2 km²) |
| Mesa | Maricopa | 137.06 sq mi (355.0 km²) |
| Miami | Gila | 0.88 sq mi (2.3 km²) |
| Nogales | Santa Cruz | 20.84 sq mi (54.0 km²) |
| Oro Valley | Pima | 35.64 sq mi (92.3 km²) |
| Page | Coconino | 16.64 sq mi (43.1 km²) |
| Paradise Valley | Maricopa | 15.46 sq mi (40.0 km²) |
| Parker | La Paz | 21.99 sq mi (57.0 km²) |
| Patagonia | Santa Cruz | 1.29 sq mi (3.3 km²) |
| Payson | Gila | 19.47 sq mi (50.4 km²) |
| Peoria | Maricopa | 177.97 sq mi (460.9 km²) |
| Phoenix | Maricopa | 517.95 sq mi (1,341.5 km²) |
| Pima | Graham | 5.93 sq mi (15.4 km²) |
| Pinetop-Lakeside | Navajo | 11.37 sq mi (29.4 km²) |
| Prescott | Yavapai | 41.58 sq mi (107.7 km²) |
| Prescott Valley | Yavapai | 38.65 sq mi (100.1 km²) |
| Quartzsite | La Paz | 36.72 sq mi (95.1 km²) |
| Queen Creek | Maricopa | 28.07 sq mi (72.7 km²) |
| Safford | Graham | 8.59 sq mi (22.2 km²) |
| Sahuarita | Pima | 31.04 sq mi (80.4 km²) |
| San Luis | Yuma | 32.10 sq mi (83.1 km²) |
| Scottsdale | Maricopa | 184.40 sq mi (477.6 km²) |
| Sedona | Yavapai | 19.18 sq mi (49.7 km²) |
| Show Low | Navajo | 41.17 sq mi (106.6 km²) |
| Sierra Vista | Cochise | 152.54 sq mi (395.1 km²) |
| Snowflake | Navajo | 33.58 sq mi (87.0 km²) |
| Somerton | Yuma | 7.30 sq mi (18.9 km²) |
| South Tucson | Pima | 1.04 sq mi (2.7 km²) |
| Springerville | Apache | 11.69 sq mi (30.3 km²) |
| St. Johns | Apache | 26.08 sq mi (67.5 km²) |
| Star Valley | Gila | 36.13 sq mi (93.6 km²) |
| Superior | Pinal | 1.94 sq mi (5.0 km²) |
| Surprise | Maricopa | 105.87 sq mi (274.2 km²) |
| Taylor | Navajo | 32.67 sq mi (84.6 km²) |
| Tempe | Maricopa | 40.19 sq mi (104.1 km²) |
| Thatcher | Graham | 6.13 sq mi (15.9 km²) |
| Tolleson | Maricopa | 5.75 sq mi (14.9 km²) |
| Tombstone | Cochise | 4.31 sq mi (11.2 km²) |
| Tucson | Pima | 227.03 sq mi (588.0 km²) |
| Tusayan | Coconino | 8.91 sq mi (23.1 km²) [d] |
| Wellton | Yuma | 28.93 sq mi (74.9 km²) |
| Wickenburg | Maricopa | 18.77 sq mi (48.6 km²) |
| Willcox | Cochise | 6.28 sq mi (16.3 km²) |
| Williams | Coconino | 43.79 sq mi (113.4 km²) |
| Winkelman | Gila | 0.75 sq mi (1.9 km²) |
| Winslow | Navajo | 12.35 sq mi (32.0 km²) |
| Youngtown | Maricopa | 1.54 sq mi (4.0 km²) |
| Yuma | Yuma | 120.41 sq mi (311.9 km²) |