What are the Popular places to visit in Arizona?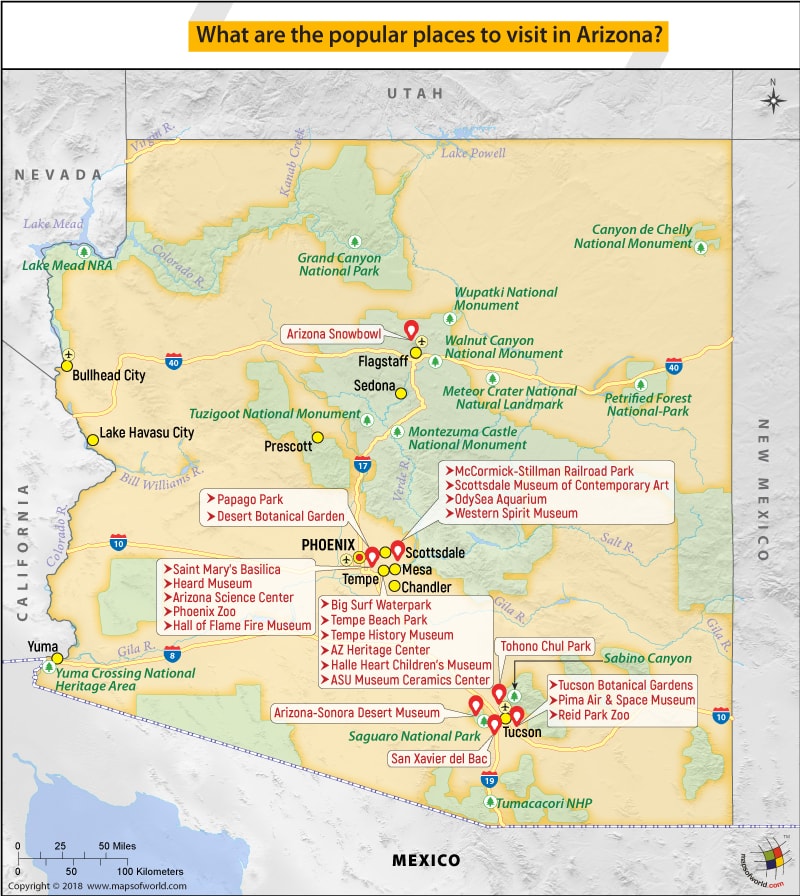 Located in the southwestern region of the United States, Arizona is a state known for its predominantly warm climate and desert landscape. The best known and most visited attraction of this state is the Grand Canyon. This is why Arizona is nicknamed The Grand Canyon State.
Arizona is one of the Four Corners States (the others are; Colorado, Utah, and New Mexico). Arizona is popular for its desert landscape and climate, but parts of the state experience snowfall. It is home to culturally rich cities and large forest areas making the state a bundle of contradictions.
Arizona achieved statehood on February 14th, 1912 – the last state in the contiguous United States to be admitted to the Union, and the 48th state overall. Despite its image as a desert state, it has a highly industrialized economy.
Arizona, known for its desert climate is home to a number of important cities and towns. Let us take a look at these –
Tucson – Often referred to as The Old Pueblo, Tucson is one of the main cities of Arizona and receives about 350 days of sunshine. This makes it best known for outdoor activities such as golfing, horseback riding, mountain climbing, bird watching, and hiking. Pima Air & Space Museum, Reid Park Zoo, Arizona-Sonora Desert Museum, Tucson Botanical Gardens, the University of Arizona, San Xavier del, and Tohono Chul Park are among the top attractions.
Phoenix – With a population well over a million residents, Phoenix is one of the most populous state capitals of the US. Papago Park, Desert Botanical Garden, Saint Mary's Basilica, Heard Museum, Arizona Science Center, and the Phoenix Zoo are among its top attractions.
Flagstaff – Flagstaff acts as the gateway to the Arizona Superbowl ski resort. It is best known for its hiking trails, camping sites, and outdoor culture. Come winter it becomes a popular destination for those who seek winter sports such as skiing, sledding, and snowboarding. Humphreys Peak, Arizona's highest point is nearby.
Scottsdale – Known for its laid-back attitude and party culture, Scottsdale is a small city but attracts a great number of visitors. Its popular attractions include the Big Surf Waterpark, McCormick-Stillman Railroad Park, Scottsdale Museum of Contemporary Art, OdySea Aquarium, and Western Spirit Museum. As well as an internationally recognized Auto Auction and Museum.
Tempe – Known for its vibrant art scene, Tempe is dotted with art galleries, concert halls, exhibition centers, and outdoor concert venues. The Tempe Beach Park, the Hall of Fame Fire Museum, Tempe Historical Museum, AZ Heritage Center, Halle Heart Children's Museum, and ASU Museum Ceramics Center and Brickyard Gallery are among its top attractions. Located near Phoenix city Tempe attracts a number of tourists.
Mesa, Sedona, and Chandler are other important towns and cities in Arizona.
Any mention of Arizona is incomplete without a description of the Grand Canyon. One of the great seven natural wonders of the world, the Grand Canyon is a breathtaking sight. Each year over 5.5 million visitors come to Grand Canyon National Park. The majestic vistas, the trails, and the adventure offered by the 277 miles long, 18 miles wide, and a mile deep canyon which is home to rocks which are over two billion years old. A hike along one of the trials or witnessing sunrise and sunset from the very edge can be a glorious experience.
Apart from the Grand Canyon National Park, the Vermilion Cliffs national monument along the Utah border is another grand place to visit in the state of Arizona. The eroded sandstone, limestone, and shale cliffs present a stunning sight. The natural beauty of the landscape is stunning.
The state of Arizona is also home to a number of national parks and monuments. These include –
Saguaro National Parks (East & West)
Sabino Canyon
Wupatki National Monument
Walnut Canyon National Monument
Meteor Crater National Natural Landmark
Montezuma's Castle National Monument
Canyon De Chelly National Monument
Wupatki And Sunset Crater National Monuments
When in the state of Arizona, do not forget to book your stay in one of these historic hotels. Most of them were established in the late 19th and early 20th century and have received art deco makeovers to provide the guests an authentic old-world experience. Take your pick from –
Hotel Congress, Tucson
Hotel San Carlos, Phoenix
El Tovar, Grand Canyon
Hassayampa Inn, Prescott
Gadsden Hotel, Douglas
Visit the following to learn more about Arizona:
Related Maps: