2015 Cricket World Cup Teams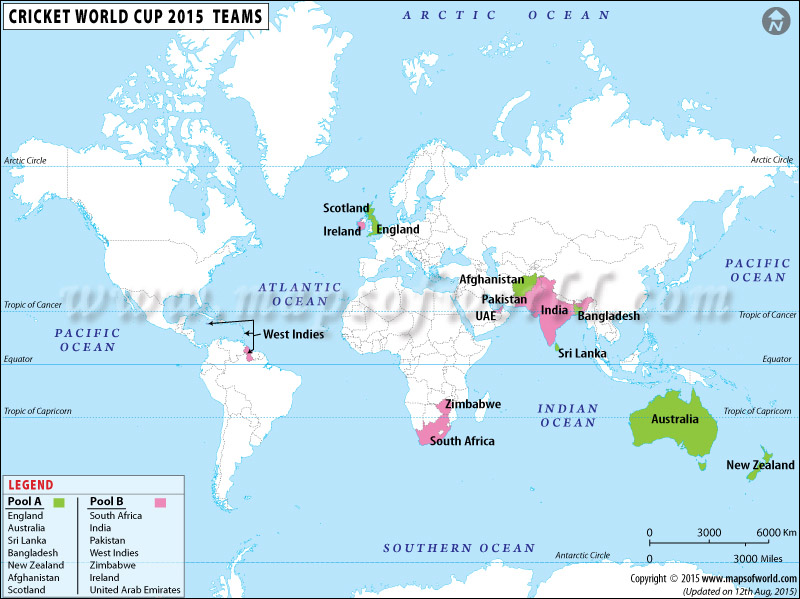 As hosts of the 2015 ICC Cricket World Cup, Australia and New Zealand are naturally in the running to lift the Cup. Australia, in particular, the winners of three previous World Cups, is a fiercely competitive squad. The current Aussie team cannot perhaps be compared to the great Aussie side that dominated world cricket in the 1990s and early 2000s, but expect them to perform at their peak when it matters.
The World Cup is a huge test for the young Aussie skipper Michael Clarke.
If their current form is anything to go by, South Africa has a cracking chance to emerge winners on the strength of their batting prowess. With match-winners like Faf Du Plessis, Hashim Amla and Ab De Villiers (who has re-written the record books in January with the fastest ODI hundred ever off 31 balls against the Windies), the Proteas can take on any bowling attack.
Defending champions India remain a favorite, and Mahendra Singh Dhoni's canny captaincy gives the team an edge. If the Indian battling line-up, which boasts the likes of Virat Kohli, Shikhar Dhawan and Rohit Sharma, clicks, they will be the team to watch out for. A challenge for Dhoni's bowlers would be to exploit the pitches in Australia and New Zealand.
Sri Lanka and Pakistan have the firepower to make it to the semi-finals, but experts like the former Indian legend Sunil Gavaskar have questioned the lack of batsmen in the Pakistan team "who can change matches". Yet, Pakistan's unpredictability can also be a hidden strength.
England is the other team with a chance to reach the semis, but they will have to turn around their recent World Cup history to make a decisive impact. The West Indies is at best a wild card and will need a quantum improvement in performance to reach the last four. Overall, South Africa, Australia and India are the teams most likely to lift the cup, with Pakistan, Sri Lanka, New Zealand and England perfectly capable of springing up a surprise.
EBPB
Cricket World Cup 2015 Teams/ Groups

POOL A
POOL B
England
South Africa
Australia
India
Sri Lanka
Pakistan
Bangladesh
West Indies
New Zealand
Zimbabwe
Afghanistan
Ireland
Scotland
United Arab Emirates