Formula One 2017 Venues Map and Results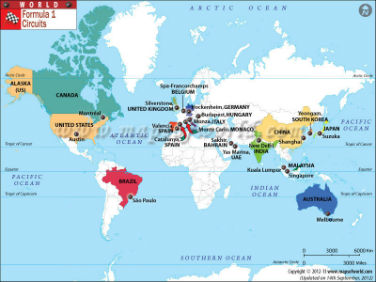 Formula One, also known as Formula 1 or simply F1, is the most expensive sport in the world. Its high-profile status, along with its world-wide popularity, generate a great degree of economic and even political interests. Fundamentally, it is a sport that involves races of high-speed automobiles on prepared circuits built for the purpose, or closed city streets.
Also known as the Grand Prix, the rules for this exciting, adrenaline-driven races were laid down by the Federation Internationale de l'Automobiles or FIA before the World Wars.
Formula One derives its name from the set of clear rules (the 'formula') laid down by the FIA, by which manufacturers and participants must abide during the races. Technology, grace, speed and safety, all are kept in mind while laying down these rules. Though spread around the world, the event is mainly Euro-centric. The first Grand Prix was held in England in 1950. Now, every year, a number of Grand Prix events are held at various venues around the world. A driver and a manufacturer are awarded the honor of being the best at the end of every session by FIA.
Since big money is involved in Formula 1, economic discords have plagued the smooth functioning of the game right from the early days. However, the Concord Agreement in 1981 has laid down clear rules as far as the regulation of the finances are concerned.
There are many big names in the history of F1 Racing. Mclaren, Williams, Renault and Ferrari, dubbed as the big four in the F1 circuit, have been the chief players. Drivers are major attractions of F1. The circuit has been graced by the presence of legendary drivers like Jean Manuel Fangio and Jim Clark of the early days to Ayrton Senna and Michael Schumacher in the modern times.
2017 Formula One Results and Schedule
| # | Race | Date | Venue | Winning Driver | Team | Laps | Time |
| --- | --- | --- | --- | --- | --- | --- | --- |
| 1 | Australian Grand Prix | Mar 26, 2017 | Australia Melbourne Grand Prix Circuit, Melbourne | Sebastian Vettel | Ferrari | 57 | 01:24:11.67 |
| 2 | Chinese Grand Prix | Apr 9, 2017 | China Shanghai International Circuit, Shanghai | Lewis Hamilton | Mercedes | 56 | 01:37:36.16 |
| 3 | Bahrain Grand Prix | Apr 16, 2017 | Bahrain Bahrain International Circuit, Sakhir | Sebastian Vettel | Ferrari | 57 | 1:33:53.374 |
| 4 | Russian Grand Prix | Apr 30, 2017 | Russia Sochi Autodrom, Sochi | Valtteri Bottas | Mercedes | 52 | 1:28:08.743 |
| 5 | Spanish Grand Prix | May 14, 2017 | Spain Circuit de Barcelona-Catalunya, Barcelona | Lewis Hamilton | Mercedes | 66 | 1:35:56.497 |
| 6 | Monaco Grand Prix | May 28, 2017 | Monaco Circuit de Monaco, Monte Carlo | Sebastian Vettel | Ferrari | 78 | 1:44:44.340 |
| 7 | Canadian Grand Prix | Jun 11, 2017 | Canada Circuit Gilles Villeneuve, Montreal | Lewis Hamilton | Mercedes | 70 | 1:33:05.154 |
| 8 | Azerbaijan Grand Prix | Jun 25, 2017 | Azerbaijan Baku City Circuit, Baku | Daniel Ricciardo | Red Bull | 51 | 2:03:55.573 |
| 9 | Austrian Grand Prix | Jul 9, 2017 | Austria Red Bull Ring, Spielberg | Valtteri Bottas | Mercedes | 71 | 1:21:48.523 |
| 10 | British Grand Prix | Jul 16, 2017 | United Kingdom Silverstone Circuit, Silverstone | Lewis Hamilton | Mercedes | 51 | 1:21:27.430 |
| 11 | Hungarian Grand Prix | Jul 30, 2017 | Hungary Hungaroring, Budapest | Sebastian Vettel | Ferrari | 71 | 1:39:46.713 |
| 12 | Belgian Grand Prix | Aug 27, 2017 | Belgium Circuit de Spa-Francorchamps, Stavelot | Lewis Hamilton | Mercedes | 44 | 1:24:42.820 |
| 13 | Italian Grand Prix | Sep 3, 2017 | Italy Autodromo Nazionale Monza, Monza | Lewis Hamilton | Mercedes | 53 | 1:15:32.312 |
| 14 | Singapore Grand Prix | Sep 17, 2017 | Singapore Marina Bay Street Circuit, Singapore | Lewis Hamilton | Mercedes | 58 | 2:03:23.544 |
| 15 | Malaysia Grand Prix | Oct 1, 2017 | Malaysia Sepang International Circuit, Kuala Lumpur | Max Verstappen | Red Bull | 56 | 1:30:01.290 |
| 16 | Japanese Grand Prix | Oct 8, 2017 | Japan Suzuka International Racing Course, Suzuka | Lewis Hamilton | Mercedes | 53 | 1:27:31.194 |
| 17 | United States Grand Prix | Oct 22, 2017 | United States Circuit of the Americas, Austin, Texas | Lewis Hamilton | Mercedes | 56 | 1:33:50.991 |
| 18 | Mexican Grand Prix | Oct 29, 2017 | Mexico Autódromo Hermanos Rodríguez, Mexico City | Max Verstappen | Red Bull | 71 | 1:36:26.552 |
| 19 | Brazilian Grand Prix | Nov 12, 2017 | Brazil Autódromo José Carlos Pace, São Paulo | | | | |
| 20 | Abu Dhabi Grand Prix | Nov 26, 2017 | United Arab Emirates Yas Marina Circuit, Abu Dhabi | | | | |
2016 Formula One Results (2016 Grands Prix Results)
| Grand Prix | Date | Venue | Winning Driver | Team | Laps | Time |
| --- | --- | --- | --- | --- | --- | --- |
| Australian Grand Prix | 20. Mar. 2016 | Australia Melbourne Grand Prix Circuit, Melbourne | Nico Rosberg (GER) | Mercedes | 57 | 01:48:15.57 |
| Bahrain Grand Prix | 3. Apr. 2016 | Bahrain Bahrain International Circuit, Sakhir | Nico Rosberg (GER) | Mercedes | 25 | 01:33:34.70 |
| Chinese Grand Prix | 17. Apr. 2016 | China Shanghai International Circuit, Shanghai | Nico Rosberg (GER) | Mercedes | 25 | 01:38:53.89 |
| Russian Grand Prix | 1. May. 2016 | Russia Sochi Autodrom, Sochi | Nico Rosberg (GER) | Mercedes | 25 | 01:32:42.00 |
| Spanish Grand Prix | 16. May. 2016 | Spain Circuit de Barcelona-Catalunya, Barcelona | Max Verstappen (NED) | Red Bull | 66 | 01:41:40.02 |
| Monaco Grand Prix | 29. May. 2016 | Monaco Circuit de Monaco, Monte Carlo | Lewis Hamilton (GBR) | Mercedes | 78 | 01:59:29.13 |
| Canadian Grand Prix | 12. Jun. 2016 | Canada Circuit Gilles Villeneuve, Montreal | Lewis Hamilton (GBR) | Mercedes | 69 | 1:31:05.29 |
| Grand Prix of Europe | 19. Jun. 2016 | Azerbaijan Baku City Circuit, Baku | Nico Rosberg (GER) | Mercedes | 51 | 1:46.485 |
| Austrian Grand Prix | 3. Jul. 2016 | Austria Red Bull Ring, Spielberg | Nico Rosberg (GER) | Mercedes | 25 | 1:48:15.565 |
| British Grand Prix | 10. Jul. 2016 | United Kingdom Silverstone Circuit, Silverstone | Lewis Hamilton (GBR) | Mercedes | 52 | 1:34:55.831 |
| Hungarian Grand Prix | 24. Jul. 2016 | Hungary Hungaroring, Budapest | Lewis Hamilton (GBR) | Mercedes | 70 | 01:40:30.115 |
| German Grand Prix | 31. Jul. 2016 | Germany Hockenheimring, Hockenheim[58] | Lewis Hamilton (GBR) | Mercedes | 67 | 01:30:44.200 |
| Belgian Grand Prix | 28. Aug. 2016 | Belgium Circuit de Spa-Francorchamps, Stavelot | Nico Rosberg (GER) | Mercedes | 44 | 01:44:51.058 |
| Italian Grand Prix | 4. Sep. 2016 | Italy Autodromo Nazionale Monza, Monza | Nico Rosberg (GER) | Mercedes | 53 | 01:17:28.089 |
| Singapore Grand Prix | 18. Sep. 2016 | Singapore Marina Bay Street Circuit, Singapore | Nico Rosberg (GER) | Mercedes | 61 | 01:55:48.950 |
| Malaysian Grand Prix | 2. Oct. 2016 | Malaysia Sepang International Circuit, Kuala Lumpur | Daniel Ricciardo | Red Bull | 56 | 01:37:12.776 |
| Japanese Grand Prix | 9. Oct. 2016 | Japan Suzuka International Racing Course, Suzuka | Nico Rosberg (GER) | Mercedes | 53 | 01:26:43.333 |
| United States Grand Prix | 23. Oct. 2016 | United States Circuit of the Americas, Austin, Texas | Lewis Hamilton (GBR) | Mercedes | 56 | 01:38:12.614 |
| Mexican Grand Prix | 30. Oct. 2016 | Mexico Autódromo Hermanos Rodríguez, Mexico City | Lewis Hamilton (GBR) | Mercedes | 71 | 01:40:31.402 |
| Brazilian Grand Prix | 13. Nov. 2016 | Brazil Autódromo José Carlos Pace, São Paulo | Lewis Hamilton (GBR) | Mercedes | 71 | 03:01:01.335 |
| Abu Dhabi Grand Prix | 27. Nov. 2016 | United Arab Emirates Yas Marina Circuit, Abu Dhabi | Lewis Hamilton (GBR) | Mercedes | 55 | 01:38:04.013 |
2015 Formula one Results (2015 Grands Prix Results)

Grand Prix
Date
Winning Driver
Team
Laps
Time
Australian Grand Prix
March 15, 2015
Lewis Hamilton
Mercedes
58
01:31:54.07
Malaysian Grand Prix
March 29,  2015
Sebastian Vettel
Ferrari
56
01:41:05.79
Chinese Grand Prix
April 12,  2015
Lewis Hamilton
Mercedes
56
01:39:42.01
Bahrain Grand Prix
April 19,  2015
Lewis Hamilton
Mercedes
57
01:35:05.81
Spanish Grand Prix
May 10, 2015
Nico Rosberg (GER)
Mercedes
66
01:41:12.56
Monaco Grand Prix
May 24, 2015
Nico Rosberg (GER)
Mercedes
78
01:49:18.42
Canadian Grand Prix
June 7, 2015
Lewis Hamilton
Mercedes
70
01:31:53.15
Austrian Grand Prix
June 21, 2015
Nico Rosberg (GER)
Mercedes
71
01:30:16.93
British Grand Prix
July 5, 2015
Lewis Hamilton
Mercedes
52
01:31:27.73
German Grand Prix
19 July
Cancelled
Cancelled
Cancelled
Cancelled
Hungarian Grand Prix
26-Jul
Sebastian Vettel
Ferrari
70
1:46:09.985
Belgian Grand Prix
23 Aug
Lewis Hamilton
Mercedes
44
1:23:40.387
Italian Grand Prix
6 Sep
Lewis Hamilton
Mercedes
53
1:18:00.688
Singapore Grand Prix
20 Sep
Sebastian Vettel
Ferrari
53
2:01:22.118
Japanese Grand Prix
27 Sep
Lewis Hamilton
Mercedes
25
1:28:06.508
2015 Russian Grand Prix
11 Oct
Lewis Hamilton
Mercedes
1:37:11.024
United States Grand Prix
Oct 26
Lewis Hamilton
Mercedes
25
1:50:52.703
Mexican Grand Prix
Nov 2
Nico Rosberg (GER)
Mercedes
25
1:42:35.038
Brazilian Grand Prix
Nov 15
Nico Rosberg (GER)
Mercedes
71
1:31:09:090
Abu Dhabi Grand Prix
Nov 29
Nico Rosberg (GER)
Mercedes
55
1:38:30.175
| Grand Prix | Date | Winning Driver | Team | Laps | Time |
| --- | --- | --- | --- | --- | --- |
| Australia | March 16, 2014 | Nico Rosberg | Mercedes | 57 | 1:32:58.710 |
| Malaysia | March 30, 2014 | Lewis Hamilton | Mercedes | 56 | 1:40:25.974 |
| Bahrain | April 6, 2014 | Lewis Hamilton | Mercedes | 57 | 1:39:42.743 |
| China | April 20, 2014 | Lewis Hamilton | Mercedes | 54 | 1:33:28.338 |
| Spain | May 11, 2014 | Lewis Hamilton | Mercedes | 66 | 1:41:05.155 |
| Monaco | May 25, 2014 | Nico Rosberg | Mercedes | 78 | 1:49:27.661 |
| Canada | June 8, 2014 | Daniel Ricciardo | Red Bull Racing-Renault | 70 | 1:39:12.830 |
| Austria | June 22, 2014 | Nico Rosberg | Mercedes | 71 | 1:27:54.976 |
| Great Britain | July 6, 2014 | Lewis Hamilton | Mercedes | 52 | 2:26:52.094 |
| Germany (Hockenheim) | July 20, 2014 | Nico Rosberg | Mercedes | 67 | 1:33:42.914 |
| Hungary | July 27, 2014 | Daniel Ricciardo | Red Bull Racing-Renault | 70 | 1:53:05.058 |
| Belgium | August 24, 2014 | Daniel Ricciardo | Red Bull Racing-Renault | 44 | 1:24:36.556 |
| Italy | September 7, 2014 | Lewis Hamilton | Mercedes | 53 | 1:19:10.236 |
| Singapore | September 21, 2014 | Lewis Hamilton | Mercedes | 60 | 2:00:04.795 |
| Japan | October 5, 2014 | Lewis Hamilton | Mercedes | 44 | 1:51:43.021 |
| Russia | October 12, 2014 | Lewis Hamilton | Mercedes | 53 | 1:31:50.744 |
| USA | November 2, 2014 | Lewis Hamilton | Mercedes | 56 | 1:40:04.785 |
| Brazil | November 9, 2014 | Nico Rosberg | Mercedes | 71 | 1:30:02.555 |
| Abu Dhabi | November 23, 2014 | Lewis Hamilton | Mercedes | 55 | 1:39:02.619 |
2013 FIA Formula One World Championship Results
| Grand Prix | Date | Winning Driver | Team | Laps | Time |
| --- | --- | --- | --- | --- | --- |
| Australia | 17/03/2013 | Kimi Räikkönen | Lotus-Renault | 58 | 01:30:03.23 |
| Malaysia | 24/03/2013 | Sebastian Vettel | Red Bull Racing-Renault | 56 | 01:38:56.68 |
| China | 14/04/2013 | Fernando Alonso | Ferrari | 56 | 01:36:26.95 |
| Bahrain | 21/04/2013 | Sebastian Vettel | Red Bull Racing-Renault | 57 | 01:36:00.50 |
| Spain | 12/05/13 | Fernando Alonso | Ferrari | 66 | 01:39:16.60 |
| Monaco | 26/05/2013 | Nico Rosberg | Mercedes | 78 | 02:17:52.06 |
| Canada | 09/06/13 | Sebastian Vettel | Red Bull Racing-Renault | 70 | 01:32:09.14 |
| Great Britain | 30/06/2013 | Nico Rosberg | Mercedes | 52 | 01:32:59.46 |
| Germany | 07/07/13 | Sebastian Vettel | Red Bull Racing-Renault | 60 | 01:41:14.71 |
| Hungary | 28/07/2013 | Lewis Hamilton | Mercedes | 70 | 01:42:29.45 |
| Belgium | 25/08/2013 | Sebastian Vettel | Red Bull Racing-Renault | 44 | 01:23:42.20 |
| Italy | 08/09/13 | Sebastian Vettel | Red Bull Racing-Renault | 53 | 01:18:33.35 |
| Singapore | 22/09/2013 | Sebastian Vettel | Red Bull Racing-Renault | 61 | 01:59:13.13 |
| Korea | 06/10/13 | Sebastian Vettel | Red Bull Racing-Renault | 55 | 01:43:13.70 |
| Japan | 13/10/2013 | Sebastian Vettel | Red Bull Racing-Renault | 53 | 1:26:49.301 |
| India | 27/10/2013 | Sebastian Vettel | Red Bull Racing-Renault | 60 | 1:31:12.187 |
| Abu Dhabi | 03/11/13 | Sebastian Vettel | Red Bull Racing-Renault | 55 | 1:38:06.106 |
| United States | 17/11/2013 | Sebastian Vettel | Red Bull Racing-Renault | 56 | 1:39:17.148 |
| Brazil | 24/11/2013 | Sebastian Vettel | Red Bull Racing-Renault | 71 | 1:32:36.300 |
2012 Formula One World Championship Results
| S.No. | Name | Country | City | Date | Winning Driver | Team | Laps | Time |
| --- | --- | --- | --- | --- | --- | --- | --- | --- |
| 1 | QANTAS AUSTRALIAN GRAND PRIX | Australia | Melbourne | 16 – 18 Mar | Jenson Button | McLaren-Mercedes | 58 | 34:09.6 |
| 2 | PETRONAS MALAYSIA GRAND PRIX | Malaysia | Kuala Lumpur | 23 – 25 Mar | Fernando Alonso | Ferrari | 56 | 44:51.8 |
| 3 | UBS CHINESEGRAND PRIX | China | Shanghai | 13 – 15 Apr | Nico Rosberg | Mercedes | 56 | 36:26.9 |
| 4 | GULF AIR BAHRAIN GRAND PRIX | Bahrain | Sakhir | 20 – 22 Apr | Sebastian Vettel | Red Bull Racing-Renault | 57 | 35:11.0 |
| 5 | GRAN PREMIO DEESPANA SANTANDER | Spain | Catalunya | 11 – 13 May | Pastor Maldonado | Williams-Renault | 66 | 39:09.1 |
| 6 | GRAND PRIX DEMONACO | Monaco | Monte Carlo | 24 – 27 May | Mark Webber | Red Bull Racing-Renault | 78 | 46:06.6 |
| 7 | GRAND PRIX DU CANADA | Canada | Montreal | 08 – 10 Jun | Lewis Hamilton | McLaren-Mercedes | 70 | 32:29.6 |
| 8 | GRAND PRIX OF EUROPE | Euroope | Valencia | 22 – 24 Jun | Fernando Alonso | Ferrari | 57 | 44:16.6 |
| 9 | SANTANDER BRITISH GRAND PRIX | Great Britain | Silverstone | 06 – 08 Jul | Mark Webber | Red Bull Racing-Renault | 52 | 25:11.3 |
| 10 | GROSSER PREIS SANTANDER VON DEUTSCHLAND | Germany | Hockenheim | 20 – 22 Jul | Fernando Alonso | Ferrari | 67 | 31:05.9 |
| 11 | ENI MAGYAR NAGYDIJ | Hungary | Budapest | 27 – 29 Jul | Lewis Hamilton | McLaren-Mercedes | 69 | 41:05.5 |
| 12 | SHELL BELGIAN GRAND PRIX | Belgium | Spa-Francorchamps | 31 Aug – 02 Sep | Jenson Button | McLaren-Mercedes | 44 | 29:08.5 |
| 13 | GRAN PREMIO SANTANDER D'ITALIA | Italy | Monza | 07 – 09 Sep | Lewis Hamilton | McLaren-Mercedes | 53 | 1:19:41.221 |
| 14 | SINGTEL SINGAPOREGRAND PRIX | Singapore | Singapore | 21 – 23 Sep | Sebastian Vettel | Red Bull | 61 | 2:00:26.144 |
| 15 | JAPANESEGRAND PRIX | Japan | Suzuka | 05 – 07 Oct | Sebastian Vettel | Red Bull | 53 | 1:28:56.242 |
| 16 | KOREAN GRAND PRIX | South Korea | Yeongam | 12 – 14 Oct | Sebastian Vettel | Red Bull Racing Renault | 55 | 1:36:28.651 |
| 17 | AIRTEL INDIAN GRAND PRIX | India | New Delhi | 26 – 28 Oct | Sebastian Vettel | Red Bull Racing-Renault | 60 | 1:31:10.744 |
| 18 | ETIHAD AIRWAYS ABU DHABI GRAND PRIX | Abu Dhabi | Yas Marina | 02 – 04 Nov | Kimi Raikkonen | Lotus-Renault | 55 | 1:45:58.667 |
| 19 | UNITED STATES GRAND PRIX | USA | Austin | 16 – 18 Nov | Lewis Hamilton | McLaren-Mercedes | 56 | 1:35:55.269 |
| 20 | GRANDEPREMIO PETROBRAS DO BRASIL | Brazil | Sao Paulo | 23 – 25 Nov | Jenson Button | McLaren-Mercedes | 71 | 1:45:22.656 |