2018 Asian Games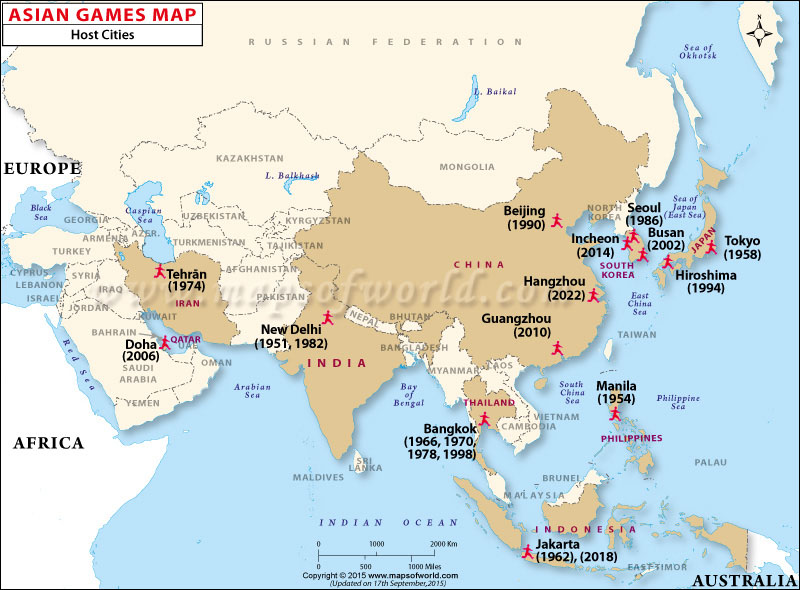 List of Asian Games Till Date
| Year | Games | Host City | Host Country | Date | Participating Nations | Athletes | Sports | Events |
| --- | --- | --- | --- | --- | --- | --- | --- | --- |
| 2022 | XIX | Hangzhou | China | TBD | TBD | TBD | TBD | TBD |
| 2018 | XVIII | Jakarta and Palembang | Indonesia | August18-September2 | TBD | TBD | TBD | TBD |
| 2014 | XVII | Incheon | SouthKorea | September19–October4 | 45 | 9,429 | 36 | 439 |
| 2010 | XVI | Guangzhou | China | November12–27 | 45 | 9704 | 42 | 476 |
| 2006 | XV | Doha | Qatar | December1–15 | 45 | 9520 | 39 | 424 |
| 2002 | XIV | Busan | SouthKorea | September29–October14 | 44 | 7711 | 38 | 419 |
| 1998 | XIII | Bangkok | Thailand | December6–20 | 41 | 6554 | 36 | 376 |
| 1994 | XII | Hiroshima | Japan | October2–16 | 42 | 6828 | 34 | 337 |
| 1990 | XI | Beijing | China | September22–October7 | 36 | 6122 | 29 | 310 |
| 1986 | X | Seoul | SouthKorea | September20–October5 | 27 | 4839 | 25 | 270 |
| 1982 | IX | NewDelhi | India | November19–December4 | 23 | 3411 | 21 | 147 |
| 1978 | VIII | Bangkok | Thailand | December9–20 | 19 | 3842 | 19 | 201 |
| 1974 | VII | Tehran | Iran | September1–16 | 19 | 3010 | 16 | 202 |
| 1970 | VI | Bangkok | Thailand | December9–20 | 16 | 2400 | 13 | 135 |
| 1966 | V | Bangkok | Thailand | December9–20 | 16 | 1945 | 14 | 143 |
| 1962 | IV | Jakarta | Indonesia | August24–September4 | 12 | 1460 | 13 | 88 |
| 1958 | III | Tokyo | Japan | May28–June1 | 16 | 1820 | 13 | 97 |
| 1954 | II | Manila | Philippines | May1–9 | 19 | 970 | 8 | 76 |
| 1951 | I | NewDelhi | India | March4–11 | 11 | 489 | 6 | 57 |
Hangzhou to host 2022 Asian Games
After standing as the only candidate, Hangzhou, a Chinese city, has been confirmed as the host of the 2022 Asian Games, media reports stated. Regarding this, a contract was signed by the Olympic Council of Asia with officials from Hangzhou during meetings in Turkmenistan. Beijing will be hosting the Winter Olympics in 2022.
The Asian Games is a major multi-sport event held in every four years in which athletes from all the 45 participating nations in Asian continent compete. Also known as Asiad , this is the second largest multi sport event after the Olympics.
The first asian games was held in New Delhi, India in 1951 and the last events was held in Guangzhou, China in 2010 and the next asian games is going to be held in incheon, South Korea in 2014.
The Asian Games is evovled from the Far Eastern Championship Games and the West Asian Games. There are 44 sports events present in Asian Games of which 36 are olympics events and 8 are non-olympic events.
Olympic Events
Non Olympic Events
Golf
Volleyball
Archery
Baseball
Football
Handball
Baseball
Bowling
Fencing
Hockey
Softball
Cricket
Sailing
Judo
Water polo
Kabaddi
Rugby sevens
Boxing
Swimming
Karate
Rowing
Taekwondo
Diving
Sepak takraw
Wrestling
Basketball
Synchronized swimming
Squash
Weightlifting
Badminton
Triathlon
Wushu
Canoeing
Athletics
Gymnastics
Table tennis
Shooting
Modern pentathlon
Equestrian
Cycling
Tennis