Map of Western Australia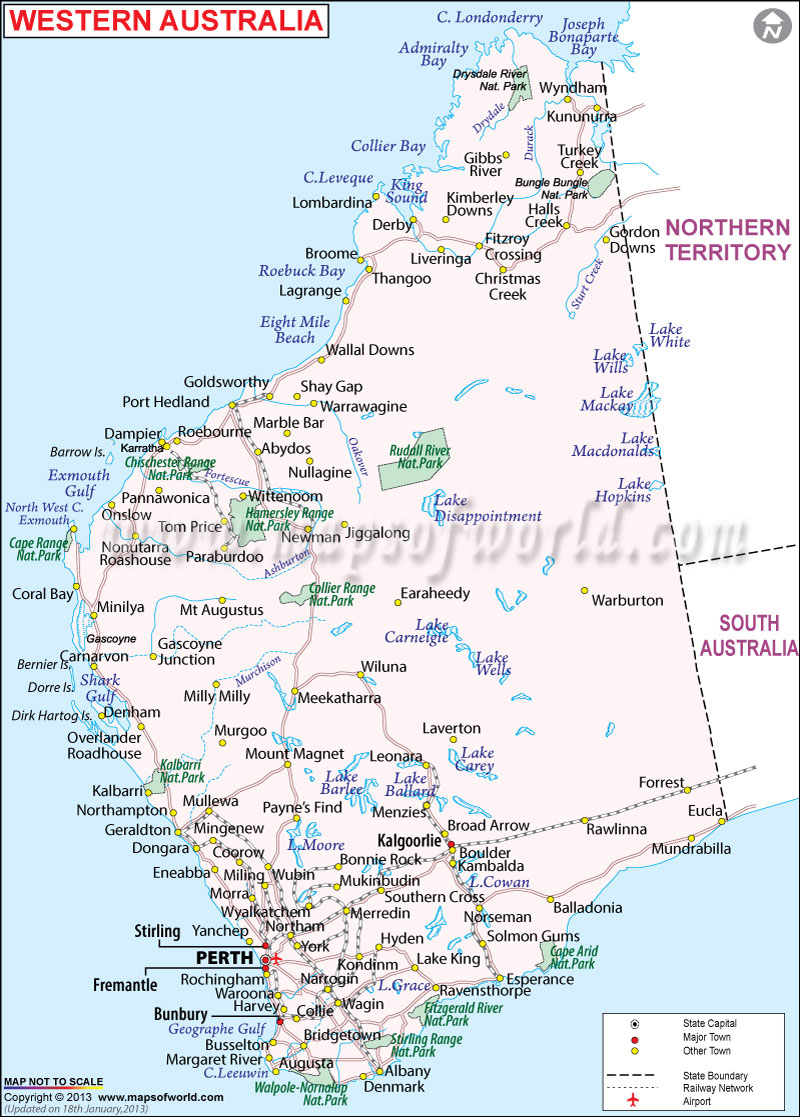 Facts about Western Australia
| | |
| --- | --- |
| Capital | Perth |
| Demonym | Western Australian, West Australian, Sandgroper (colloquial) |
| Government | Constitutional monarchy |
| Area | 2,645,615 km² |
| Population | 2472400 |
| Time zone | UTC+8 (AWST) |
| Web site | www.wa.gov.au |
| Places to Visit | Kings Park & Botanic Garden, Perth Zoo, Scitech Discovery Centre, Museum of Western Australia, Perth Mint, The Bell Tower, Caversham Wildlife Park, Adventure World, Fremantle Prison, Rockingham Wild Encounters |
The largest state in Australia, Western Australia occupies the entire western third of the continent. The total area covered by the state is 1,021,478 square miles. The state is home to over 2.3 million people.
Western Australia is bordered by the Northern Territory to the north-east, South Australia to the south-east, Indian Ocean to the north and west, and the Great Australian Bight and Indian Ocean to the south.
Western Australia was initially established as Swan River Colony in 1829 by Captain James Stirling. Responsible Government was granted to the state in 1890 and in 1901, Western Australia formally achieved statehood.
The government of Western Australia functions in the framework of a constitutional monarchy. The Queen of Australia(Queen Elizabeth II) is the sovereign of the state.
The executive power of the state is nominally vested in her State representative, that is, the Governor. Malcolm McCusker is the current Governor of the nation.
The economy of Western Australia is heavily dependent on the extraction and processing of a variety of minerals and petroleum commodities. Tourism and fishing industry also contribute significantly to the state's revenues.
The long crystal-clear coastline with brilliant coral reefs make Western Australia a large aquatic playground. The exotic marine life of the state leaves the traveller with a sense of awe. The rocky gorges and the wilderness of the forests is just spectacular. Rottnest Island, Yanchep National Park, Porongurup National Park, Penguin Island, and Derby are some of the major attractions of the state.
Local government areas of Western Australia
| Name | Council Seat | Polulation | Area (sq km) |
| --- | --- | --- | --- |
| Armadale | Armadale | 60,983 | 560.3 km2 (216.3 sq mi) |
| Bassendean | Bassendean | 14,790 | 10.4 km2 (4.0 sq mi) |
| Bayswater | Morley | 61,865 | 32.8 km2 (12.7 sq mi) |
| Belmont | Cloverdale | 35,082 | 39.7 km2 (15.3 sq mi) |
| Cambridge | Floreat | 26,959 | 22.0 km2 (8.5 sq mi) |
| Canning | Cannington | 88,433 | 64.9 km2 (25.1 sq mi) |
| Claremont | Claremont | 9,891 | 4.9 km2 (1.9 sq mi) |
| Cockburn | Spearwood | 91,313 | 168.1 km2 (64.9 sq mi) |
| Cottesloe | Cottesloe | 8,222 | 3.9 km2 (1.5 sq mi) |
| East Fremantle | East Fremantle | 7,534 | 3.1 km2 (1.2 sq mi) |
| Fremantle | Fremantle | 28,626 | 19.0 km2 (7.3 sq mi) |
| Gosnells | Gosnells | 106,724 | 127.3 km2 (49.2 sq mi) |
| Joondalup | Joondalup | 164,445 | 98.9 km2 (38.2 sq mi) |
| Kalamunda | Kalamunda | 55,814 | 324.4 km2 (125.3 sq mi) |
| Kwinana | Kwinana Town Centre | 29,029 | 120.1 km2 (46.4 sq mi) |
| Melville | Ardross | 102,434 | 52.9 km2 (20.4 sq mi) |
| Mosman Park | Mosman Park | 9,440 | 4.4 km2 (1.7 sq mi) |
| Mundaring | Mundaring | 38,910 | 643.7 km2 (248.5 sq mi) |
| Nedlands | Nedlands | 22,508 | 20.0 km2 (7.7 sq mi) |
| Peppermint Grove | Peppermint Grove | 1,749 | 1.1 km2 (0.42 sq mi) |
| Perth | Perth | 17,955 | 8 km2 (3.1 sq mi) |
| Rockingham | Rockingham | 104,130 | 257.1 km2 (99.3 sq mi) |
| South Perth | South Perth | 43,908 | 19.8 km2 (7.6 sq mi) |
| Stirling | Stirling | 202,014 | 104.8 km2 (40.5 sq mi) |
| Subiaco | Subiaco | 18,862 | 7.0 km2 (2.7 sq mi) |
| Swan | Midland | 112,960 | 1044.0 km2 (403.1 sq mi) |
| Victoria Park | Victoria Park | 32,958 | 17.9 km2 (6.9 sq mi) |
| Vincent | Leederville | 31,209 | 11.4 km2 (4.4 sq mi) |
| Wanneroo | Wanneroo | 150,106 | 685.5 km2 (264.7 sq mi) |
| Name | Council Seat | Polulation | Area (sq km) |
| --- | --- | --- | --- |
| Albany | Albany | 36,042 | 4310.5 km2 (1664.3 sq mi) |
| Ashburton | Tom Price | 6,730 | 101213.7 km2 (39078.8 sq mi) |
| Augusta-Margaret River | Margaret River | 12,509 | 2123.0 km2 (819.7 sq mi) |
| Beverley | Beverley | 1,755 | 2372.1 km2 (915.9 sq mi) |
| Boddington | Boddington | 1,692 | 1900.4 km2 (733.7 sq mi) |
| Boyup Brook | Boyup Brook | 1,619 | 2827.3 km2 (1091.6 sq mi) |
| Bridgetown-Greenbushes | Bridgetown | 4,560 | 1339.8 km2 (517.3 sq mi) |
| Brookton | Brookton | 1,006 | 1602.2 km2 (618.6 sq mi) |
| Broome | Broome | 16,298 | 54796.6 km2 (21157.1 sq mi) |
| Broomehill-Tambellup | Tambellup | 1,256 | 2609.9 km2 (1007.7 sq mi) |
| Bruce Rock | Bruce Rock | 1,039 | 2726.7 km2 (1052.8 sq mi) |
| Bunbury | Bunbury | 34,623 | 65.3 km2 (25.2 sq mi) |
| Busselton | Busselton | 31,767 | 1454.5 km2 (561.6 sq mi) |
| Capel | Capel | 13,370 | 558.1 km2 (215.5 sq mi) |
| Carnamah | Carnamah | 762 | 2876.4 km2 (1110.6 sq mi) |
| Carnarvon | Carnarvon | 6,219 | 46664.9 km2 (18017.4 sq mi) |
| Chapman Valley | Nabawa | 1,059 | 3988.4 km2 (1539.9 sq mi) |
| Chittering | Bindoon | 4,519 | 1220.9 km2 (471.4 sq mi) |
| Collie | Collie | 9,470 | 1710.8 km2 (660.5 sq mi) |
| Coolgardie | Coolgardie | 3,963 | 30380.8 km2 (11730.1 sq mi) |
| Coorow | Coorow | 1,184 | 4193.5 km2 (1619.1 sq mi) |
| Corrigin | Corrigin | 1,278 | 2682.3 km2 (1035.6 sq mi) |
| Cranbrook | Cranbrook | 1,145 | 3278.2 km2 (1265.7 sq mi) |
| Cuballing | Cuballing | 869 | 1195.6 km2 (461.6 sq mi) |
| Cue | Cue | 278 | 13606.7 km2 (5253.6 sq mi) |
| Cunderdin | Cunderdin | 1,268 | 1863.9 km2 (719.7 sq mi) |
| Dalwallinu | Dalwallinu | 1,363 | 7235.2 km2 (2793.5 sq mi) |
| Dandaragan | Jurien Bay | 3,308 | 6718.3 km2 (2594.0 sq mi) |
| Dardanup | Dardanup | 13,125 | 526.1 km2 (203.1 sq mi) |
| Denmark | Denmark | 5,379 | 1860.1 km2 (718.2 sq mi) |
| Derby-West Kimberley | Derby | 8,092 | 120227.5 km2 (46420.1 sq mi) |
| Donnybrook-Balingup | Donnybrook | 5,473 | 1560.6 km2 (602.6 sq mi) |
| Dowerin | Dowerin | 744 | 1864.8 km2 (720.0 sq mi) |
| Dumbleyung | Dumbleyung | 650 | 2542.4 km2 (981.6 sq mi) |
| Dundas | Norseman | 1,159 | 92656.0 km2 (35774.7 sq mi) |
| East Pilbara | Newman | 8,113 | 372301.2 km2 (143746.3 sq mi) |
| Esperance | Esperance | 14,570 | 45059.3 km2 (17397.5 sq mi) |
| Exmouth | Exmouth | 2,487 | 6504.4 km2 (2511.4 sq mi) |
| Gingin | Gingin | 5,054 | 3211.3 km2 (1239.9 sq mi) |
| Gnowangerup | Gnowangerup | 1,370 | 4266.7 km2 (1647.4 sq mi) |
| Goomalling | Goomalling | 1,064 | 1837.0 km2 (709.3 sq mi) |
| Greater Geraldton | Geraldton | 39,368 | 9903.1 km2 (3823.6 sq mi) |
| Halls Creek | Halls Creek | 3,345 | 133358.5 km2 (51490.0 sq mi) |
| Harvey | Harvey | 24,151 | 1728.7 km2 (667.5 sq mi) |
| Irwin | Dongara | 3,664 | 2375.0 km2 (917.0 sq mi) |
| Jerramungup | Jerramungup | 1,166 | 6509.2 km2 (2513.2 sq mi) |
| Kalgoorlie-Boulder | Kalgoorlie | 32,620 | 95242.1 km2 (36773.2 sq mi) |
| Katanning | Katanning | 4,703 | 1518.8 km2 (586.4 sq mi) |
| Kellerberrin | Kellerberrin | 1,336 | 1917.1 km2 (740.2 sq mi) |
| Kent | Nyabing | 579 | 5630.9 km2 (2174.1 sq mi) |
| Kojonup | Kojonup | 2,237 | 2932.0 km2 (1132.1 sq mi) |
| Kondinin | Kondinin | 1,021 | 7426.7 km2 (2867.5 sq mi) |
| Koorda | Koorda | 474 | 2835.2 km2 (1094.7 sq mi) |
| Kulin | Kulin | 914 | 4720.2 km2 (1822.5 sq mi) |
| Lake Grace | Lake Grace | 1,450 | 11891.7 km2 (4591.4 sq mi) |
| Laverton | Laverton | 749 | 180126.7 km2 (69547.3 sq mi) |
| Leonora | Leonora | 1,875 | 31940.6 km2 (12332.3 sq mi) |
| Mandurah | Mandurah | 70,413 | 174.3 km2 (67.3 sq mi) |
| Manjimup | Manjimup | 10,159 | 7026.9 km2 (2713.1 sq mi) |
| Meekatharra | Meekatharra | 1,228 | 100327.0 km2 (38736.5 sq mi) |
| Menzies | Menzies | 242 | 124793.9 km2 (48183.2 sq mi) |
| Merredin | Merredin | 3,402 | 3297.1 km2 (1273.0 sq mi) |
| Mingenew | Mingenew | 450 | 1937.4 km2 (748.0 sq mi) |
| Moora | Moora | 2,543 | 3766.8 km2 (1454.4 sq mi) |
| Morawa | Morawa | 881 | 3517.2 km2 (1358.0 sq mi) |
| Mount Magnet | Mount Magnet | 639 | 13893.4 km2 (5364.3 sq mi) |
| Mount Marshall | Bencubbin | 653 | 10197.0 km2 (3937.1 sq mi) |
| Mukinbudin | Mukinbudin | 549 | 3438.4 km2 (1327.6 sq mi) |
| Murchison | Murchison | 112 | 45109.6 km2 (17416.9 sq mi) |
| Murray | Pinjarra | 15,401 | 1711.0 km2 (660.6 sq mi) |
| Nannup | Nannup | 1,338 | 3054.5 km2 (1179.3 sq mi) |
| Narembeen | Narembeen | 835 | 3836.0 km2 (1481.1 sq mi) |
| Narrogin Town of | Narrogin | 4,765 | 13.1 km2 (5.1 sq mi) |
| Narrogin | Narrogin | 865 | 1619.2 km2 (625.2 sq mi) |
| Ngaanyatjarraku | Warburton | 1,543 | 160732.9 km2 (62059.3 sq mi) |
| Northam | Northam | 11,258 | 1432.3 km2 (553.0 sq mi) |
| Northampton | Northampton | 3,568 | 12637.6 km2 (4879.4 sq mi) |
| Nungarin | Nungarin | 233 | 1164.1 km2 (449.5 sq mi) |
| Perenjori | Perenjori | 533 | 8310.7 km2 (3208.8 sq mi) |
| Pingelly | Pingelly | 1,288 | 1294.8 km2 (499.9 sq mi) |
| Plantagenet | Mount Barker | 5,071 | 4877.2 km2 (1883.1 sq mi) |
| Port Hedland Town of | Port Hedland | 14,624 | 18482.2 km2 (7136.0 sq mi) |
| Quairading | Quairading | 1,111 | 2018.4 km2 (779.3 sq mi) |
| Ravensthorpe | Ravensthorpe | 2,349 | 9832.7 km2 (3796.4 sq mi) |
| Roebourne | Roebourne | 19,143 | 15277.7 km2 (5898.8 sq mi) |
| Sandstone | Sandstone | 143 | 32714.2 km2 (12631.0 sq mi) |
| Serpentine-Jarrahdale | Mundijong | 17,212 | 904.7 km2 (349.3 sq mi) |
| Shark Bay | Denham | 980 | 24183.7 km2 (9337.4 sq mi) |
| Tammin | Tammin | 469 | 1102.6 km2 (425.7 sq mi) |
| Three Springs | Three Springs | 704 | 2656.2 km2 (1025.6 sq mi) |
| Toodyay | Toodyay | 4,707 | 1693.0 km2 (653.7 sq mi) |
| Trayning | Trayning | 393 | 1652.4 km2 (638.0 sq mi) |
| Upper Gascoyne | Gascoyne Junction | 330 | 58007.1 km2 (22396.7 sq mi) |
| Victoria Plains | Calingiri | 943 | 2553.3 km2 (985.8 sq mi) |
| Wagin | Wagin | 1,893 | 1946.6 km2 (751.6 sq mi) |
| Wandering | Wandering | 439 | 1900.8 km2 (733.9 sq mi) |
| Waroona | Waroona | 3,842 | 832.3 km2 (321.4 sq mi) |
| West Arthur | Darkan | 890 | 2833.8 km2 (1094.1 sq mi) |
| Westonia | Westonia | 197 | 3316.4 km2 (1280.5 sq mi) |
| Wickepin | Wickepin | 772 | 2040.9 km2 (788.0 sq mi) |
| Williams | Williams | 1,000 | 2305.6 km2 (890.2 sq mi) |
| Wiluna | Wiluna | 746 | 181662.3 km2 (70140.2 sq mi) |
| Wongan-Ballidu | Wongan Hills | 1,498 | 3368.4 km2 (1300.5 sq mi) |
| Woodanilling | Woodanilling | 464 | 1128.8 km2 (435.8 sq mi) |
| Wyalkatchem | Wyalkatchem | 524 | 1595.8 km2 (616.1 sq mi) |
| Wyndham-East Kimberley | Kununurra | 7,971 | 112415.5 km2 (43403.9 sq mi) |
| Yalgoo | Yalgoo | 265 | 27975.8 km2 (10801.5 sq mi) |
| Yilgarn | Southern Cross | 1,558 | 30405.1 km2 (11739.5 sq mi) |
| York | York | 3,638 | 2133.2 km2 (823.6 sq mi) |
External (Federal) territories
| Name | Council Seat | Polulation | Area (sq km) |
| --- | --- | --- | --- |
| Christmas Island | Christmas Island | 1,462 | 136.7 km2 (52.8 sq mi) |
| Cocos | Home Island | 605 | 14.1 km2 (5.4 sq mi) |