Map of Tasmania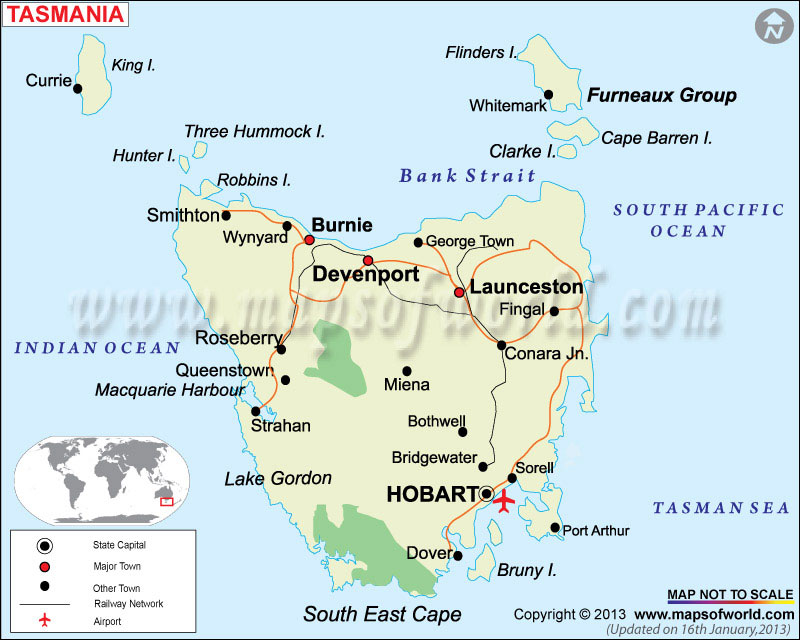 Facts about Tasmania State of Australia
| | |
| --- | --- |
| Capital | Hobart |
| Demonym | Tasmanian, Taswegian |
| Government | Constitutional monarchy |
| Area | 26,410 mi²(90,758 sq km) |
| Population | 515,000 (2014) |
| Time zone | UTC+10 (AEST), UTC+11 (AEDT) |
| Web site | www.tas.gov.au |
| Places to Visit | Sunrise at Cape Tourville, Sullivan's Cove, Hike to Wineglass Bay, Explore Convict Relics, Hike Cradle Mountain, Feed a Devil, Bask in the Bay of Fires, Drive the Tamar Valley Wine Route, Cruise the Gordon River, Get Lost on Maria Island, Imagine a Thylacine, Louisa's Walk, Bonorong Wildlife Sanctuary, Penitentiary Chapel, Mount Wellington, Battery Point, State Cinema, Royal Tasmanian Botanical Gardens, South Bruny National Park, Theatre Royal, Mona Museum and Art Gallery, Hartz Mountains National Park, Cascades Female Factory Historic Site, St. David's Cathedral, South Cape Bay Walk, Remarkable Cave, Tas Laser Skirmish, North Hobart, Mount Nelson Lookout, Shot Tower, Seven Mile Beach, Runnymede, Maritime Museum of Tasmania, Tasmanian Museum and Art Gallery, Tasman Bridge, Salmon Ponds, South Hobart, Long Beach, Sandy Bay, Tasmanian Hockey Centre |
One of the six states of Australia, Tasmania is located southeast of the mainland separated by Bass Strait. A sparsely populated region, Tasmania's geographical features include mountains, beaches, lakes, rugged terrain of glaciated plateau as well as plains. The state is rich in natural resources and contributes a great deal to the mainland in terms of the hydroelectric power produced in the state.
Tasmania is named after Abel Janszoon Tasman, a navigator-explorer of Dutch East Indies, who set foot on its soil in 1642. Until 1856 the region was called Van Diemen's Land, in remembrance of Anthony van Diemen, a governor or the same company who had sent Tasman for this exploratory voyage.
Tourist attractions of Tasmania
Flights and communication channels connect Tasmania adequately to the mainland. The state has, thus, been able to overcome the disadvantage owing to its geographical positioning off the mainland. Tasmania is home to innumerous travel destinations.In Hobart, the capital of the state, Battery Point is an important spot for tourists. It's an old port with many attractive buildings like the Arthur Circus Cottages and St. George's Anglican Church. Van Diemer's Land Folk Museum, which was earlier known as Narryna, houses antique furniture of 19 th century. This Georgian building is one of the many centers of cultural attraction in Tasmania. Nearby New Norfolk is a town of historic importance. A important hop-growing region of Australia, New Norfolk is home to The Oast House Hop Museum and many oast houses of yesteryears. Famous Salmon Ponds are situated twenty minutes away from New Norfolk in car.
Another region of ecological importance in Tasmania is King Island. Once a breeding ground for sea elephants, King Island is now more famous for dairy farming. It houses Currie Museum, island watch towers of which the one at Wickham is the tallest, and marvelous beaches and lakes.
With a depth of 200 meters, Lake St. Clair, Tasmania is the deepest freshwater waterbody of this country. It is part of Tasmanian Wilderness, a World Heritage Area. Lake St.Clair Tasmania lies at the southern tip of Cradle Mountain-Lake St. Clair National Park.
Home to Franklin, Gordon and Olga Rivers, Franklin-Gordon Wild Rivers National Park offers a spectacular time for the tourists with tremendous opportunities for bush walking and water rafting.
Queen Victoria Museum and Art Gallery in Launceston and Tasmanian Museum and Art Gallery in Hobart are the two centers of cultural importance in Tasmania. Port Arthur, on the other hand, maintains a heavy-hearted silence on its past, as it precipitates torments of the prisoners who inhabited the island, died and buried in Isle of Dead between 1830 and 1877.
Local government areas of Tasmania
| Local Government Area | Principal town | Region | Land Area (sq km) | Population (2011 census) |
| --- | --- | --- | --- | --- |
| Break O'Day | St Helens | North-east | 3525.8 | 6,194 |
| Brighton | Brighton | Hobart | 171.3 | 15,460 |
| Central Coast | Ulverstone | North-west and west coast | 933.1 | 21,355 |
| Central Highlands | Hamilton | Central | 7982.4 | 2,262 |
| Circular Head | Smithton | North-west and west coast | 4897.7 | 7,977 |
| Burnie | Burnie | North-west and west coast | 611 | 19,329 |
| Clarence | Rosny Park | Hobart | 378 | 51,852 |
| Devonport | Devonport | North-west and west coast | 111.3 | 24,615 |
| Glenorchy | Glenorchy | Hobart | 121.1 | 44,656 |
| Hobart | Hobart | Hobart | 77.9 | 48,703 |
| Launceston | Launceston | Launceston | 1413.6 | 64,193 |
| Derwent Valley | New Norfolk | South-east | 4108.1 | 9,704 |
| Dorset | Scottsdale | North-east | 3227.6 | 6,827 |
| Flinders | Whitemark | North-east | 1996.6 | 776 |
| George Town | George Town | Launceston | 653.4 | 6,636 |
| Glamorgan Spring Bay | Triabunna | South-east | 2591.4 | 4,190 |
| Huon Valley | Huonville | South-east | 5507.4 | 15,140 |
| Kentish | Sheffield | North-west and west coast | 1156 | 6,086 |
| King Island | Currie | North-west and west coast | 1095.8 | 1,566 |
| Kingborough | Kingston | Hobart | 720.1 | 33,893 |
| Latrobe | Latrobe | North-west and west coast | 600.5 | 9,833 |
| Meander Valley | Westbury | Launceston | 3330.3 | 18,888 |
| Northern Midlands | Longford | Central | 5136.5 | 12,228 |
| Sorell | Sorell | South-east | 583.7 | 13,194 |
| Southern Midlands | Oatlands | Central | 2615.4 | 6,049 |
| Tasman | Nubeena | South-east | 660.5 | 2,355 |
| Waratah-Wynyard | Wynyard | North-west and west coast | 3531 | 13,708 |
| West Coast | Zeehan | North-west and west coast | 9589.8 | 4,678 |
| West Tamar | Beaconsfield | Launceston | 691.1 | 21,817 |
| Tasmania | Hobart | | 68018.2 | 495,354 |