Oregon City Maps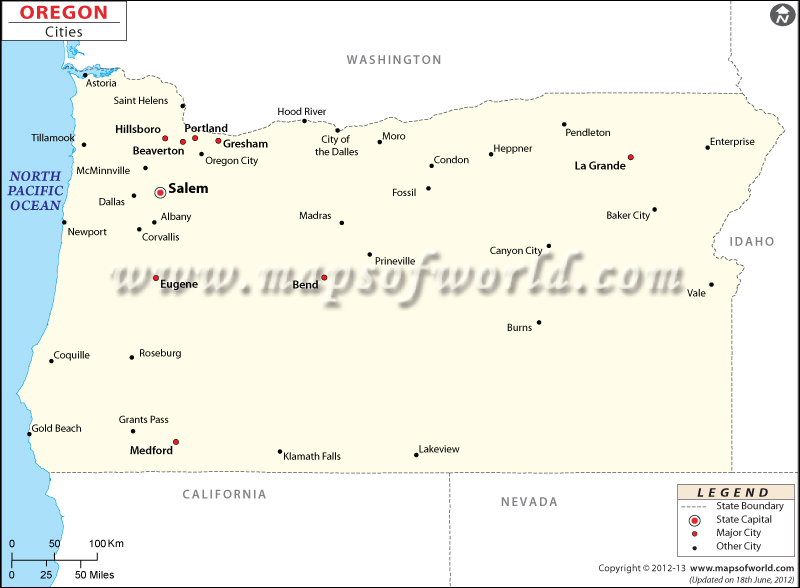 About Cities in Oregon
Nicknamed the 'Beaver State', Oregon is located in the Pacific Northwest region of the United States. The Willamette Valley in western Oregon forms the cultural and political heart as it houses eight of the ten most populous cities.
Known as 'Rose City', Portland is the largest city in the state. The city has more breweries than any other city in the world. Home to home to Willamette University and Corban University, Salem is the state capital. Home to the University of Oregon, Eugene is noted for natural beauty and abundance of recreational opportunities.
Getting In and Around
Portland International Airport (PDX) is the main international gateway to Oregon. Amtrak's Coast Starlight, Cascades, and Empire Builder passenger trains serve the state. Interstate Highways (I-84 and I-5) and U.S. Highways (US 20, US 26, US 95, and US 28) create a dense road network.
List of Cities in Oregon
| City Name | Population (2011) |
| --- | --- |
| Albany | 50,158 |
| Ashland | 20,078 |
| Beaverton | 89,803 |
| Bend | 76,639 |
| Canby | 15,829 |
| Central Point | 17,169 |
| Coos Bay | 15,967 |
| Corvallis | 54,462 |
| Dallas | 14,583 |
| Eugene | 156,185 |
| Forest Grove | 21,083 |
| Grants Pass | 34,533 |
| Gresham | 105,594 |
| Hermiston | 16,745 |
| Hillsboro | 91,611 |
| Keizer | 36,478 |
| Klamath Falls | 20,840 |
| Lake Oswego | 36,619 |
| Lebanon | 15,518 |
| McMinnville | 32,187 |
| Medford | 74,907 |
| Milwaukie | 20,291 |
| Newberg | 22,068 |
| Oregon City | 31,859 |
| Pendleton | 16,612 |
| Portland | 583,776 |
| Redmond | 26,215 |
| Roseburg | 21,181 |
| Salem | 154,637 |
| Sherwood | 18,194 |
| Springfield | 59,403 |
| Tigard | 48,035 |
| Troutdale | 15,962 |
| Tualatin | 26,054 |
| West Linn | 25,109 |
| Wilsonville | 19,509 |
| Woodburn | 24,080 |