New Jersey Map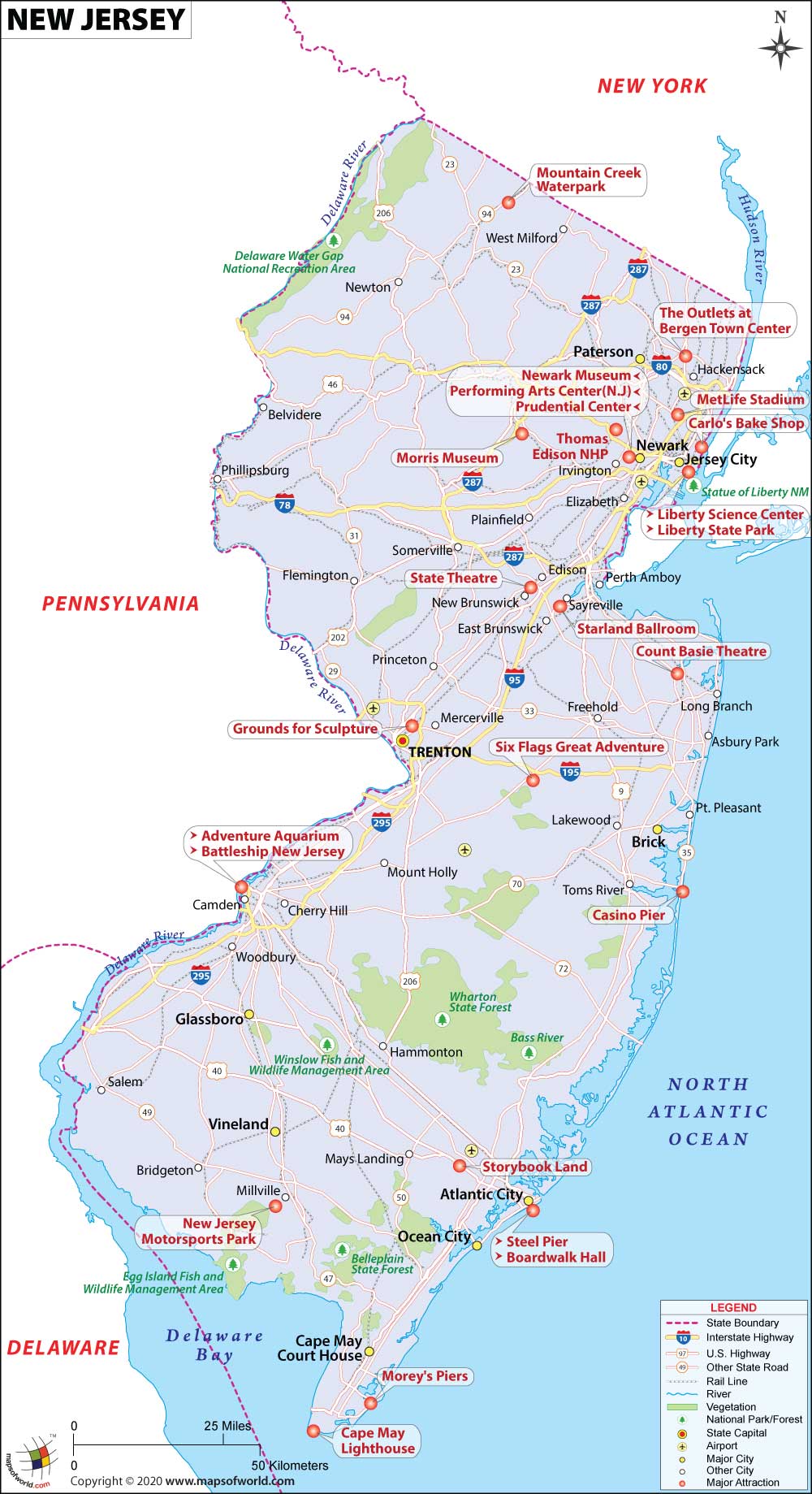 History of New Jersey
The Native American tribes were the original inhabitants of New Jersey. The Dutch were the first Europeans to arrive here. In 1664, the region came under the control of England. From 1674 to 1702, New Jersey was governed as two provinces – East and West New Jersey. In 1702, it became a single province. New Jersey was admitted to the Union on December 18, 1787.
It played a prominent role in the American Revolution and was one of the 13 colonies that revolted against British rule. Prominent representatives of the state who signed the United States Declaration of Independence included Francis Hopkinson, Richard Stockton, John Hart, Abraham Clark, and John Witherspoon. On February 15, 1804, New Jersey abolished new slavery becoming the last northern state.
Geography of New Jersey
New Jersey covers an area of 8,722.58 square miles. It shares its borders with New York, Pennsylvania, and Delaware. The Atlantic Ocean is located to the southeast and south of New Jersey. The highest point in the state is High Point, located in Montague Township, Sussex County, and stands tall at 1,803 feet. Some important rivers of the state include Hudson, Delaware, Maurice, Mullica, Passaic, and Rahway. New Jersey witnessed two climatic conditions. A humid subtropical climate is seen in the south, central and northeast parts of New Jersey, while the northwest part has a humid continental climate.
There are a total of twenty-one counties in New Jersey. The largest county in New Jersey is Burlington County and the smallest is Hudson County. Check this New Jersey County Map which locates all the counties of Connecticut on the map.
Travel Destinations in New Jersey
Some famous attractions in New Jersey include Atlantic City, a famous coastal resort town known for Boardwalk; Thomas Edison National Historical Park; Grounds For Sculpture, which is a museum and sculpture park located in Hamilton and spread over an area of 42 acres; Princeton and the Battlefield State Park, Delaware Water Gap National Recreation Area, Liberty State Park, among others.
Transport in New Jersey
Newark Liberty International Airport is the state's primary airport and is also one of the busiest airports in the entire country. Some small airports that operate in other parts of the state are Atlantic City International Airport and Trenton-Mercer Airport. New Jersey is well-connected by an extensive rail and bus service, which the NJ Transit Corporation operates. Amtrak connects New Jersey to other states around the country.
Education in New Jersey
Some prominent colleges and universities in New Jersey include Princeton University, Rutgers, The State University of New Jersey, New Jersey Institute of Technology, Seton Hall University, and Montclair State University.
Interesting Facts About New Jersey
New Jersey is referred to as the Diners Capital of the World
It also distinguishes having the most shopping malls in one area.
New Jersey is the home state of Frank Sinatra, Bruce Springsteen, and Whitney Houston.