New Jersey City Maps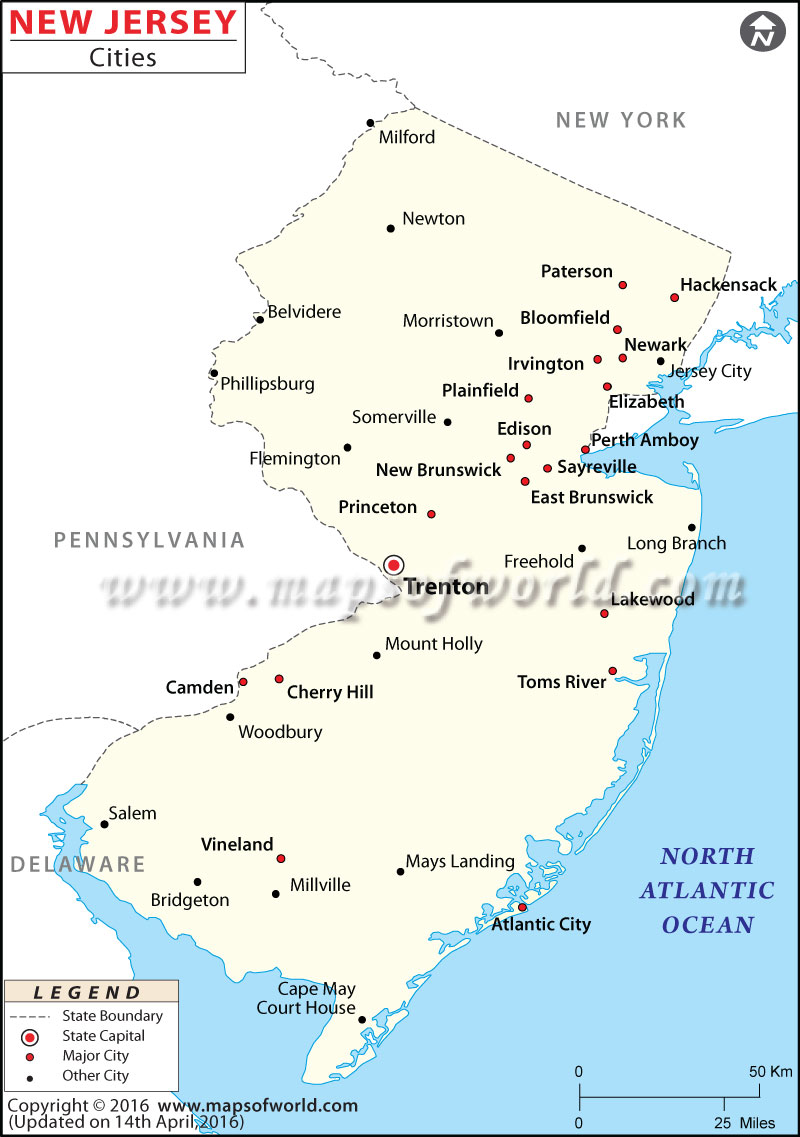 Cities in New Jersey
New Jersey is the 47th most extensive and the 11th most populated state in the United States. Newark is the most populous city in the state. As of 2016, the city had an estimated population of 281,764 inhabitants. Jersey City, the seat of Hudson County, is the second most populous city, with a population of approximately 264,152 people. Paterson and Elizabeth are the other two cities that have a population of more than 100,000 inhabitants. Trenton, the capital of New Jersey, is the 10th most populous city in the state. Around 84,056 people are living in Trenton. Tavistock, a borough in Camden County, is the least populated. As of 2016, just five people were living in Tavistock. Newark is the first city to be incorporated, while the village of Loch Arbour is the most recent one. Newark was incorporated on October 31, 1693, and Loch Arbour was incorporated on April 23, 1957.
There are 21 counties in the state. Trenton is the state capital located on the banks of the Delaware River. Newark is the most populous city in New Jersey and the second largest city in the New York Metropolitan Area. Major attractions in the city are Branch Brook Park, Cathedral of the Sacred Heart, Newark Museum, and New Jersey Performing Arts Center.
Famous for its beautiful boardwalks and casinos, Atlantic City hosts the Miss America pageant. Jersey City is the state's second-largest city. Paterson is a cultural melting pot. Edison is named after the famous inventor, Thomas Edison. Found before the American Revolution, Princeton University is located in a college town of the same name.
Getting In and Around
Newark Liberty International Airport (NWR) and Atlantic City International Airport (ACY) are major airports in New Jersey.
Amtrak's Cardinal, Acela Express, Crescent, Northeast Regional, and Silver Star serve Newark Penn Station.
I-95, I-80, and I-78 are primary interstate highways in New Jersey.
List of Cities in New Jersey
| City Name | County | Population (2011) |
| --- | --- | --- |
| Atlantic City | Atlantic County | 39,558 |
| Bayonne | Hudson | 63,024 |
| Bridgeton | Cumberland | 25,349 |
| Camden | Camden | 77,344 |
| Clifton | Passaic | 84,136 |
| East Orange | Essex | 64,270 |
| Elizabeth | Union | 124,969 |
| Englewood | Bergen | 27,147 |
| Garfield | Bergen | 30,487 |
| Hackensack | Bergen | 43,010 |
| Hoboken | Hudson | 50,005 |
| Jersey City | Hudson | 247,597 |
| Linden | Union | 40,499 |
| Long Branch | Monmouth | 30,719 |
| Millville | Cumberland | 28,400 |
| New Brunswick | Middlesex | 55,181 |
| Newark | Essex | 277,140 |
| Passaic | Passaic County | 69,781 |
| Paterson | Passaic | 146,199 |
| Perth Amboy | Middlesex | 50,814 |
| Plainfield | Union | 49,808 |
| Pleasantville | Atlantic | 20,249 |
| Rahway | Union | 27,346 |
| Summit | Union | 21,457 |
| Trenton | Mercer | 84,913 |
| Union City | Hudson | 66,455 |
| Vineland | Cumberland | 60,724 |