Which is the Smallest State in the United States?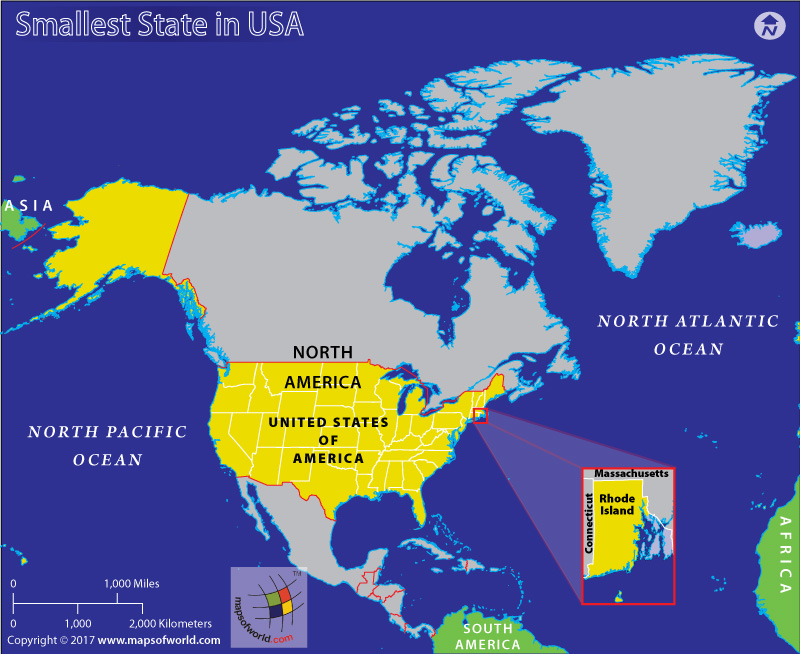 Take a look at the American flag. The fifty stars in the flag represent the fifty states that are now part of the federal union. The thirteen stripes represent the thirteen original colonies that declared their independence from Britain to form the United States. Rhode Island was one of these 13 colonies and is now the smallest of the 50 states (by area).
To give us a better idea of the size of Rhode Island, let us look at a few comparisons. Rhode Island is roughly the same size as Yosemite National Park of California. The smallest state of the US thus is nearly twice the size of London and almost the same size as Samoa or Luxembourg.
Though called Rhode Island, this state is not an island. Located to the northeast of the US, Rhode Island shares its borders with Connecticut and Massachusetts. The entire state is only 48 miles long and 37 miles wide and takes less than an hour to traverse. Despite its size, Rhode Island is the second-most densely populated state in the US.
Most of the area that now makes up Rhode Island was inhabited by Native American tribes long before the Europeans landed there. The arrival of Roger Williams following his banishment from Massachusetts Bay Colony in 1636 is one of the earliest significant events of the colonial era. In 1644, Providence, Portsmouth, and Newport united to form the Colony of Rhode Island and except for a brief union with New England remained mostly independent.
Rhode Island was the first colony in America to withdraw its allegiance to the British crown and to declare its independence on May 4, 1776. Despite this, Rhode Island was the last of the 13 states to ratify the US Constitution, doing so only after an assurance that the constitution would contain a Bill of Rights. The state ratified the Constitution on May 29, 1790.
Rhode Island is a beautiful state with over 400 miles of spectacular coastline, sandy beaches, and seaside outcrops. Green plantations, farms and vineyards are spread across the state and the cities dotted with colonial buildings, museums, and historic mansions. Providence, Warwick, Cranston, and Pawtucket are some of the most populated cities of Rhode Island.
Rhode Island Facts –
• Official Name – State of Rhode Island and Providence Plantations
 • State Capital – Providence
 • State Nickname – The Ocean State, Little Rhody, The Plantation State
 • Abbreviation – RI
 • Population – 1.056 million (2015)
 • State Motto – "Hope"
 • State Song – "Rhode Island's It For Me"
 • State Bird – Rhode Island Red
 • State Flower – Violet
 • State Tree – Red Maple
 • Governor – Gina Raimondo (Democrat)
Related Maps: