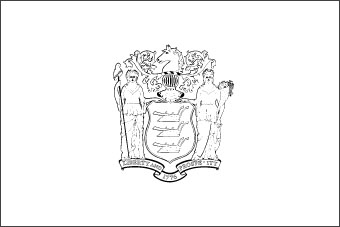 Download Picture of Blank New Jersey Flag For Kids to Color
About New Jersey Flag
To offer some knowledge about the New Jersey Flag history, it can be said that General George Washington selected the beautiful shade of buff. The coat of arms on the flag was modified in 1928.
Symbolism of the New Jersey Flag :
For the description of New Jersey Flag it is noted that the flag has a buff colored base with the state coat of arms in the center. This buff color was actually assigned for the uniforms belonging to the New Jersey Continental Line in 1779. The shield on the flag bears the image of 3 plows, that stand for 2 things. Firstly they indicate that the state ranks third in becoming a member of the Union. Secondly the plows are symbols for the rich tradition of agriculture practiced in New Jersey.
2 women are shown supporting the shield. One is Ceres, the goddess of bounteous agriculture and the other is Liberty, who symbolizes freedom and is presented with a stalk in her hand. Ceres also symbolizes plenitude and abundance and is shown with a food-filled cornucopia in her hand. Thus the fertility of the state is depicted through these symbolic figures. Below them is a ribbon, gloriously displaying the state motto "Liberty and Prosperity" and the year 1776, when the state gained independence. Above the figures, is a knight's helmet, a horse's head, with blue filigree decorating it. The New Jersey Flag makes interesting use of goddesses to denote the prosperity of the state.
For flags of other states of the USA, check the Flags of the 50 States.