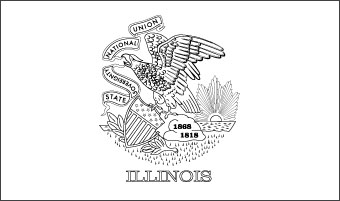 Download Picture of Blank Illinois Flag For Kids to Color
About the Flag of Illinois
Below the seal the name of the state, that is, Illinois is scripted in the Flag of Illinois . The seal bears the image of a bald eagle, clasping with its claws, a shield with 13 stripes and stars each. The eagle is also shown to be grasping in its mouth a red ribbon, with the state motto, "State Sovereignty, National Union." The rock on which the eagle is mounted, displays the years 1868 and 1818.
Symbolism of Illinois Flag
The state seal as seen on the Illinois Flag, was inspired from the US seal, thus the bald eagle stands for the United States. The 13 stars and 13 stripes symbolize the 13 original colonies of the US, thereby expressing the allegiance of Illinois to the US. The year 1868 is the year when the Illinois state seal was given a new design, whereas 1818 reveals the year when Illinois attained statehood. The water body present on the seal is a symbol of Lake Michigan, one of the 5 Great Lakes. The land circling the rock represents the fertile Prairie soil.
History of Illinois Flag
There had been 2 state flags for Illinois so far. The initial design of the Illinois Flag was assigned in 1915, as a result of the state banner designing campaign by Mrs. Ella Park Lawrence. Next in 1868, the ribbon was modified to give more prominence to National Union, than State Sovereignty. The final modification of the Illinois Flag was done in 1970, when the state name was introduced. The Illinois Flag is highly impressive for its history, designs and symbols.
For flags of other states of the USA, check the Flags of the 50 States.