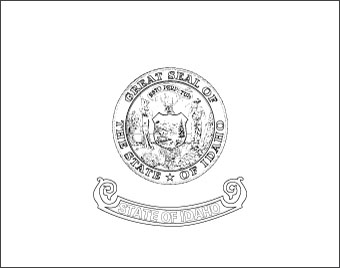 Download Picture of Blank Idaho Flag For Kids to Color
The Idaho flag also depicts its motto, "Esto Perpetua" or Let it be Perpetual, on the emblem. Just below the seal appear the words, "State of Idaho", written on a red ribbon.
The right description of Idaho Flag is determined by the Idaho Flag Laws. The strange proportions of the Idaho Flag (26:23), suggests that its width is slightly greater than its length. The original design of the Idaho Flag has been derived from the battle flag used by the First Idaho Infantry, during the Spanish American War in 1899.
History of Idaho Flag
The Idaho Flag was adopted on 15th March in 1927 for the first time, though its origins can be traced back to 1907. The present Idaho Flag was effective from 1st March, 1957. The Legislature of Idaho made certain modifications on the Idaho State seal in order to stress on the chief industries of Idaho, which are mining, forestry and agriculture. The state of Idaho became the 43rd state of the US on 3rd July, 1890. The designer of the state seal was Emma Edwards-Green, the only American woman to ever design the official seal of a US state.
Symbolism of Idaho Flag
The state seal on the Idaho Flag stands for the main activities and industries of the state. The vegetables, fruit and the sheaf of wheat represent the agriculture practiced in Idaho. The miner is emblematic of the state's mineral resources and mining industry. The woman stands for justice, liberty and equality. The elk is a representation of all the species of fauna found in the state, while the pine tree signifies the natural riches and timber industry of Idaho. The current Idaho flag wonderfully represents the various important activities of the state.
For flags of other states of the USA, check the Flags of the 50 States.