Indiana City Maps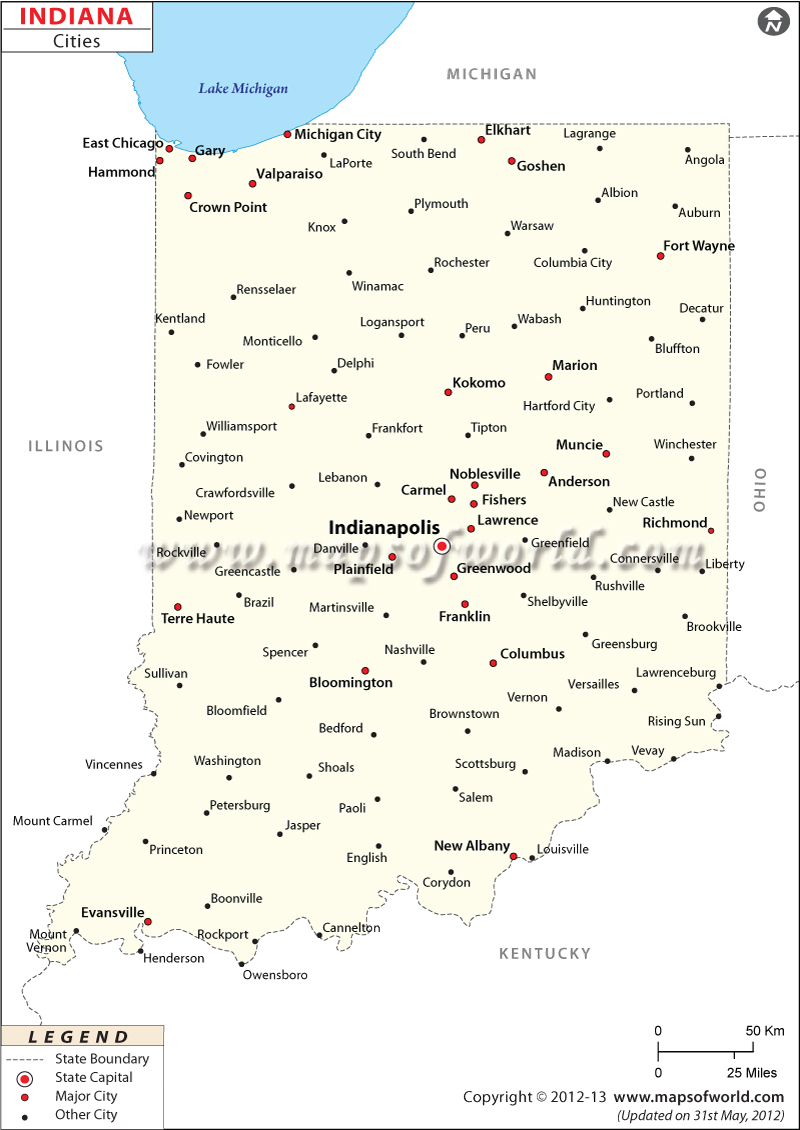 Cities in Indiana Map shows the all cities of Indiana. Indiana is the 38th most extensive state and the 17th most populous in the United States, is located in the Midwestern and Great Lakes Region of North America. Indianapolis is the capital as well as the largest city of the state. According to a 2016 estimate, Indianapolis had a population of 855,164 people. Fort Wayne is the second most populous city and Evansville comes at the third spot. Some of the other largest cities in terms of population are South Bend, Carmel, Fishers, Bloomington, etc. Meanwhile, Cannelton is the smallest city by population. As of 2016, it had an estimated population of just 1,552 people.
Cities in Indiana
Nicknamed 'The Hoosier State', Indiana is located in the Midwestern United States. The state is known for limestone caverns, medium-sized industrial cities, motor-sports, cultural diversity, and regional food festivals.
Dubbed as "Crossroads of America" and "Racing Capital of the World", Indianapolis is the state capital. The Indianapolis Museum of Art, Children's Museum of Indianapolis, Military Park, Eagle Creek Park, and Indianapolis Zoo are popular tourist attractions in Indianapolis.
Located in northeastern Indiana, Fort Wayne is home to hands-on science center and museums, children's zoo, a historic fort, and a craft village. Angel Mounds, an ancient site of the Mississippian culture, is located near present-day Evansville. The Potawatomi Zoo, opened in 1902 and the oldest in the state, is in the city of South Bend.
Transportation in Indiana
Indianapolis International Airport (IND) is the primary aviation gateway to the state. Amtrak's Cardinal, Hoosier State, Lake Shore Limited, and Capitol Limited run through major cities in Indiana. Interstate highways (I-69, I-65, I-70, I-74, and I-90) and U.S highways (US 231, US 31, and US 41) form a dense road network.
List of Cities in Indiana
| City Name | County Name | Population (2010) |
| --- | --- | --- |
| Alexandria | Madison | 5,145 |
| Anderson | Madison | 56,129 |
| Angola | Steuben | 8,612 |
| Attica | Fountain | 3,245 |
| Auburn | De Kalb | 12,731 |
| Aurora | Dearborn | 3,750 |
| Batesville | Ripley | 6,520 |
| Bedford | Lawrence | 13,413 |
| Beech Grove | Marion | 14,192 |
| Berne | Adams | 3,999 |
| Bicknell | Knox | 2,915 |
| Bloomington | Monroe | 80,405 |
| Bluffton | Wells | 9,897 |
| Boonville | Warrick | 6,246 |
| Brazil | Clay | 7,912 |
| Butler | De Kalb | 2,684 |
| Cannelton | Perry | 1,563 |
| Carmel | Hamilton | 79,191 |
| Charlestown | Clark | 7,585 |
| Clinton | Clinton | 4,893 |
| Columbia City | Whitley | 8,750 |
| Columbus | Bartholomew | 44,061 |
| Connersville | Fayette | 13,481 |
| Covington | Fountain | 2,645 |
| Crawfordsville | Montgomery | 15,915 |
| Crown Point | Lake | 27,317 |
| Decatur | Adams | 9,405 |
| Delphi | Carroll | 2,893 |
| Dunkirk | Jay | 2,362 |
| East Chicago | Lake | 29,698 |
| Elkhart | Elkhart | 50,949 |
| Elwood | Madison | 8,614 |
| Evansville | Vanderburgh | 117,429 |
| Fishers | Hamilton | 76,794 |
| Fort Wayne | Allen | 253,691 |
| Frankfort | Clinton | 16,422 |
| Franklin | Franklin | 23,712 |
| Garrett | De Kalb | 6,286 |
| Gary | Lake | 80,294 |
| Gas City | Grant | 5,965 |
| Goshen | Elkhart | 31,719 |
| Greencastle | Putnam | 10,326 |
| Greendale | Dearborn | 4,520 |
| Greenfield | Hancock | 20,602 |
| Greensburg | Decatur | 11,492 |
| Greenwood | Johnson | 49,791 |
| Hammond | Lake | 80,830 |
| Hartford City | Blackford | 6,220 |
| Hobart | Lake | 29,059 |
| Huntingburg | Dubois | 6,057 |
| Huntington | Huntington | 17,391 |
| Indianapolis | Marion | 820,445 |
| Jasonville | Greene | 2,222 |
| Jasper | Jasper | 15,038 |
| Jeffersonville | Clark | 44,953 |
| Jonesboro | Grant | 1,756 |
| Kendallville | Noble | 9,862 |
| Knox | Starke | 3,704 |
| Kokomo | Howard | 45,468 |
| La Porte | La Porte | 22,053 |
| Lafayette | Tippecanoe | 67,140 |
| Lake Station | Lake | 12,572 |
| Lawrence | Lawrence | 46,001 |
| Lawrenceburg | Dearborn | 5,042 |
| Lebanon | Boone | 15,792 |
| Ligonier | Noble | 4,405 |
| Linton | Greene | 5,413 |
| Logansport | Cass | 18,396 |
| Loogootee | Martin | 2,751 |
| Madison | Jefferson | 11,967 |
| Marion | Grant | 29,948 |
| Martinsville | Morgan | 11,828 |
| Michigan City | LaPorte | 31,479 |
| Mishawaka | Saint Joseph | 48,252 |
| Mitchell | Lawrence | 4,350 |
| Monticello | White | 5,378 |
| Montpelier | Blackford | 1,805 |
| Mount Vernon | Posey | 6,687 |
| Muncie | Delaware | 70,085 |
| Nappanee | Elkhart | 6,648 |
| New Albany | Floyd | 36,372 |
| New Castle | Henry | 18,114 |
| New Haven | Allen | 14,794 |
| Noblesville | Hamilton | 51,969 |
| North Vernon | Jennings | 6,728 |
| Oakland City | Gibson | 2,429 |
| Pendleton | Madison | 4,253 |
| Peru | Miami | 11,417 |
| Petersburg | Pike | 2,383 |
| Plymouth | Marshall | 10,033 |
| Portage | Porter | 36,828 |
| Portland | Jay | 6,223 |
| Princeton | Gibson | 8,644 |
| Rensselaer | Jasper | 5,859 |
| Richmond | Wayne | 36,812 |
| Rising Sun | Ohio | 2,304 |
| Rochester | Fulton | 6,218 |
| Rockport | Spencer | 2,270 |
| Rushville | Rush | 6,341 |
| Salem | Washington | 6,319 |
| Scottsburg | Scott | 6,747 |
| Seymour | Jackson | 17,503 |
| Shelbyville | Shelby | 19,191 |
| South Bend | Saint Joseph | 101,168 |
| Southport | Marion | 1,712 |
| Sullivan | Sullivan | 4,249 |
| Tell City | Perry | 7,272 |
| Terre Haute | Vigo | 60,785 |
| Thorntown | Boone | 1,520 |
| Tipton | Tipton | 5,106 |
| Union City | Randolph | 3,584 |
| Valparaiso | Porter | 31,730 |
| Vincennes | Knox | 18,423 |
| Wabash | Wabash | 10,666 |
| Warsaw | Kosciusko | 13,559 |
| Washington | Daviess | 11,509 |
| West Lafayette | Tippecanoe | 29,596 |
| Westfield | Hamilton | 30,068 |
| Whitestown | Boone | 2,867 |
| Whiting | Lake | 4,997 |
| Winchester | Randolph | 4,935 |
| Woodburn | Allen | 1,520 |
| Zionsville | Boone | 14,160 |