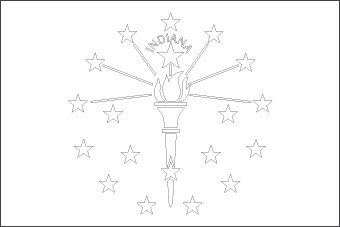 Download Picture of Blank Indiana Flag For Kids to Color
About the Flag of Indiana
Thus the description of the Indiana Flag is very simple and this is as specified by the state statute.
History of Indiana Flag
The present design of the Indiana Flag has been accepted after holding a designing competition, whose sponsors were the Daughters of the American Revolution at the time of the Centennial jubilations of the state in 1917. The designer of Indiana Flag who won the competition was Paul Hadley of Mooresville. The winner of the competition was promised to be rewarded with a cash prize of $100. Initially it was known as the state banner but later the General Assembly of 1955, altered its name as the flag. The only addition that the Assembly made was the introduction of the name "Indiana".
Symbolism of Indiana Flag
The 13 stars on the outer circle, surrounding the torch are the apt symbols for the 13 original colonies belonging to the United States. There are 5 stars in the inner semi circle, which stand for the 5 next states that became members of the Union. The single and huge star placed above the burning torch is a perfect signification of the state of Indiana, which was the 19th state to gain admission to the Union. Each symbol on the Indiana flag is suffused with deep meaning, thus every object has something to say.
For flags of other states of the USA, check the Flags of the 50 States.