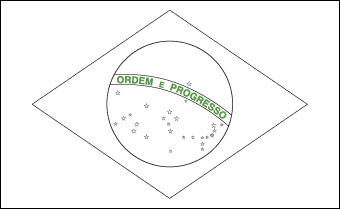 Download Picture of Blank Brazil Flag For Kidsto Color
Designed by Raimundo Teixeira Mendes, the national flag of Brazil consists of a green base with a large yellow rhombus in the middle of it. Inside the rhombus is a blue circle with white stars of different sizes depicting a kind of starry sky. There is a white banner running through the circle. On the circle is a motto which reads "Ordem e Progresso" which translates in English to "Order and Progress".
There are a total twenty seven white stars in the Brazil Flag. Each of the star represents each and every 'Federal District' as well as state of Brazil. The green color signifies Brazil's verdant pasture and forest region, while the yellow colored diamond shape indicates Brazil 's gold resources. Brazil was once home to the largest gold mines in world.
| | |
| --- | --- |
| Official Name: | The Federative Republic of Brazil |
| Proportion: | 7:10 |
| Adopted on: | May 11, 1992 |
| Location: | South America bordered by Venezuela, Guyana, Suriname, French Guyana, Colombia, Bolivia, Peru, Argentina, Paraguay, and Uruguay |
| Capital City: | Brasilia |
| Major Cities: | Sao Paulo, Rio de Janeiro, Santa Cararina, Parana |
| Area: | 3,287,612 square miles |
| Population: | 201,009,622 [according to July 2013 estimate] |
| Currency: | Real (R$) (BRL) |
| Official Language: | Portuguese |
| National Anthem: | Hino Nacional Brasileiro |
| National symbol(s): | Southern Cross constellation |
| National colors: | green, yellow, blue |
| National anthem: | |
| Name: | "Hino Nacional Brasileiro" (Brazilian National Anthem) |
| Lyrics/Music: | Joaquim Osorio Duque ESTRADA/Francisco Manoel DA SILVA |
Country
Brazil
Designed by
Raimundo Teixeira Mendes
Adopted
November 19, 1889 (21-star version)
May 11, 1992 (27-star version)
Revision
1989, 1992
Design and Colors
A blue disc depicting a starry sky spanned by a curved band inscribed with the national motto, within a yellow rhombus, on a green field.
Size Ratio
7:10