Cities in Brazil Map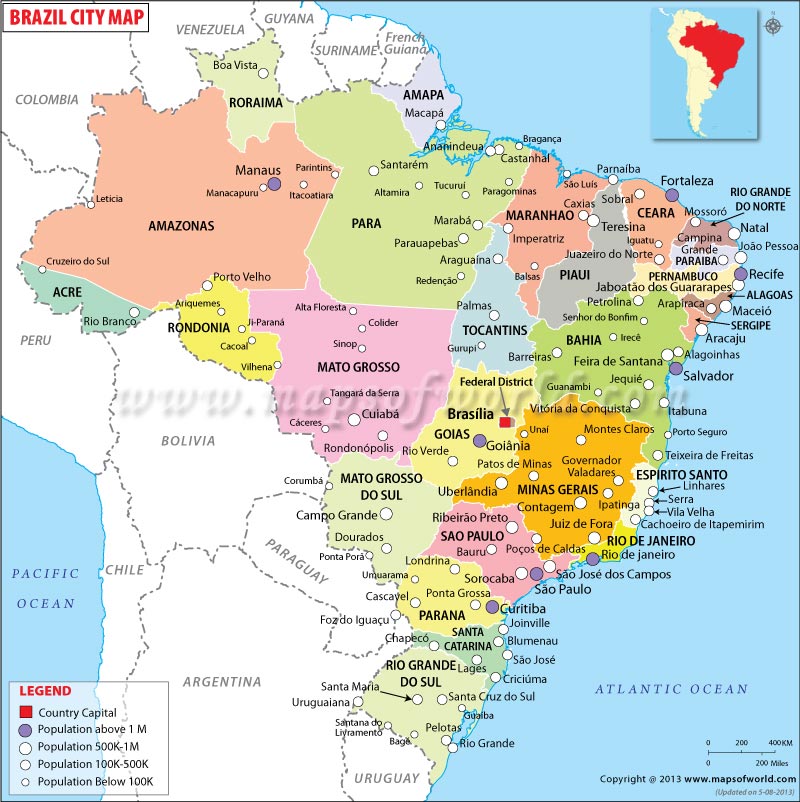 Brazil city is a perfect destination symbolizing exoticism with close proximity to the wilderness of the rain forests of Amazon. Any Brazil City is most of the times regarded as the Mecca of football.There are a large number of Brazil cities which are popular across the world for several reasons.
They have produced a large number of football greats who have been mesmerizing the lovers of the sport for years. These cities in Brazil are also among the top tourist destinations in the continent of South America.
Among the large number of Brazil cities, the Rio de Janeiro is one of the most popular. It was the capital of the country for a long time from 1763 to 1960. This city is the hub of the carnivals and celebrations which incarnates Brazil. It experiences a riot of colors in its very existence.
One of the most important cities of Brazil is Brasilia. It is also the capital of the country.
The city, located just in the central part of the country, is in the list of the World Heritage Site published by UNESCO. It is located in the Federal District and has a shape, which resembles a butterfly or an airplane when seen from above.
There are a large number of places of tourist attraction in the cities of Brazil. These include the Paranoa Lake, Cathedral of Brasilia and much more. These have made the Brazil cities extremely popular among the tourists.
List of cities of Brazil (with area and population)
| S.No. | Cities | Area | Population |
| --- | --- | --- | --- |
| 1 | São Paulo | 1,221 km2 (588 sq mi) | 11,895,893 (2014) Urban |
| 2 | Rio de Janeiro | 1,221 km2 (486.5 sq mi) | 6,453,682 (2014) |
| 3 | Salvador | 272.6 mi² | 2.675 million (2010) Undata |
| 4 | Belo Horizonte | 330.9 km2 (127.8 sq mi) | 2,491,109 (2014) |
| 5 | Recife | 218 km2 (84.17 sq mi) | 1,555,039 (2012) |
| 6 | Fortaleza | 313.8 km2 (121.2 sq mi) | 2,571,896 (2014) |
| 7 | Manaus | 11,401.06 km2 (4,401.97 sq mi) | 2,020,301 (2014) |
| 8 | Campinas | 795.667 km2 (307.209 sq mi) | 1,098,630 (2012) |
| 9 | Belém | 1,059.40 km2 (409.04 sq mi) | 1,392,031 (2010 census) |
| 10 | Porto Alegre | 496.827 km2 (191.826 sq mi) | 1,509,939 (2010) |
| 11 | Curitiba | 430.9 km2 (166.4 sq mi) | 1,879,355 (2015) |
| 12 | Florianópolis | 433.32 km2 (167.31 sq mi) | 461,524 (2014) |
| 13 | Goiânia | 789 km2 (305 sq mi) | 1,301,892 (2010) |
| 14 | Brasília | 5,802 km2 (2,240.164 sq mi) | 2,556,149 (2011 Est.) |
| 15 | São José dos Campos | 1,099.77 km2 (424.62 sq mi) | 673,255 (2013) |
| 16 | Duque de Caxias, Rio de Janeiro | 464.573 km2 (179.373 sq mi) | 873,921 (2008) |
| 17 | Joinville | 1,130.878 km2 (436.634 sq mi) | 547,000 (2013) |
| 18 | Vitória, Espírito Santo | 93.381 km2 (36.055 sq mi) | (355.875 (2015 estimate)) |
| 19 | Palmas | 2,218.93 km2 (856.73 sq mi) | 265.090 (2014) |
| 20 | Santos, São Paulo | 280.67 km2 (108.37 sq mi) | 433,966 (2015) |
| 21 | Natal | 167.264 km2 (64.581 sq mi) | 803,739 (2010 census) |
| 22 | Ribeirão Preto | 651.37 km2 (251.50 sq mi) | 619,746 (2012) |
| 23 | Campos dos Goytacazes | 4,032 km2 (1,557 sq mi) | 472,300 (2012) |
| 24 | Feira de Santana | 1,362.880 km2 (526.211 sq mi) | 612,000 (2014) |
| 25 | Foz do Iguaçu | 617.70 km2 (238.5 sq mi) | 263,508 (2013) |
| 26 | Indaiatuba | 311.55 km2 (120.29 sq mi) | 231,033 (2015) |
| 27 | Olinda | 43.55 km2 (27.1 sq mi) | 397,268 (2009) |
| 28 | Maceió | 511 km2 (197 sq mi) | 996,733 (2013) |
| 29 | Cuiabá | 3,538 km2 (1,366 sq mi) | 551,098 (2013 census) |
| 30 | Itatiba | 322.28 km2 (124.43 sq mi) | 113,284 (2015) |
| 31 | Ouro Preto | 481 mi² | 70,227 (2010) |
| 32 | Teresina | 1,167.25 km2 (450.68 sq mi) | 814,439 (2010 census)- Municipality |
| 33 | Igarassu, Pernambuco | 117 mi² | 91,953 (2010) Undata |
| 34 | Boa Vista | 5,687.022 km2 (2,195.771 sq mi) | 266,901 (2010) |
| 35 | Petrópolis | 313.1 mi² | 185,876 (2010) UNdata |
| 36 | São Luís | 827.141 km2 (319.360 sq mi) | 1,011,943 (2010 IBGE)- Municipality |
| 37 | Ipatinga | 165.509 km2 (63.903 sq mi) | 244.508 (2009) |
| 38 | Pelotas | 1,609 km2 (621 sq mi) | 346,452 (2006 est.) |
| 39 | Diamantina, Minas Gerais | 1,494 mi² | 44,746 (2006) |
| 40 | Patos de Minas | 3.189,771 km2 (1.231577 sq mi) | 146,416 (2010) |
| 41 | Divinópolis | 708.909 km2 (273.711 sq mi) | 213,076 (2010) |
| 42 | Paraty | 928.47 km2 (358.48 sq mi) | 35,730 (2009) |
| 43 | São Gonçalo | 249.142 km2 (96.194 sq mi) | 1,016,128 (2012) |
| 44 | Campo Grande | 8,096.05 km2 (3,125.90 sq mi) | 845.763 (2014 census) |
| 45 | Itajubá | 290.450 km2 (112.143 sq mi) | 90,225 (2009) |
| 46 | Blumenau | 519.837 km2 (200.710 sq mi) | 309,214 (2010 est) |
| 47 | Governador Valadares, Minas Gerais | 2,348.1 km2 (906.6 sq mi) | 263,594 (2010) |
| 48 | Marabá, Pará | 15,092.268 km2 (5,827.157 sq mi) | 251,885 (2013) |
| 49 | João Pessoa | 210.551 km2 (81.294 sq mi) | 742,478 (2012)IBGE/2012 |