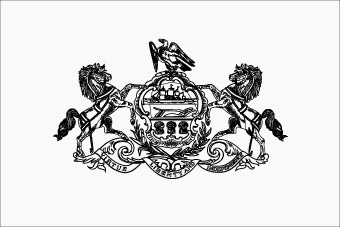 Download Picture of Blank Pennsylvania Flag For Kids to Color
According to the history of the Pennsylvania Flag it is gathered that blue shade had to perfectly match with that of the US flag. The first flag for Pennsylvania was sanctioned in 1799 and displayed the Pennsylvania coat of arms, which was embroidered on each side.
During the phase of the Civil War the Pennsylvania regiments used the Stars and Stripes flag, but in a modified format.
Description of Pennsylvania Flag
The Pennsylvania Flag has a blue background, in the center of which there is a state coat of arms. The shape of the Pennsylvania Flag is said to be tending towards a squarish form than a rectangular one.
Symbolism of Pennsylvania Flag
There is an American eagle sitting atop the seal and it represents the state's allegiance to its protector or the US. The shield is held together with the aid of 2 draft horses, which are like guardians supporting the shield. The majestic eagle sitting on the shield is suggestive of the sovereignty of the state. This shield in the Pennsylvania Flag depicts 3 pictures. The first one is that of a ship that stands for the state's commerce. The second is a plow that represents the state's agriculture and natural resources. Lastly the 3 sheaves of wheat are symbols of fertility and fecundity. Below the shield a cornstalk and olive branch represent success and peace. Beneath it is the state motto "Virtue Liberty and Independence", beautifully written on a red ribbon.
For flags of other states of the USA, check the Flags of the 50 States.