Map of Maryland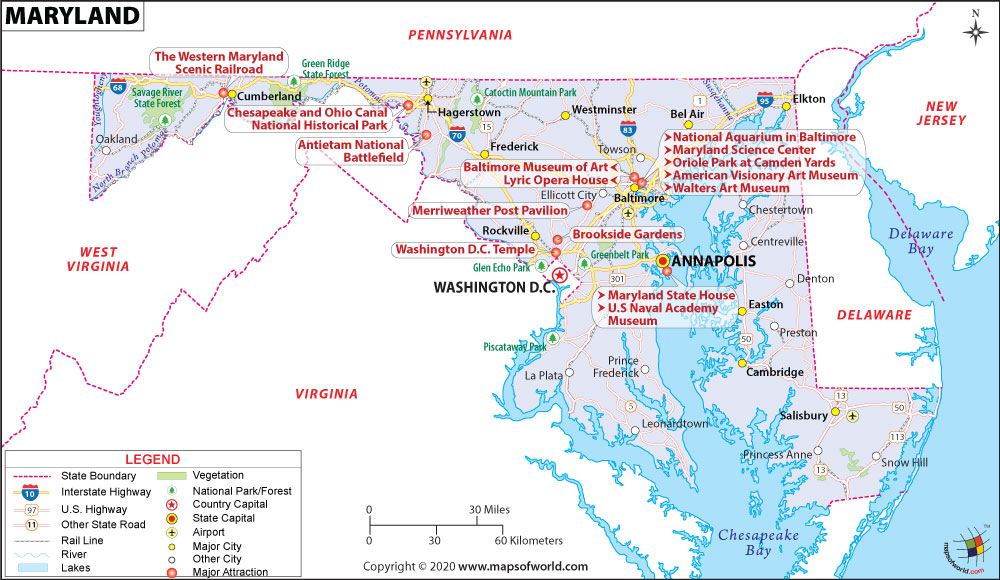 Explore this Maryland Map to learn about the seventh state of the US. Learn about Maryland's location in the United States, official seal, and flag, geography, climate, area codes, zip codes, time zones, etc. Look at the major cities, history, trails (hiking, cycling, backpacking, etc.), national parks, the capital city's location, FAQs (Frequently Asked Questions), and many more.
Maryland, a constituent state of the USA, is one of the original 13 states. It is located in the Mid-Atlantic region of the US. In honor of Henrietta Maria, wife of King Charles 1, Maryland got its name.  
On April 28, 1788, Maryland was admitted to the Union. Annapolis is the capital city, and Baltimore is the largest city in the state. Maryland is the 18th most populous state in the United States of America. 
English is the most commonly spoken language in Maryland. Popular nicknames for this state are Old Line State, America in Miniature, Free State, and Little America. Maryland's motto is "Fatti maschii, parole femine", which means "Strong Deeds, Gentle Words." 
Check key facts about Maryland to get more knowledge about this US state.
The flag reflects the arms of the Calvert and Crossland families. Baltimore founded Maryland, and their colors of gold and black appear in the first four quarters of the flag. In the flag's second and third quarters, the red and white Crossland colors with a cross bottony can be seen.
On October 11, 1880, the flag was first flown in Baltimore during the 150th-anniversary celebration of Baltimore's foundation. The flag was flown on October 25, 1888, at Gettysburg Battlefield. It officially became the state flag on March 9, 1904. 
Learn more exciting State aspects from Maryland Facts and Trivia.
Maryland's emblem is called the great seal of Maryland. It was adopted in 1876. The seal features an obverse and a reverse side. The present seal is designed to reflect the days of the original settlement in Maryland.
The seal's Obverse Side features an image of Lord Baltimore. He is seen covered fully and riding on a charger with a drawn sword in hand. The Reverse Side shows Calvert's arms, a farmer, a fisherman, and a shield.
Maryland Location
Maryland Location Map shows the exact location of Maryland on a United States Map along with its boundaries, longitudinal and latitudinal extents, and many more. Maryland is situated in the USA's mid-Atlantic region. 
It is bordered by:
While the latitudinal extent of Maryland is 37⁰ 53'N to 39⁰ 43'N, the longitudinal extent is 75⁰ 03'W to 39⁰ 43'N. Check the Latitude and Longitude Map of Maryland.
Maryland History
The early human history in the current Maryland area can be traced back to 10,000 BCE. Capt. John Smith, an English explorer, first sailed into the Chesapeake Bay in 1608 and stayed near the shoreline for many weeks. 
In 1638, Calvert seized Kent island, established by Virginian William Claiborne. In 1644, Claiborne led an uprising of a group of Maryland Protestants. Calvert was forced to flee but returned to the head of armed forces in 1646.
Maryland soon became the predominantly catholic region among the English Colony in North America. It became the destination for the punishment of the English convicts until the revolutionary war occurred.
In 1649, the Calvert family provided religious freedom, formalized by the General Assembly. It later became known as the Act of Religious Toleration, which granted freedom of worship only within the bounds of Trinitarian Christianity.
By the 1660s, resentment grew against the colony's Roman Catholic Leadership. As the center, St. Mary's city shifted north and west. In 1694, the capital was moved to Annapolis. 
The long-standing Maryland-Pennsylvania dispute over their shared border was settled when Great Britain recognized latitude 39⁰ 43' N as legal. It was named Mason and Dixon Line.
Marylanders actively participated in the American Revolution. As a result, they faced post-war problems, including the disposition of confiscated loyalist property, the struggle for Paper money, and debater relief.
With peace, Maryland focused on improving transportation and communication. However, the civil war arrested Maryland's progress. After the Civil War, Maryland prospered because it was an important entry point for raw materials and consumer goods to the South MidWest. It became a growing center of industry. It became a significant center for military and civilian federal installations during World Wars 1 and 2.
Maryland is spread across an area of 12,407 sq mi (32,131 sq km), out of which 9,776 sq mi (25,314 sq km) is land area and 2,633 sq mi (6,819 sq km) is water area. The geographic center of Maryland is situated in Prince George's County, which is located 4.5 miles northwest of Davidsonville.
The State of Maryland has five landforms, including:
Atlantic Coastal Plain:

This landform is spread across the eastern and western shores of the state. This flat, low-rising plain is situated around 400 feet (121.9 m) on the West Shore. On the east shore, you'll find marshy lands used to grow tobacco. 

Piedmont

is a 50 miles (80.5 km) broad landform in Maryland. This terrain features fertile valleys as well as low rolling landscapes. A rich dairy farming area is there in the Frederick Valley. 

Blue Ridge Region: This region is situated to

Piedmont's west. Blue Ridge region is essentially a narrow, mountainous land situated between the Appalachian Ridge and Valley as well as Piedmont. The elevation of this region is usually more than 1,000 feet ( over 305 m). Catoctin Mountain and South Mountain are two significant mountains in the state located in this landform. 

Appalachian Ridge and Valley:

The Great Valley (or Hagerstown Valley) dominates this landform in eastern Maryland. The elevation of this landform reaches around 2,000 feet (610 m). It is primarily forested. Farmland and orchards can be found in this terrain's eastern part. 

Appalachian Plateau is located on the Blue Ridge's western side. This plateau is spread over a triangular land in Maryland's westernmost part. Most of its land area is covered by the Allegheny Mountains. This is a heavily forested area where you'll find deep valleys. Check this Maryland Topographic Map to learn more.
The highest point is Hoye-crest on Backbone Mountain, which is situated at 3,360 feet (1,024 m). The lowest elevation point in the state is the Atlantic Ocean. Some significant lakes in the state are Deep Creek Lake, Loch Raven Reservoir, and Prettyboy Reservoir. In Maryland, significant rivers are the Patuxent River, Patapsco River, Susquehanna River, Potomac River, and many more. Learn about the location of rivers, lakes, mountain peaks, the state capital, state boundary, ocean, and neighboring states from this Physical Map of Maryland.
Maryland has twenty-three counties along with one independent city (Baltimore City ). Worcester County is the largest, and Howard County is the smallest county in the state. Check the Maryland County Map to learn more about the location and boundaries of different counties in the state.
Maryland's Area Codes
The following area codes serve the state of Maryland:
The Maryland Area Codes Map helps you locate a particular area code. You can also use it to learn more about the area code boundary, county and state boundaries, and state capital. 
Maryland Zip Codes
Maryland will have 467 active zip codes in 2022. In the state, the best zip codes to live in are 20906, 21234, 20878, 21740, 20874, 21122, and many more. You can locate a particular zip code's location, boundary, state boundary, and state capital with the help of the Maryland Zip Codes Map.
Maryland Major Cities
Learn about the state's significant places from this Maryland cities map. It also helps you to know the exact location of the state capital, other cities, state boundaries, neighboring states and oceans, and many more. Maryland's most prominent cities are Baltimore, Germantown, Columbia, and many more. Check out the Maryland Cities Map for more details.
Maryland Airport Map
Baltimore/Washington International Airport, Salisbury–Ocean City–Wicomico Regional Airport, Hagerstown Regional Airport, and many more are the major airports in Maryland. Check the location of different airports in the state on the Maryland Airports Map. This map also shows Maryland's state and country boundaries, cities, the state capital, neighboring states, and oceans.
Maryland National Park and Trails
Maryland has eighteen national parks. Around 5,934,330 visitors visit these national parks annually. Major national parks in the State are Antietam National Battlefield, Harriet Tubman Underground Railroad National Historical Park, and others.
In Maryland, you can enjoy 1,294 recreational trails (hiking, backpacking, mountain biking, and other adventurous trails). Annapolis Rock (Appalachian Trail), Cascade Falls Loop Trail, Sugarloaf Mountain Northern Peaks Trail, etc., are some of Maryland's most popular hiking routes. 
Check out the National Parks in Maryland Map to get a clear idea about the locations of different national parks, monuments, preserves, etc.
Maryland Time Zone
The time zone in Maryland is UTC−05:00 (Eastern). Its summer (DST) is UTC−04:00 (EDT).
Maryland Climate
Maryland has two types of climatic conditions. In the highland west, it is continental. This climate is characterized by the temperature variation from – 40⁰F (-40 ⁰C) to more than 100 ⁰F (38 ⁰C). The average temperature in western Maryland is 28 ⁰F (– 2 ⁰C) in January and 65 ⁰F (18 ⁰C) in July.
Generally, summers are characterized by hot and humid temperatures. Cool temperatures characterize Winters compared to other eastern shore and low land areas.    
The climate of Maryland favors the growth of tobacco in the southern region. In the Piedmont region, the climate favors corn cultivation. In the eastern zone, soybeans are grown along with strawberries, melons, and peaches.
The US State of Maryland has various historic and renowned private universities, the most notable being John Hopkins University. The state's public universities belong to the University System, except for United States Naval Academy, St. Mary's College and Morgan State University. Over 310,689 students were enrolled at Maryland universities and colleges in 2005.
FAQs on Maryland
FAQ #1: What is the capital of Maryland?
Ans: Annapolis is the capital of Maryland.
FAQ #2: What is Maryland known for?
Maryland is famous for its blue crab, Baltimore (a historic trading port), baseball power, the birthplace of the National Anthem, and many more.
FAQ #3: What is the Time Zone in Maryland?
Ans: The time zone in Maryland is UTC−05:00 (Eastern). Its summer (DST) is UTC−04:00 (EDT).
FAQ #4: When did Maryland become a state?
Ans: On April 28, 1788, Maryland became a state.
FAQ #5: Does it Snow in Maryland?
Ans: Average seasonal snowfall in Maryland ranges from 10 inches (254 mm) on the lower eastern shore to 110 inches (2,794 mm) in Garrett county.
FAQ #6: How many counties are there in Maryland?
23 countries are there in Maryland.
FAQ #7: What is the population of Maryland?
Ans: 6.15 million is the estimated population of Maryland in 2022. 
FAQ #8: What is the state bird of Maryland?
Ans: Baltimore Oriole is the state bird of Maryland. 
FAQ #9: What is the Largest College in Maryland?
Ans: The University of Maryland is the largest in Maryland.
FAQ #10: Who Is The Governor Of Maryland?
Ans: The Republican Party's Larry Hogan is the incumbent governor of Maryland. He assumed office on January 21, 2015.