Map of Pennsylvania Cities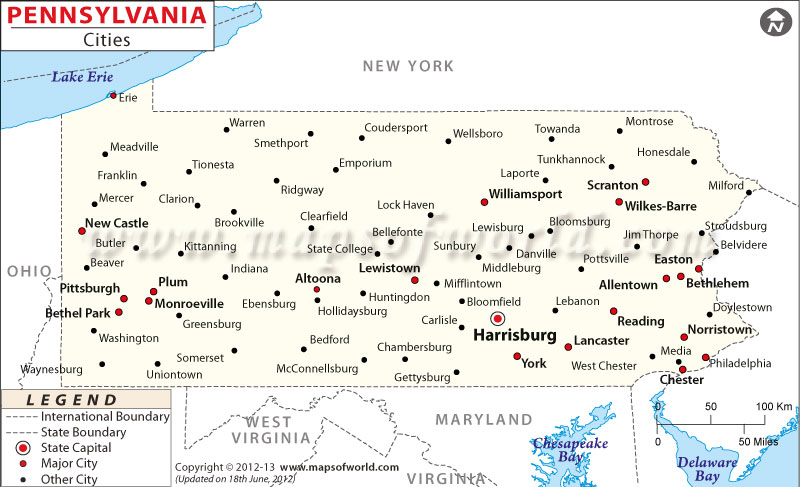 Map of Pennsylvania Cities
Learn all about the different cities in Pennsylvania with the Map of Pennsylvania Cities. This map allows you to explore the various cities of the state of Pennsylvania, making it easier to locate the cities on the map.
Cities in Pennsylvania
Pennsylvania has many cities, and each one has its own special features. Some cities are full of action and have a lot of things to do, while others are calm and located in the quiet countryside. Pennsylvania's cities have something for everyone. Whether you like the peacefulness of nature, exciting outdoor adventures, or interesting things to see in the city, you'll find something that you enjoy.
How Many Cities are in Pennsylvania
Pennsylvania boasts a total of 959 cities. Each city contributes its own distinct flavor to the experiences available in the state. Whether you're drawn to the excitement of larger cities or the cozy charm of smaller towns, Pennsylvania's cities provide a range of options. You can easily locate the position of each city on the Map of Pennsylvania Cities.
Largest Cities in Pennsylvania
Pennsylvania's biggest cities are bustling with chances for fun and discovery. Some of the famous cities in Pennsylvania are Philadelphia, Pittsburgh, Allentown, Erie, Reading, and Scranton. These cities are famous for their exciting things to do, special places to see, and lively cultural scenes. Whether you live there or you're visiting, you'll have plenty of opportunities to enjoy and learn new things.
Safest Cities in Pennsylvania
Certain cities in Pennsylvania make safety and well-being a top priority. They take important steps to ensure their communities are safe and welcoming. Places like Murrysville, Lower Burrell, Cranberry Township, Peters Township, and Upper Providence Township are known as some of the safest cities in Pennsylvania. These cities work hard to keep crime rates low and create a strong sense of security, making them great choices for families and individuals.
Best Cities to Live in Pennsylvania
Pennsylvania presents a variety of cities that offer a great quality of life and a mix of amenities. Some of the best places to live in Pennsylvania are Philadelphia, Pittsburgh, Harrisburg, Bethlehem, and Lancaster. These cities combine job opportunities, excellent schools, and recreational options to create a well-rounded and satisfying lifestyle. Whether you enjoy nature, the arts, or a lively community, these cities have something for everyone, ensuring a fulfilling and happy life.
Feel free to explore the Map of Pennsylvania Cities to discover all the cities marked on the map.
List of Cities in Pennsylvania

City Name
County Name
Philadelphia
Philadelphia
Pittsburgh
Allegheny
Allentown
Lehigh
Erie
Erie
Reading
Berks
Scranton
Lackawanna
Bethlehem
Lehigh and Northampton
Lancaster
Lancaster
Harrisburg
Dauphin
Altoona
Blair
York
York
Wilkes-Barre
Luzerne
Chester
Delaware
Williamsport
Lycoming
Easton
Northampton
Lebanon
Lebanon
Hazleton
Luzerne
New Castle
Lawrence
Johnstown
Cambria
McKeesport
Allegheny
Hermitage
Mercer
Greensburg
Westmoreland
Pottsville
Schuylkill
Sharon
Mercer
Butler
Butler
Washington
Washington
Meadville
Crawford
New Kensington
Westmoreland
Coatesville
Chester
Lower Burrell
Westmoreland
Oil City
Venango
Nanticoke
Luzerne
Uniontown
Fayette
Sunbury
Northumberland
Lock Haven
Clinton
Warren
Warren
Jeannette
Westmoreland
Aliquippa
Beaver
Beaver Falls
Beaver
Latrobe
Westmoreland
Carbondale
Lackawanna
Bradford
McKean
DuBois
Clearfield
Pittston
Luzerne
Monessen
Westmoreland
Connellsville
Fayette
Shamokin
Northumberland
Clairton
Allegheny
Corry
Erie
Franklin
Venango
Titusville
Crawford
Duquesne
Allegheny
Arnold
Westmoreland
Farrell
Mercer
Monongahela
Washington
Parker
Armstrong
St. Marys
Elk