Pennsylvania City Maps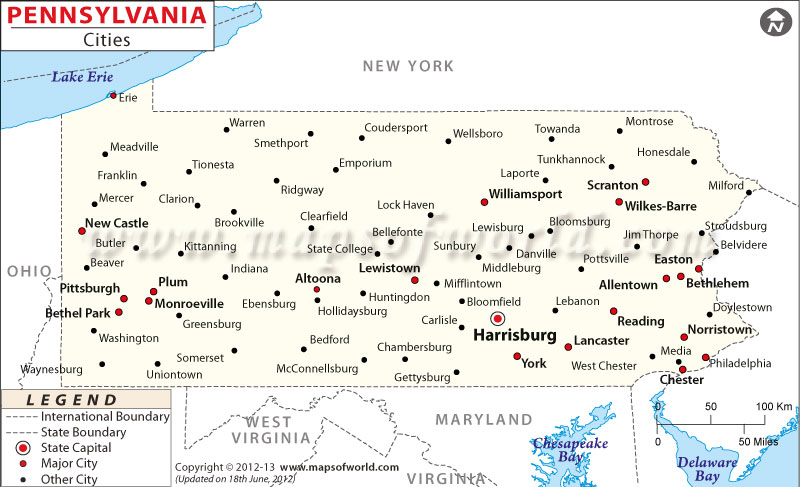 About Cities in Pennsylvania
Pennsylvania, which is officially known as the Commonwealth of Pennsylvania and nicknamed 'The Keystone State', is located in the Northeastern United States. Famous for the Battle of Gettysburg, the state is 33rd largest and the sixth most populous in the US. From the coastline along Lake Erie to the the estuary outlet of the Delaware River, Pennsylvania is known for vast countryside, diverse terrain, spectacular fall foliage, and delicious culinary treats.
Philadelphia, the only World Heritage City in the United States, is the largest city in Pennsylvania and the fifth most populous city in the country. The city features more public art (outdoor sculptures and murals) than any other city in America. The city has many art museums such as the Pennsylvania Academy of the Fine Arts, the Rodin Museum, and the Philadelphia Museum of Art.
Famous as 'The Steel City' and the "City of Bridges", Pittsburgh has a rich history in arts and culture. Harrisburg, the state capital of Pennsylvania, lies on the east bank of the Susquehanna River. Reading, renowned for local pretzel bakeries, is worthy of a stopover while driving from Philadelphia to Harrisburg. Erie, Allentown, Lancaster, and Scranton are among the major cities in Pennsylvania to visit.
Getting In and Around
Philadelphia International Airport (PHL) and Pittsburgh International Airport (PIT) connect Pennsylvania with major international destinations. The Pennsylvanian, Capitol Limited, Keystone Service, Northeast Regional, and Lake Shore Limited are major Amtrak trains that traverse through cities in Pennsylvania. Lincoln Highway, Susquehanna Trail, Yellowstone Trail, and Interstate Highways (I-76, I-80, I-81, I-79, I-70, and I-99) create a dense road network in the state.
List of Cities in Pennsylvania
| City Name | County Name | Population (2010) |
| --- | --- | --- |
| Philadelphia | Philadelphia | 1,526,006 |
| Pittsburgh | Allegheny | 305,704 |
| Allentown | Lehigh | 118,032 |
| Erie | Erie | 101,786 |
| Reading | Berks | 88,082 |
| Scranton | Lackawanna | 76,089 |
| Bethlehem | Lehigh and Northampton | 74,982 |
| Lancaster | Lancaster | 59,322 |
| Harrisburg | Dauphin | 49,528 |
| Altoona | Blair | 46,320 |
| York | York | 43,718 |
| Wilkes-Barre | Luzerne | 41,498 |
| Chester | Delaware | 33,972 |
| Williamsport | Lycoming | 29,381 |
| Easton | Northampton | 26,800 |
| Lebanon | Lebanon | 25,477 |
| Hazleton | Luzerne | 25,340 |
| New Castle | Lawrence | 23,273 |
| Johnstown | Cambria | 20,978 |
| McKeesport | Allegheny | 19,731 |
| Hermitage | Mercer | 16,220 |
| Greensburg | Westmoreland | 14,892 |
| Pottsville | Schuylkill | 14,324 |
| Sharon | Mercer | 14,038 |
| Butler | Butler | 13,757 |
| Washington | Washington | 13,663 |
| Meadville | Crawford | 13,388 |
| New Kensington | Westmoreland | 13,116 |
| Coatesville | Chester | 13,100 |
| Lower Burrell | Westmoreland | 11,761 |
| Oil City | Venango | 10,557 |
| Nanticoke | Luzerne | 10,465 |
| Uniontown | Fayette | 10,372 |
| Sunbury | Northumberland | 9,905 |
| Lock Haven | Clinton | 9,772 |
| Warren | Warren | 9,710 |
| Jeannette | Westmoreland | 9,654 |
| Aliquippa | Beaver | 9,438 |
| Beaver Falls | Beaver | 8,987 |
| Latrobe | Westmoreland | 8,944 |
| Carbondale | Lackawanna | 8,891 |
| Bradford | McKean | 8,770 |
| DuBois | Clearfield | 7,794 |
| Pittston | Luzerne | 7,739 |
| Monessen | Westmoreland | 7,720 |
| Connellsville | Fayette | 7,637 |
| Shamokin | Northumberland | 7,374 |
| Clairton | Allegheny | 6,796 |
| Corry | Erie | 6,605 |
| Franklin | Venango | 6,545 |
| Titusville | Crawford | 5,602 |
| Duquesne | Allegheny | 5,565 |
| Arnold | Westmoreland | 5,157 |
| Farrell | Mercer | 5,111 |
| Monongahela | Washington | 4,300 |
| Parker | Armstrong | 840 |
| St. Marys | Elk | 13,070 |