Map of Missouri Cities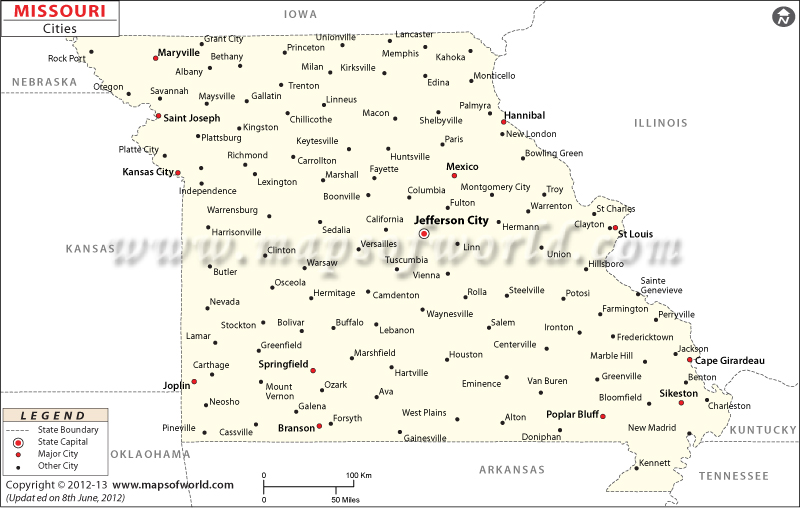 Map of Missouri Cities
Learn all about the different cities in Missouri with the Map of Missouri Cities. This map allows you to explore the various cities of the state of Missouri, making it easier to locate the cities on the map.
Cities in Missouri
Missouri is home to many cities, each with its own special qualities. Some cities are bustling with lots of people and things to do, while others are quieter and nestled in the countryside. Missouri's cities have something for everyone. Whether you like peaceful natural surroundings, exciting outdoor activities, or interesting urban attractions, there's something for you to enjoy.
How Many Cities are in Missouri
Missouri has a total of 951 cities. Each city adds its own unique flavor to the experiences you can have in the state. Whether you prefer the liveliness of big cities or the cozy atmosphere of small towns, Missouri's cities offer a variety of choices. You can easily find the location of each city on the Map of Missouri Cities.
Largest Cities in Missouri
The largest cities in Missouri are vibrant places with lots of opportunities for fun and exploration. Some of the most well-known cities in Missouri are Kansas City, St. Louis, Springfield, Columbia, Independence, and Lee's Summit. These cities are famous for their interesting places to visit, special things to see, and lively cultural scenes. Whether you're a resident or a visitor, there are plenty of chances to have a good time and discover new things.
Safest Cities in Missouri
Certain cities in Missouri prioritize the safety and well-being of their residents. They take active steps to create secure and friendly environments. Places like Ballwin, Ozark, Lee's Summit, Raymore, and Nixa are recognized as some of the safest cities in Missouri. These cities work hard to maintain low crime rates and ensure a strong sense of security, making them great places for families and individuals.
Best Cities to Live in Missouri
Missouri has many cities where life is really enjoyable and there are plenty of wonderful things to do. Some of the best places to live in Missouri are Kansas City, St. Louis, Springfield, Columbia, and St. Joseph. These cities offer a mix of good job opportunities, excellent schools, and enjoyable activities. Whether you're a nature lover, a history buff, or simply seeking a lively community, these cities cater to a variety of interests, ensuring a fulfilling and happy life.
Feel free to explore the Map of Missouri Cities to discover all the cities marked on the map.