Missouri City Maps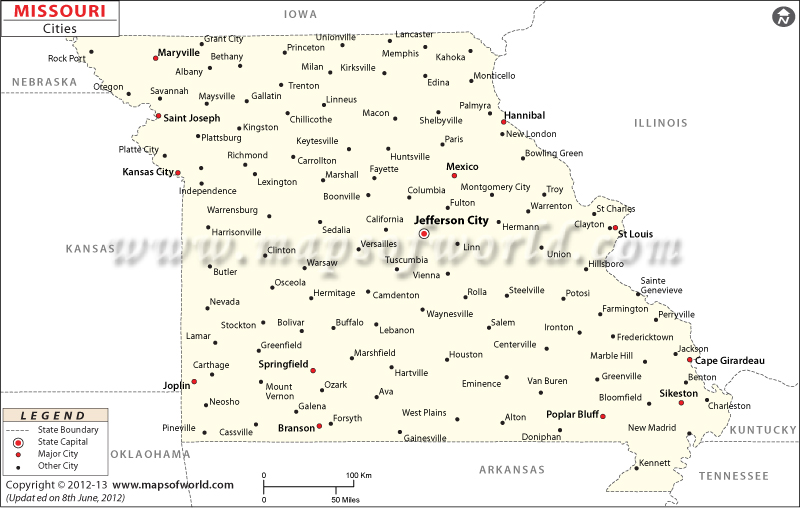 Cities in Missouri
Nicknamed 'The Show-Me State, Missouri is located in the Midwestern United States. Named after the Missouri River, the state was a starting point for famous routes such as Pony Express, Santa Fe Trail, and Oregon Trail. From the northern plains to the southern Bootheel region, it is known for historical landmarks, beautiful outdoors, great rivers, and the Gateway Arch. Famous poet T. S. Eliot and writer Mark Twain were born in Missouri.
While Kansas City is the largest city, St. Louis is the core city of the largest metropolitan area in Missouri. The state capital, Jefferson City lies on the northern edge of the Ozark Plateau. The third-largest city in the state, Springfield is known as the "Birthplace of Route 66" and Independence is known as the "Queen City of the Trails" for once being a point of departure for the California, Oregon and Santa Fe Trails. The city of Columbia houses Stephens College, the University of Missouri, and Columbia College.
Getting In and Around
Missouri has two major airport hubs: Lambert-St. Louis International Airport (STL) and Kansas City International Airport (MCI). Amtrak's Missouri River Runner, Texas Eagle, Lincoln Service, and Southwest Chief serve the major cities in Missouri. Interstate Highways (I-44, I-70, I-55, and I-29) and U.S. Highways (US 61, US 60, US 63, and US 160) create a dense road network.
List of Cities in Missouri
| City Name | Population 2011 |
| --- | --- |
| Arnold | 20,808 |
| Ballwin | 30,404 |
| Belton | 23,116 |
| Blue Springs | 52,575 |
| Bridgeton | 11,550 |
| Cape Girardeau | 37,941 |
| Chesterfield | 47,484 |
| Clayton | 15,939 |
| Columbia | 108,500 |
| Creve Coeur | 17,833 |
| Farmington | 16,240 |
| Ferguson | 21,203 |
| Florissant | 52,158 |
| Gladstone | 25,410 |
| Grandview | 24,475 |
| Hannibal | 17,916 |
| Hazelwood | 25,703 |
| Independence | 116,830 |
| Jefferson City | 43,079 |
| Joplin | 50,150 |
| Kansas City | 459,787 |
| Kirksville | 17,505 |
| Kirkwood | 27,540 |
| Lee's Summit | 91,364 |
| Liberty | 29,149 |
| Manchester | 18,094 |
| Maryland Heights | 27,472 |
| Nixa | 19,022 |
| O'Fallon | 79,329 |
| Overland | 16,062 |
| Ozark | 17,820 |
| Poplar Bluff | 17,023 |
| Raymore | 19,206 |
| Raytown | 29,526 |
| Rolla | 19,559 |
| Sedalia | 21,387 |
| Sikeston | 16,318 |
| Springfield | 159,498 |
| St. Charles | 65,794 |
| St. Joseph | 76,780 |
| St. Louis | 319,294 |
| St. Peters | 52,575 |
| University City | 35,371 |
| Warrensburg | 18,838 |
| Webster Groves | 22,995 |
| Wentzville | 29,070 |
| Wildwood | 35,517 |