Louisiana City Maps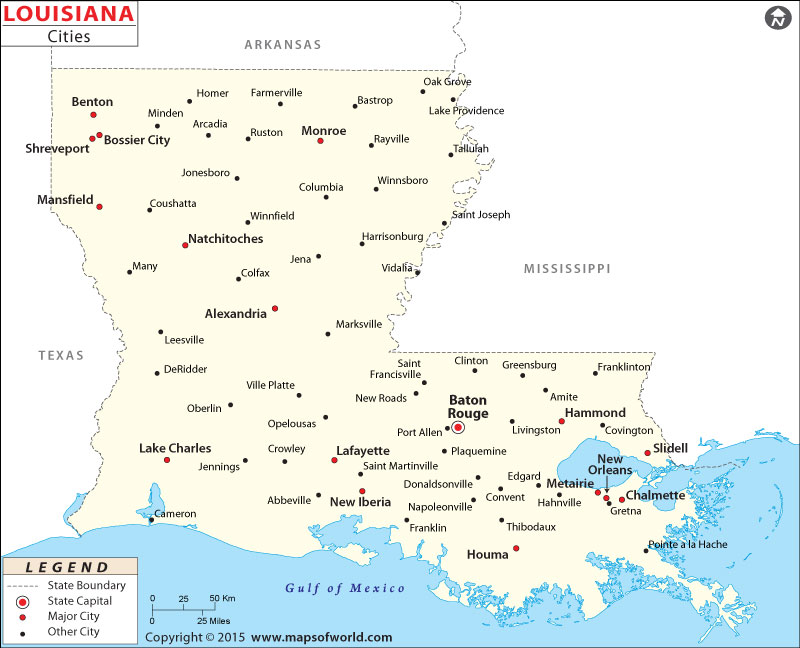 Cities in Louisiana
Nicknamed the 'Bayou State', Louisiana is located in southeastern United States. It is known for Creole and Cajun food, biological diversity, plantation homes, bayous, Mardi Gras celebrations, and Southern hospitality.
New Orleans, referred as "The Crescent City", is known as the birthplace of jazz and its annual celebrations and festivals dating to French colonial times. Notable tourist attractions in the city's historical French Quarter are include Bourbon Street, Jackson Square, St. Louis Cathedral, and a market. A veritable melting pot of different cultures, Baton Rouge is the state capital and the second-largest city in Louisiana.
Shreveport is the commercial center of the Ark-La-Tex region, where the state boundaries of Arkansas, Louisiana, and Texas meet. Metairie, Lafayette, Monroe, and Alexandria are other cities in Louisiana worth visiting.
Getting In and Around
Louis Armstrong New Orleans International Airport (MSY) and Baton Rouge Metropolitan Airport (BTR) are among the busiest airports in the state. Amtrak's City of New Orleans, Sunset Limited, and Crescent traverse the state. Interstate Highways (I-10, I-49, and I-20) U.S. Highways (US 190, US 167, US 71, and US 165) pass through the state.
List of Cities in Louisiana
| City Name | Parish (County) | Population (2010) |
| --- | --- | --- |
| New Orleans | Orleans | 343,829 |
| Baton Rouge | East Baton Rouge | 229,493 |
| Shreveport | Caddo | 199,311 |
| Lafayette | Lafayette | 120,623 |
| Lake Charles | Calcasieu | 71,993 |
| Kenner | Jefferson | 66,702 |
| Bossier City | Bossier | 61,315 |
| Monroe | Ouachita | 48,815 |
| Alexandria | Rapides | 47,723 |
| Houma | Terrebonne | 33,727 |
| New Iberia | Iberia | 30,617 |
| Slidell | St. Tammany | 27,068 |
| Central | East Baton Rouge | 26,864 |
| Ruston | Lincoln | 21,859 |
| Sulphur | Calcasieu | 20,410 |
| Hammond | Tangipahoa | 20,019 |
| Gretna | Jefferson | 17,736 |
| Opelousas | St. Landry | 16,634 |
| Zachary | East Baton Rouge | 14,960 |
| Thibodaux | Lafourche | 14,566 |
| Pineville | Rapides | 14,555 |
| Baker | East Baton Rouge | 13,895 |
| Crowley | Acadia | 13,265 |
| Minden | Webster | 13,082 |
| West Monroe | Ouachita | 13,065 |
| Morgan City | St. Mary & St. Martin | 12,404 |
| Abbeville | Vermilion | 12,257 |
| Bogalusa | Washington | 12,232 |
| Mandeville | St. Tammany | 11,560 |
| Bastrop | Morehouse | 11,365 |
| DeRidder | Beauregard | 10,578 |
| Fairview Alpha | Natchitoches Or Red River | 10,541 |
| Eunice | St. Landry | 10,398 |
| Jennings | Jefferson Davis | 10,383 |
| Denham Springs | Linvingston | 10,215 |
| Gonzales | Ascension | 9,781 |
| Harahan | Jefferson | 9,277 |
| Covington | St. Tammany | 8,765 |
| Scott | Lafayette | 8,614 |
| Westwego | Jefferson | 8,534 |
| Broussard | Lafayette & St. Martin | 8,197 |
| Breaux Bridge | St. Martin | 8,139 |
| Youngsville | Lafayette | 8,105 |
| Welcome | St. James | 8,000 |
| Rayne | Acadia | 7,953 |
| Franklin | St. Mary | 7,660 |
| Carencro | Lafayette | 7,526 |
| Donaldsonville | Ascension | 7,436 |
| Ville Platte | Evangeline | 7,430 |
| Tallulah | Madison | 7,335 |
| Plaquemine | Iberville | 7,119 |
| St. Gabriel | Iberville | 6,677 |
| Leesville | Vernon | 6,612 |
| Ponchatoula | Tangipahoa | 6,559 |
| St. Martinville | St. Martin | 6,114 |
| Patterson | St. Mary | 6,112 |
| Marksville | Avoyelles | 5,702 |
| Jeanerette | Iberia | 5,530 |
| Springhill | Webster | 5,269 |
| Port Allen | West Baton Rouge | 5,180 |
| Mansfield | Desoto | 5,001 |
| Grambling | Lincoln | 4,949 |
| Winnsboro | Franklin | 4,910 |
| Winnfield | Winn | 4,840 |
| New Roads | Pointe Coupee | 4,831 |
| Kaplan | Vermilion | 4,600 |
| Westlake | Calcasieu | 4,568 |
| Bunkie | Avoyelles | 4,171 |
| DeQuincy | Calcasieu | 3,235 |