Arkansas City Maps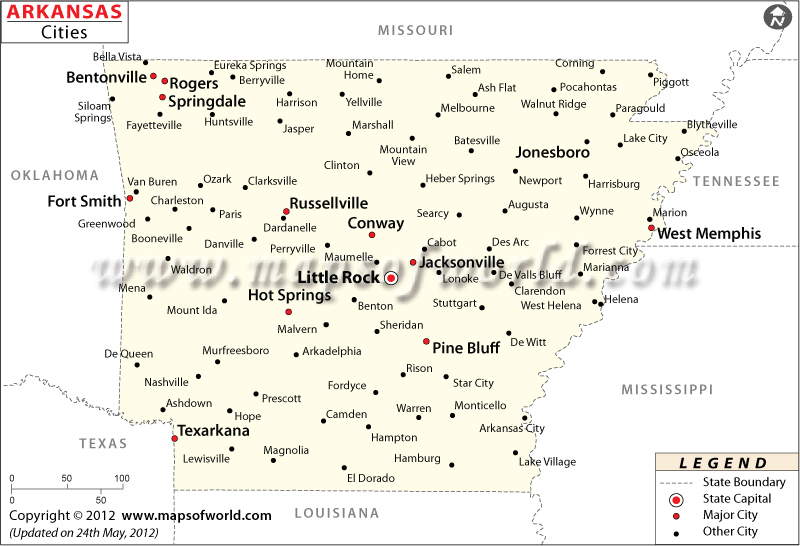 There are 75 counties in the state. Situated on the banks of the Arkansas River, Little Rock is the capital and most populous city in the state. It is also the cultural and financial heart of the state. Fort Smith, second largest city in Arkansas, has a thriving theater and music scene. The city hosts Arkansas-Oklahoma State Fair in late September.
Located deep within the Ozarks, Fayetteville is home to the University of Arkansas. Springdale is home to world's largest meat producing company, Tyson Foods. Bentonville is the headquarters of Walmart, world's largest retailer. Hot Springs is the oldest federal reserve in the United States Hot Springs National Park.
The largest city in the eastern Arkansas is Jonesboro while the largest city in the southeastern Arkansas is Pine Bluff which is famous for creeks and bayous. Conway, Rogers, and Benton are other major cities in Arkansas.
Getting In and Around
Clinton National Airport (LIT) in Little Rock is the busiest airport in the state.
Amtrak's Texas Eagle operates through the state.
I-40, I-30, I-49, and I-55 are primary interstate highways in Arkansas.
List of Cities in Arkansas
| City Name | County | Land Area |
| --- | --- | --- |
| Alexander | Saline | 0.4 sq mi(1.0 km²) |
| Alma | Crawford | 5.4 sq mi(14 km²) |
| Arkadelphia | Clark | 7.26 sq mi(18.8 km²) |
| Ashdown | Little River | 7.1 sq mi(18 km²) |
| Atkins | Pope | 6.1 sq mi(16 km²) |
| Augusta | Woodruff | 2.0 sq mi(5.2 km²) |
| Austin | Lonoke | 3.0 sq mi(7.8 km²) |
| Bald Knob | White | 4.5 sq mi(12 km²) |
| Barling | Sebastian | 21.9 sq mi(57 km²) |
| Batesville | Independence | 10.98 sq mi(28.4 km²) |
| Beebe | White | 10.11 sq mi(26.2 km²) |
| Bella Vista | Benton | 44.26 sq mi(114.6 km²) |
| Benton | Saline | 17.9 sq mi(46 km²) |
| Bentonville | Benton | 21.2 sq mi(55 km²) |
| Berryville | Carroll | 6.10 sq mi(15.8 km²) |
| Bethel Heights | Benton | 6.5 sq mi(17 km²) |
| Blytheville | Mississippi | 20.6 sq mi(53 km²) |
| Bono | Craighead | 1.4 sq mi(3.6 km²) |
| Booneville | Logan | 4.1 sq mi(11 km²) |
| Brinkley | Monroe | 5.5 sq mi(14 km²) |
| Cabot | Lonoke | 19.1 sq mi(49 km²) |
| Camden | Ouachita | 16.5 sq mi(43 km²) |
| Carlisle | Lonoke | 4.9 sq mi(13 km²) |
| Centerton | Benton | 11.76 sq mi(30.5 km²) |
| Charleston | Franklin | 4.2 sq mi(11 km²) |
| Cherokee Village | Sharp | 19.9 sq mi(52 km²) |
| Clarksville | Arkansas | 18.48 sq mi(47.9 km²) |
| Clinton | Van Buren | 11.4 sq mi(30 km²) |
| Conway | Faulkner | 59.99 sq mi(155.4 km²) |
| Corning | Clay | 3.2 sq mi(8.3 km²) |
| Crossett | Ashley | 5.97 sq mi(15.5 km²) |
| Danville | Yell | 4.2 sq mi(11 km²) |
| Dardanelle | Yell | 3.1 sq mi(8.0 km²) |
| De Queen | Sevier | 5.95 sq mi(15.4 km²) |
| Dermott | Chicot | 2.8 sq mi(7.3 km²) |
| DeWitt | Arkansas | 2.6 sq mi(6.7 km²) |
| Dumas | Desha | 3 sq mi(7.8 km²) |
| Earle | Crittenden | 3.3 sq mi(8.5 km²) |
| El Dorado | Union | 16.3 sq mi(42 km²) |
| Elkins | Washington | 2.6 sq mi(6.7 km²) |
| England | Lonoke | 1.86 sq mi(4.8 km²) |
| Eudora | Chicot | 3.1 sq mi(8.0 km²) |
| Eureka Springs | Carroll | 6.8 sq mi(18 km²) |
| Fairfield Bay | Van Buren | 15.2 sq mi(39 km²) |
| Farmington | Washington | 9.83 sq mi(25.5 km²) |
| Fayetteville | Washington | 53.8 sq mi(139 km²) |
| Fordyce | Dallas | 6.6 sq mi(17 km²) |
| Fort Smith | Sebastian | 61.7 sq mi(160 km²) |
| Gassville | Baxter | 3.4 sq mi(8.8 km²) |
| Gentry | Benton | 2.4 sq mi(6.2 km²) |
| Glenwood | Pike | 2.8 sq mi(7.3 km²) |
| Gosnell | Mississippi | 1.7 sq mi(4.4 km²) |
| Gravette | Benton | 2.3 sq mi(6.0 km²) |
| Green Forest | Carroll | 2.3 sq mi(6.0 km²) |
| Greenbrier | Faulkner | 7.75 sq mi(20.1 km²) |
| Greenwood | Sebastian | 9.82 sq mi(25.4 km²) |
| Gurdon | Clark | 2.5 sq mi(6.5 km²) |
| Hamburg | Ashley | 3.4 sq mi(8.8 km²) |
| Harrisburg | Poinsett | 2.1 sq mi(5.4 km²) |
| Harrison | Boone | 16.5 sq mi(43 km²) |
| Haskell | Saline | 4.6 sq mi(12 km²) |
| Heber Springs | Cleburne | 8.39 sq mi(21.7 km²) |
| Helena-West Helena | Phillips | 13.3 sq mi(34 km²) |
| Hope | Hempstead | 10.08 sq mi(26.1 km²) |
| Horseshoe Bend | Izard | 13.3 sq mi(34 km²) |
| Hot Springs | Garland | 32.9 sq mi(85 km²) |
| Hoxie | Lawrence | 4 sq mi(10 km²) |
| Huntsville | Madison | 3 sq mi(7.8 km²) |
| Jacksonville | Pulaski | 21.2 sq mi(55 km²) |
| Johnson | Washington | 3.1 sq mi(8.0 km²) |
| Jonesboro | Craighead | 79.6 sq mi(206 km²) |
| Judsonia | White | 3 sq mi(7.8 km²) |
| Lake City | Craighead | 2.2 sq mi(5.7 km²) |
| Lake Village | Chicot | 2.1 sq mi(5.4 km²) |
| Lavaca | Sebastian | 2.1 sq mi(5.4 km²) |
| Lincoln | Washington | 1.8 sq mi(4.7 km²) |
| Little Flock | Benton | 7.6 sq mi(20 km²) |
| Little Rock | Pulaski | 116.2 sq mi(301 km²) |
| Lonoke | Lonoke | 4.3 sq mi(11 km²) |
| Lowell | Benton | 9.15 sq mi(23.7 km²) |
| Magnolia | Columbia | 12.94 sq mi(33.5 km²) |
| Manila | Mississippi | 3.2 sq mi(8.3 km²) |
| Marianna | Lee | 3.6 sq mi(9.3 km²) |
| Marked Tree | Poinsett | 2.3 sq mi(6.0 km²) |
| Mayflower | Faulkner | 2.98 sq mi(7.7 km²) |
| McGehee | Desha | 6.4 sq mi(17 km²) |
| Mena | Polk | 6.717.21 sq mi(17.40 km²) |
| Monticello | Drew | 10.7 sq mi(28 km²) |
| Morrilton | Conway | 8.75 sq mi(22.7 km²) |
| Mountain Home | Baxter | 10.6 sq mi(27 km²) |
| Mountain View | Stone | 6.8 sq mi(18 km²) |
| Nashville | Howard | 4.6 sq mi(12 km²) |
| Newport | Jackson | 13.43 sq mi(34.8 km²) |
| North Little Rock | Pulaski | 44.8 sq mi(116 km²) |
| Osceola | Mississippi | 9.79 sq mi(25.4 km²) |
| Ozark | Franklin | 7.2 sq mi(19 km²) |
| Paragould | Greene | 30.8 sq mi(80 km²) |
| Paris | Logan | 4.5 sq mi(12 km²) |
| Pea Ridge | Benton | 4.1 sq mi(11 km²) |
| Piggott | Clay | 5.2 sq mi(13 km²) |
| Pine Bluff | Jefferson | 45.6 sq mi(118 km²) |
| Pocahontas | Randolph | 7.36 sq mi(19.1 km²) |
| Pottsville | Pope | 7.5 sq mi(19 km²) |
| Prairie Grove | Washington | 2.1 sq mi(5.4 km²) |
| Prescott | Nevada | 6.5 sq mi(17 km²) |
| Rogers | Benton | 33.53 sq mi(86.8 km²) |
| Russellville | Pope | 28.2 sq mi(73 km²) |
| Searcy | White | 14.7 sq mi(38 km²) |
| Shannon Hills | Saline | 1.5 sq mi(3.9 km²) |
| Sheridan | Grant | 4 sq mi(10 km²) |
| Sherwood | Pulaski | 20.6 sq mi(53 km²) |
| Springdale | Washington | 31.3 sq mi(81 km²) |
| Star City | Lincoln | 4.2 sq mi(11 km²) |
| Stuttgart | Arkansas | 7.22 sq mi(18.7 km²) |
| Texarkana | Miller | 31.8 sq mi(82 km²) |
| Tontitown | Washington | 7.0 sq mi(18 km²) |
| Trumann | Poinsett | 5.02 sq mi(13.0 km²) |
| Van Buren | Crawford | 15.1 sq mi(39 km²) |
| Vilonia | Faulkner | 6.4 sq mi(17 km²) |
| Waldron | Scott | 5 sq mi(13 km²) |
| Walnut Ridge | Lawrence | 11.6 sq mi(30 km²) |
| Ward | Lonoke | 3.9 sq mi(10 km²) |
| Warren | Bradley | 7.21 sq mi(18.7 km²) |
| West Fork | Washington | 3.3 sq mi(8.5 km²) |
| West Memphis | Crittenden | 30.00 sq mi(77.7 km²) |
| White Hall | Jefferson | 6.98 sq mi(18.1 km²) |
| Wrightsville | Pulaski | 2.1 sq mi(5.4 km²) |
| Wynne | Cross | 8.86 sq mi(22.9 km²) |