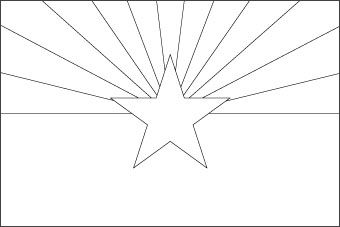 Download Picture of Blank Arizona Flag For Kids to Color
The designer of the Arizona Flag was Colonel Charles W. Harris, Arizona's adjutant general and chief administrative officer. He had also designed the flag for the Arizona Rifle Team, that bore a resemblance to the Arizona State Flag.
History of Arizona Flag
The origin of the Arizona Flag goes back to the National Rifle Matches held at Camp Perry in 1910. This event happened before Arizona had become an official member of the Union. Every state rifle team carried its individual emblem nor flag. This concept gave birth to an idea in the minds of the Arizona Rifle Team members, who did not possess any flag. The acting team captain, heard about this and decided to assign a proper flag for their team as mentioned above. However, much emphasis was given to the historical and symbolical values depicted on the flag. The present Arizona State Flag is heavily indebted to the aforesaid flag.
Description of Arizona Flag
The Arizona Flag measures 6 feet in width and 4 feet in height and is equally divided into 2 halves, with a bright copper colored star, right in the center. There are 13 alternating rays of red and golden yellow from the left to the right on the top half of the flag. These red and yellow colors were also used Spanish expedition of Coronado in 1540, searching the 7 cities of Cibola. The rays are the Union's 13 original colonies and they also symbolize the rays of the sun. The 5 pointed copper star represents Arizona as the biggest producer of copper in the country. The lower half of the Arizona Flag is the exact Liberty blue used by the US Flag.
The Arizona Flag beautifully combines the colors red, blue, yellow and copper to produce an amazing state flag.
For flags of other states of the USA, check the Flags of the 50 States.