Alaska City Maps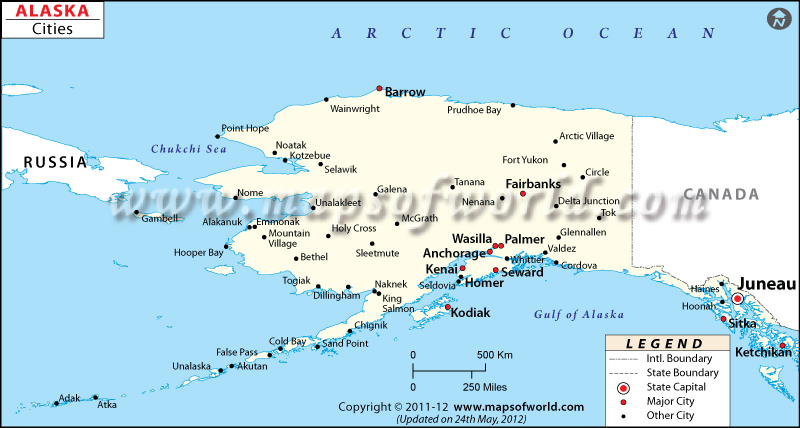 The largest state in the United States, Alaska has 355 incorporated cities and census-designated places. Alaska's incorporated cities are home to roughly 70 percent population of the state; however, they cover just 2.1 percent landmass of the state. Anchorage is the largest city of the state with a population of 291,826 inhabitants, while Fairbanks stands at the second position and has a population of 31,535 people. Juneau, which is the capital of Alaska, is the third largest city in terms of population. According to the 2010 census, the city has a population of 31,275 inhabitants. The smallest cities in terms of population are False Pass, Kupreanof, and Bettles, with populations of 35, 27, and 12 respectively, according to the 2010 census.
Cities in Alaska
Nicknamed 'The Last Frontier', Alaska is the largest by area and the least densely populated state in the United States. It is the northernmost and westernmost state in the US. The state is famous for the abundance of rugged natural beauty, diverse wildlife, northern lights, and adventure tourism.
Anchorage is the most populous city in Alaska. The Alaska Botanical Garden, Alaska Zoo, Alaska Native Heritage Center, and Arctic Valley Ski Area are major tourist attractions in Anchorage. Located less than 120 miles south of the Arctic Circle, Fairbanks is the northernmost Metropolitan Area in the United States.
The city of Palmer, where agricultural spirit lives on, hosts the annual Alaska State Fair in late summer. Juneau, the capital city of Alaska, is the second largest city in the US by area. The city of Ketchikan has the largest collection of standing totem poles in the world.
Getting In and Around
The Ted Stevens Anchorage International Airport, Fairbanks International Airport, and Juneau International Airport are primary gateways. The Denali Star, Aurora Winter Train, Coastal Classic, Glacier Discovery, and Hurricane Turn are major routes on Alaska Railroad. The Alaska Highway runs through Canada and connects the state with the contiguous United States. There are also four Interstate Highways in Alaska: A-1, A-2, A-3, and A-4.