Rugby World Cup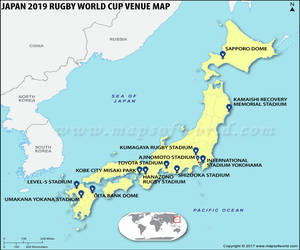 Rugby World Cup, organized by the sport's governing body, the International Rugby Board (IRB) is the international rugby union competition. The tournament, began in 1987 is one of the largest sporting events in the world. This 1987 world cup did not involve any qualifying process.
There are two stages for the rugby world cup tournament such as a group and a knock out. The rugby teams are divided into four pools of five nations and the winner and runner-up of each pool enters the knockout stage that consists of quarter and semi-finals and the world cup final.
The rugby teams should be qualified enough to compete in the Rugby World Cup. 20 teams are qualified to participate in the rugby world cup tournament in which eight are the previous quarter finalists. The 12 other teams are selected by continental qualifying tournaments. These positions are filled by three teams from America, one from Asia, one from Africa, three from Europe and two from Oceania. The other two positions are filled by the runner-up of the qualifying tournament. They are from Africa and Europe and the winner of this match will then play the with the Americas runner-up to determine the position. The second team is selected after a match between the runners-up from Asia and Oceania.
Rugby World Cup 2015 Venues in England

S. N.
City
Stadium
Capacity
1
London
Twickenham
82,000
2
Newcastle
St. James' Park
52,387
3
Leeds
Elland Road
37,900
4
Gloucester
Kingsholm Stadium
16,500
More…
Previous World Cup Results
Year
Host Country
Winner
Score
Runner Up
3rd Place
4th Place
2011
New Zealand
New Zealand
8–7
France
Australia
Wales
2007
France
France
15-6
England
Argentina
France
Know More…
Rugby League World Cup Records
Year
Host Country
Participating Teams
Final Match Venue
Champion/Winner
Match Score
Runner-up
1954
France
Parc des Princes, Paris
4
Great Britain
16 – 12
France
1957
Australia
Melborne
4
Australia
Table leader
Great Britain
1960
United Kingdom
London
4
Great Britain
Table leader
Australia
1968
Australia, New Zealand
Sydney Cricket Ground, Sydney
4
Australia
20 – 2
France
1970
United Kingdom
Headingley, Leeds
4
Australia
41250
Great Britain
1972
France
Stade de Gerland, Lyon
4
Great Britain
41192
Australia
1975
Worldwide
Headingley Stadium, Leeds
5
Australia
25-0
England
1977
Australia, New Zealand
Sydney Cricket Ground, Sydney
4
Australia
13 – 12
Great Britain
1985–1988
Worldwide
Eden Park, Auckland
5
Australia
25 – 12
New Zealand
1989–1992
Worldwide
Wembley Stadium, London
5
Australia
41188
Great Britain
1995
United Kingdom
Wembley Stadium, London
10
Australia
16 – 8
England
2000
United Kingdom, France
Old Trafford, Manchester
16
Australia
40 – 12
New Zealand
2008
Australia
Suncorp Stadium, Brisbane
10
New Zealand
34 – 20
Australia
2013
United Kingdom, Ireland
Old Trafford, Manchester
14
To be Played
The world cup winners are awarded the Webb Ellis Cup, named in honor of the Rugby School student who invented the game. The words International Rugby Board and The Webb Ellis Cup are engraved on the tournament trophy.
So far around 23 nations have participated in the Rugby World Cup. The tournament is held every four years. Five world cup tournaments have been held so far and the 1987 world cup tournament was won by all blacks. Australia was the winner of the 1991 and 1999 Rugby World Cup tournaments. South Africa won the tournament trophy in 1995 and England took hold of the tournament trophy in 2003 rugby world cup.
Scoring occurs either by achieving a try or a goal. A try is scored when a player places the ball in the opponent's in-goal area. According to the rugby rules, a try is counted as five points and can gain 2 more points with a successful place kick or drop kick. A drop kick in general play and a penalty kick are worth 3 points. It initiates a ban on passing the rugby ball forwards, so that rugby players can gain ground only by running with the ball or by kicking it. The rugby game with a continuous flow has a constant competition for the rugby ball at the breakdown. These are called Rucks and Mauls.
The rugby football has two major codes like rugby league and rugby union. The Rugby league, the national sport of Papua New Guinea is played as a professional as well as amateur sport in Australia, France, Great Britain and New Zealand. Rugby union, a major sport played nationwide in Ireland, France, Australia, England, New Zealand, South Africa, Wales and Scotland is also a professional and amateur game.
The rugby is perceived as a rough game and wearing most types of padding and helmets is considered illegal. The rugby players often wear mouth guards and tape down their ears to prevent cauliflower ear.