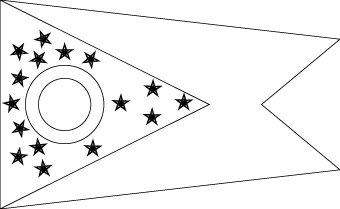 Download Picture of Blank Ohio Flag For Kids to Color
About Ohio Flag
The Ohio Flag was adopted on 9th May, 1902 and is also known as the Ohio burgee. The uniqueness of the Ohio Flag lies its shallowtail design, which distinguishes it from all the other rectangular state flags.
The credit for this outstanding flag design goes to John Eisemann.
Description of Ohio Flag
The Ohio Flag comprises 5 horizontal stripes that alternate with the colors red and white, from the top to the bottom. The left portion of the Ohio Flag has a blue shaded horizontal triangle, in the center of which is a red circle bordered in white. 17 five-pointed white stars are arranged around this circle. nedy Museum of Art are some other most-visited museums of Ohio. The location of museums can also be found in the Ohio state map.
Symbolism of Ohio Flag
Red, blue and white are strongly related to the national colors of the USA. The stripes on the flag represent the state's notable waterways and highways. The blue triangle is symbolic of the valleys and hills found in the lands of Ohio. The white border of the circle resembles the letter "O" for Ohio, while the red circle is a symbol for a buckeye, that is also the nickname for the state. Out of the 17 stars, 13 are grouped together to signify the original 13 states belonging to the Union. The remaining 4 stars below the triangle's apex, denote the position of Ohio, which became the 4th state to unite with the Union, following the 13 states. The Ohio Flag is laden with intense symbolism and is marked with a striking and unusual design.
For flags of other states of the USA, check the Flags of the 50 States.