Ohio City Maps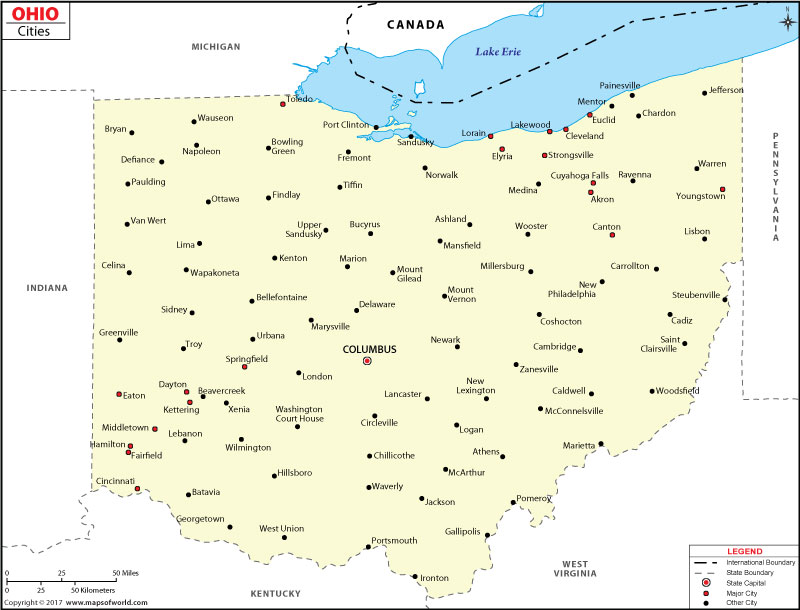 Ohio Cities Map
Ohio, a state in the Midwestern US, is home to some of the most popular US cities. The major cities are concentrated mostly in southwestern and northeastern parts of the state. From Cleveland to Cincinnati and Springfield to Toredo, there are quite a few urban hubs in the 34th largest US state.
About Cities in Ohio
Columbus, the state capital and the largest city in Ohio, enjoys a central location. The city is home to the Ohio State University.
Cleveland, the second largest city, is located in northeastern Ohio. It is known mainly because of the Rock and Roll Hall of Fame and Museum on the shore of Lake Erie. Attractions such as Fort Hunginton and Great Lakes Science Center are located here.
Cincinnati, often called the "Paris of America", is the third-largest city in Ohio. Located on the southwestern edge of the state, the city is well known for its botanical garden and the Cincinnati Museum Center.
Transportation in Ohio
Ohio is served by five international airports with three being prominent ones – Cleveland Hopkins International Airport, Port Columbus International Airport, and Dayton International Airport. Amtrak passenger trains connect the major cities of Cleveland, Cincinnati, and Toledo. The state is connected with the rest of the contiguous US with 21 Interstate Highways.
List of Cities in Ohio
| City Name | County Name | Population (2010) |
| --- | --- | --- |
| Columbus | Franklin, Delaware and Fairfield | 787,033 |
| Cleveland | Cuyahoga | 396,815 |
| Cincinnati | Hamilton | 296,943 |
| Toledo | Lucas | 287,208 |
| Akron | Summit | 199,110 |
| Dayton | Montgomery | 141,527 |
| Parma | Cuyahoga | 81,601 |
| Canton | Stark | 73,007 |
| Youngstown | Mahoning | 66,982 |
| Lorain | Lorain | 64,097 |
| Hamilton | Butler | 62,477 |
| Springfield | Clark | 60,608 |
| Kettering | Montgomery and Greene | 56,163 |
| Elyria | Lorain | 54,533 |
| Lakewood | Cuyahoga | 52,131 |
| Cuyahoga Falls | Summit | 49,652 |
| Euclid | Cuyahoga | 48,920 |
| Middletown | Butler | 48,694 |
| Mansfield | Richland | 47,821 |
| Newark | Licking | 47,573 |
| Mentor | Lake | 47,159 |
| Cleveland Heights | Cuyahoga | 46,121 |
| Beavercreek | Greene | 45,193 |
| Strongsville | Cuyahoga | 44,750 |
| Fairfield | Butler | 42,510 |
| Dublin | Franklin, Delaware and Union | 41,751 |
| Warren | trumbull | 41,557 |
| Findlay | Hancock | 41,202 |
| Lancaster | Fairfield | 38,780 |
| Lima | Allen | 38,771 |
| Huber Heights | Montgomery and Miami | 38,101 |
| Marion | Marion | 36,837 |
| Westerville | Franklin and Delaware | 36,120 |
| Reynoldsburg | Franklin, Fairfield and Licking | 35,893 |
| Grove City | Franklin | 35,575 |
| Stow | Summit | 34,837 |
| Delaware | Delaware | 34,753 |
| Brunswick | Medina | 34,255 |
| Upper Arlington | Franklin | 33,771 |
| Gahanna | Franklin | 33,248 |
| Westlake | Cuyahoga | 32,729 |
| North Olmsted | Cuyahoga | 32,718 |
| Fairborn | Greene | 32,352 |
| Massillon | Stark | 32,149 |
| Mason | Warren | 30,712 |
| North Royalton | Cuyahoga | 30,444 |
| Bowling Green | Wood | 30,028 |
| North Ridgeville | Lorain | 29,465 |
| Kent | Portage | 28,904 |
| Garfield Heights | Cuyahoga | 28,849 |
| Shaker Heights | Cuyahoga | 28,448 |
| Hilliard | Franklin | 28,435 |
| Medina | Medina | 26,678 |
| Barberton | Summit | 26,550 |
| Wooster | Wayne | 26,119 |
| Sandusky | Erie | 25,793 |
| Xenia | Greene | 25,719 |
| Green | Summit | 25,699 |
| Zanesville | Muskingum | 25,487 |
| Riverside | Montgomery | 25,201 |
| troy | Miami | 25,058 |
| trotwood | Montgomery | 24,431 |
| Centerville | Montgomery and Greene | 23,999 |
| Athens | Athens | 23,832 |
| Tiffin | Seneca | 23,498 |
| Solon | Cuyahoga | 23,348 |
| Maple Heights | Cuyahoga | 23,138 |
| Avon Lake | Lorain | 22,581 |
| Alliance | Stark and Mahoning | 22,322 |
| South Euclid | Cuyahoga | 22,295 |
| Willoughby | Lake | 22,268 |
| Hudson | Summit | 22,262 |
| Marysville | Union | 22,094 |
| Chillicothe | Ross | 21,901 |
| Wadsworth | Medina | 21,567 |
| Oxford | Butler | 21,371 |
| Sidney | Shelby | 21,229 |
| Avon | Lorain | 21,193 |
| Parma Heights | Cuyahoga | 20,718 |
| Perrysburg | Wood | 20,623 |
| Piqua | Miami | 20,522 |
| Ashland | Ashland | 20,362 |
| Oregon | Lucas | 20,291 |
| Portsmouth | Scioto | 20,226 |
| Rocky River | Cuyahoga | 20,213 |
| Miamisburg | Montgomery | 20,181 |
| Lebanon | Warren | 20,033 |
| Mayfield Heights | Cuyahoga | 19,155 |
| Ashtabula | Ashtabula | 19,124 |
| Berea | Cuyahoga | 19,093 |
| Sylvania | Lucas | 18,965 |
| Twinsburg | Summit | 18,795 |
| Forest Park | Hamilton | 18,720 |
| Steubenville | Jefferson | 18,659 |
| Eastlake | Lake | 18,577 |
| Pickerington | Fairfield and Franklin | 18,291 |
| Whitehall | Franklin | 18,062 |
| East Cleveland | Cuyahoga | 17,843 |
| Tallmadge | Summit and Portage | 17,537 |
| North Canton | Stark | 17,488 |
| Springboro | Warren and Montgomery | 17,409 |
| New Philadelphia | Tuscarawas | 17,288 |
| Norwalk | Huron | 17,012 |
| Mount Vernon | Knox | 16,990 |
| Fairview Park | Cuyahoga | 16,826 |
| Fremont | Sandusky | 16,734 |
| Defiance | Defiance | 16,494 |
| Streetsboro | Portage | 16,028 |
| Middleburg Heights | Cuyahoga | 15,946 |
| Bay Village | Cuyahoga | 15,651 |
| Aurora | Portage | 15,548 |
| Vandalia | Montgomery | 15,246 |
| Pataskala | Licking | 14,962 |
| Maumee | Lucas | 14,286 |
| New Franklin | Summit | 14,227 |
| Washington Court House | Fayette | 14,192 |
| Willowick | Lake | 14,171 |
| Marietta | Washington | 14,085 |
| Lyndhurst | Cuyahoga | 14,001 |
| Brecksville | Cuyahoga | 13,656 |
| Worthington | Franklin | 13,575 |
| Sharonville | Hamilton and Butler | 13,560 |
| Warrensville Heights | Cuyahoga | 13,542 |
| University Heights | Cuyahoga | 13,539 |
| Englewood | Montgomery | 13,465 |
| Fostoria | Seneca, Hancock and Wood | 13,441 |
| Bellefontaine | Logan | 13,370 |
| Circleville | Pickaway | 13,314 |
| Greenville | Darke | 13,227 |
| Clayton | Montgomery and Miami | 13,209 |
| West Carrollton | Montgomery | 13,143 |
| Bedford | Cuyahoga | 13,074 |
| Bexley | Franklin | 13,057 |
| Conneaut | Ashtabula | 12,841 |
| Dover | Tuscarawas | 12,826 |
| Wickliffe | Lake | 12,750 |
| Wilmington | Clinton | 12,520 |
| Monroe | Butler and Warren | 12,442 |
| Bucyrus | Crawford | 12,362 |
| Salem | Columbiana | 12,303 |
| Blue Ash | Hamilton | 12,114 |
| Norton | Summit | 12,085 |
| Loveland | Hamilton, Clermont and Warren | 12,081 |
| Amherst | Lorain | 12,021 |
| Beachwood | Cuyahoga | 11,953 |
| trenton | Butler | 11,869 |
| Seven Hills | Cuyahoga | 11,804 |
| Urbana | Champaign | 11,793 |
| Franklin | Warren | 11,771 |
| Ravenna | Portage | 11,724 |
| Powell | Delaware | 11,500 |
| Springdale | Hamilton | 11,223 |
| Coshocton | Coshocton | 11,216 |
| East Liverpool | Columbiana | 11,195 |
| Macedonia | Summit | 11,188 |
| Brooklyn | Cuyahoga | 11,169 |
| Ironton | Lawrence | 11,129 |
| Van Wert | Van Wert | 10,846 |
| Bedford Heights | Cuyahoga | 10,751 |
| Struthers | Mahoning | 10,713 |
| Cambridge | Guernsey | 10,635 |
| Vermilion | Lorain and Erie | 10,594 |
| Richmond Heights | Cuyahoga | 10,546 |
| Galion | Crawford | 10,512 |
| Celina | Mercer | 10,400 |
| Reading | Hamilton | 10,385 |
| Heath | Licking | 10,310 |
| Montgomery | Hamilton | 10,251 |
| Painesville | Lake | 19,563 |
| Broadview Heights | Cuyahoga | 19,400 |
| Niles | trumbull | 19,266 |
| Brook Park | Cuyahoga | 19,212 |
| Norwood | Hamilton | 19,207 |