Ohio Map with Cities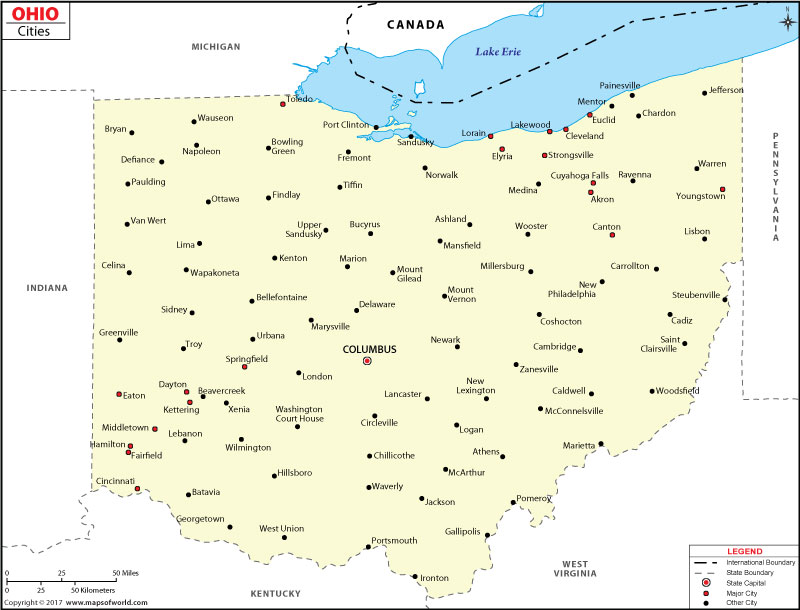 Map of Ohio Cities
Map of Ohio Cities provides a comprehensive visual overview of the cities located throughout the state of Ohio. This map allows you to easily explore and navigate the diverse locations of each city.
Cities in Ohio
Ohio has many different cities, and each one is special in its own way. Some cities are big and busy, while others are small and cozy. Ohio's cities have something for everyone, whether you like art and music, outdoor activities like hiking and biking, historical places to visit, or going to shows and events. Whatever you're interested in, you can find it in Ohio.
How Many Cities are in Ohio
Ohio has many cities, a total of 931 to be exact. These cities are spread out all over the state, giving you lots of options to explore. The Map of Ohio Cities helps you see where each city is located, making it easier to plan your visits and discover all the exciting places Ohio has to offer.
Largest Cities in Ohio
The largest cities in Ohio are the ones with the highest populations and offer a wealth of activities and attractions. Some of the largest cities in Ohio include Columbus, Cleveland, Cincinnati, Toledo, and Akron. These cities are known for their famous landmarks, cultural institutions, sports teams, and vibrant city life. By clicking on the city names on the map, you can learn more about each city and its unique features.
Safest Cities in Ohio
Some cities in Ohio are really safe. They care about protecting everyone and work hard to prevent crime. Dublin, Solon, Hudson, Westerville, and Powell are some of the safest cities in Ohio. They have fewer crimes and use good strategies to keep their communities safe. People feel secure living or visiting these cities.
Best Cities to Live in Ohio
Ohio is home to several cities that are considered among the best places to live in the state. These cities offer a high quality of life, excellent educational opportunities, recreational amenities, and a strong sense of community. Some of the best cities to live in Ohio include Cincinnati, Columbus, Dayton, Cleveland, and Akron. These cities provide a range of job opportunities, cultural events, outdoor activities, and diverse neighborhoods, making them desirable places to call home.
Major Cities in Ohio

City
County
Region
Notable Attractions

Columbus

Franklin

Central Ohio

Ohio Statehouse, Columbus Zoo

Cleveland

Cuyahoga

Northeast Ohio

Rock and Roll Hall of Fame, Cleveland Museum of Art

Cincinnati

Hamilton

Southwest Ohio

Cincinnati Zoo, Great American Ball Park

Toledo

Lucas

Northwest Ohio

Toledo Museum of Art, Toledo Zoo

Akron

Summit

Northeast Ohio

Stan Hywet Hall and Gardens, Akron Art Museum

Dayton

Montgomery

Southwest Ohio

National Museum of the U.S. Air Force, Dayton Art Institute

Canton

Stark

Northeast Ohio

Pro Football Hall of Fame, McKinley National Memorial

Youngstown

Mahoning

Northeast Ohio

Mill Creek Park, Youngstown State University