New Mexico City Maps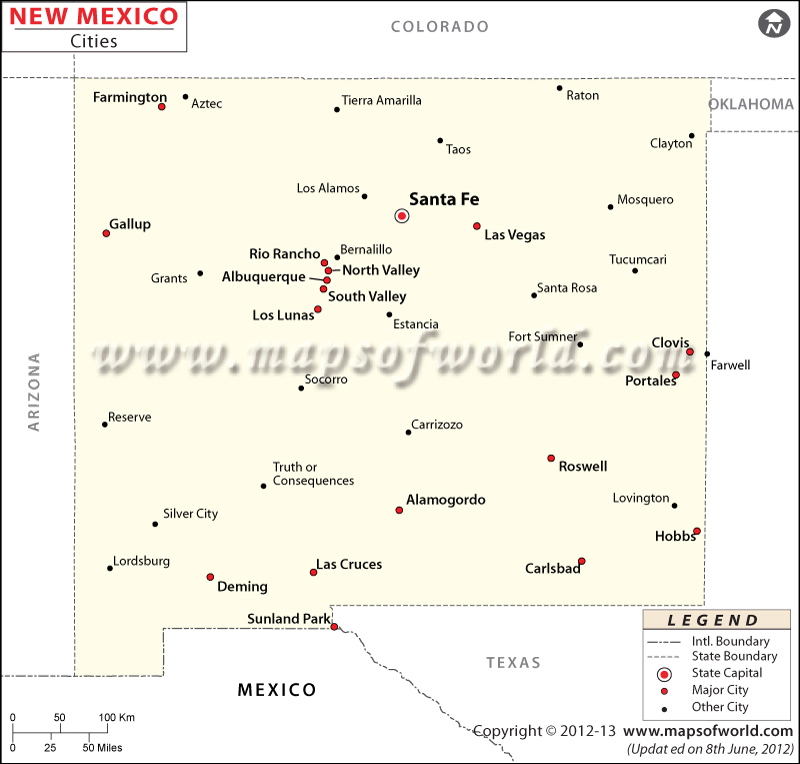 New Mexico is one of the Mountain States and the fifth largest state by area in the United States. It is the 36th most populated state in the country. Albuquerque is the most populated city in New Mexico. As of 2016, the city had an estimated population of 559,277 people. Las Cruces is the second largest city, with a population of 101,759 inhabitants. Rio Rancho is the third largest city and has a population of 96,028. Santa Fe is the capital of New Mexico and the fourth largest city in the state. As of 2016, the city had an estimated population of 83,875 people. Other cities that have a population of more than 30,000 people are Roswell, Farmington, and Clovis. Grenville, a village in Union County, is the least populated. As of 2016, Grenville had a population of around 34 inhabitants.
Nicknamed the "Land of Enchantment", the state of New Mexico is located in the southwestern United States. The state is known for vast deserts, rugged flat-topped hills, the hit AMC series Breaking Bad, and a cultural heritage with strong Hispanic and Native American influences.
The largest city in the state, Albuquerque, hosts the International Balloon Fiesta (a yearly festival of hot air balloons) during the first week of October. Popular places to visit in the city are: Albuquerque Biological Park, Albuquerque Museum, Museum of Natural History and Science, and Old Town Albuquerque.
Las Cruces, or "The City of the Crosses", is located near the Organ Mountains in the Mesilla Valley. With an elevation of 2,194 meters, Santa Fe is the highest state capital in the US. The city of Clovis is known for its role in early rock music history. Farmington, Roswell, and Rio Rancho are other cities in New Mexico worth visiting.
Getting In and Around
Albuquerque International Sunport (ABQ) is the primary international gateway to the state. Amtrak's Southwest Chief, Texas Eagle, and Sunset Limited provide train connectivity to major cities in New Mexico. I-10, I-25, and I-40 along with US 54, US 60, US, 64, and US 285 create a dense road network in the state.
List of Cities in New Mexico
City Name
County
Population
(2010)
Alamogordo
Otero
30,403
Albuquerque
Bernalillo
545,852
Anthony
Doña Ana
9,360
Artesia
Eddy
11,301
Aztec
San Juan
6,763
Bayard
Grant
2,328
Belen
Valencia
7,269
Bloomfield
San Juan
8,112
Carlsbad
Eddy
26,138
Clovis
Curry
37,775
Deming
Luna
14,855
Elephant Butte
Sierra
1,431
Española
Rio Arriba
10,224
Eunice
Lea
2,922
Farmington
San Juan
45,877
Gallup
McKinley
21,678
Grants
Cibola
9,182
Hobbs
Lea
34,122
Jal
Lea
2,047
Las Cruces
Doña Ana
97,618
Las Vegas
San Miguel
13,753
Lordsburg
Hidalgo
2,797
Lovington
Lea
11,009
Moriarty
Torrance
1,910
Portales
Roosevelt
12,280
Raton
Colfax
6,885
Rio Rancho
Sandoval
87,521
Roswell
Chaves
48,366
Ruidoso Downs
Lincoln
2,815
Santa Fe
Santa Fe
67,947
Santa Rosa
Guadalupe
2,848
Socorro
Socorro
9,051
Sunland Park
Doña Ana
14,106
Texico
Curry
1,130
Truth or Consequences
Sierra
6,475
Tucumcari
Quay
5,363