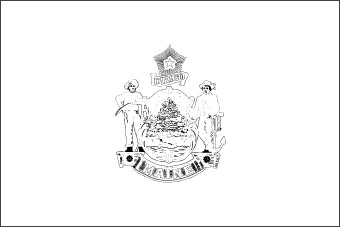 Download Picture of Blank Maine Flag For Kids to Color
About Maine Flag
There are other facts regarding Maine Flag history that should be known. The State Legislature of Maine passed on 21st March, 1901, a resolution to constitute a proper Maine Flag.
This act stated the criteria for the Maine Flag, regarding the kind of symbols used on it and how they would be displayed. However the Legislature altered the standards of the flag on 23rd February, 1909, thus placing the state coat of arms on the blue flag.
Description of Maine Flag
The blue color of the flag tallies with the blue shade used by the US flag. The length of the Maine Flag is 5 feet, 6 inches and its width is 4 feet, 4 inches. The heart of the flag bears an embroidery of the State coat of arms of Maine. The edge of the flag is decorated with a two and a half inches broad, yellow colored silk, knotted fringe. The images on the Maine State coat of arms are those of land, sea, a moose and a pine tree. On one side of the shield is a farmer supporting himself on a scythe and the other side has a sailor resting on an anchor.
Beneath the shield the state name of Maine is written on a blue ribbon. Just above the emblem and below the North Star, "Dirigo", the state motto, which means "I lead" is etched out. As for the symbolism of Maine Flag, the pine tree represents the state's timber industry, the moose is a symbol for the fauna, the sailor represents seafaring activities and commerce and the farmer undoubtedly stands for agriculture practiced in Maine. The bright blue Maine Flag make use of an overtly symbolic coat of arms in keeping with the ideals of the state.
For flags of other states of the USA, check the Flags of the 50 States.