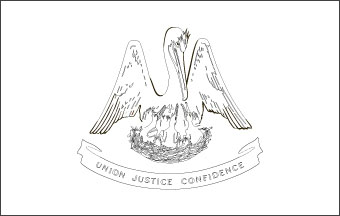 Download Picture of Blank Louisiana Flag For Kids to Color
About Louisiana Flag
Thus the history of the Louisiana Flag has several notable facts to relate about it. The design of the current Louisiana Flag has its origins in 1800. Louisiana was the 18th state to become a part of the Union in 1812.
During the years 1861 and 1865, Louisiana used the Confederate National Flags as it was a member of the Confederate States. The present Louisiana Flag was adopted in 1912 by the Louisiana State Legislature as the official flag.
Description of Louisiana Flag
The Louisiana Flag has a solid blue background, with a simple form of the state seal depicted in the center. On the seal, there is an eastern brown pelican mother on a nest with 3 baby pelicans nestled close to it. The state motto that says " Union, Justice and Confidence", is written on a white ribbon, just beneath the seal.
Symbolism of Louisiana Flag
The blue color of the field is one that stands for truth. The eastern brown pelican depicted in white and gold, is the state bird. It stands as a Louisianian symbol of self-sacrifice from the 1800's. The initial settlers learned that pelicans were kind and good parenting birds. It was believed that pelicans would tear their own flesh and feed the blood to their little ones in times of food scarcity. Thus the Louisiana Flag portrays the same image of the pelican tearing at its breast. So this pelican stands for the state, that goes to any extent to protect its land and people. The Louisiana Flag, adopted in 1912, uses the state seal with the image of a bunch of pelicans.
For flags of other states of the USA, check the Flags of the 50 States.