Maine City Maps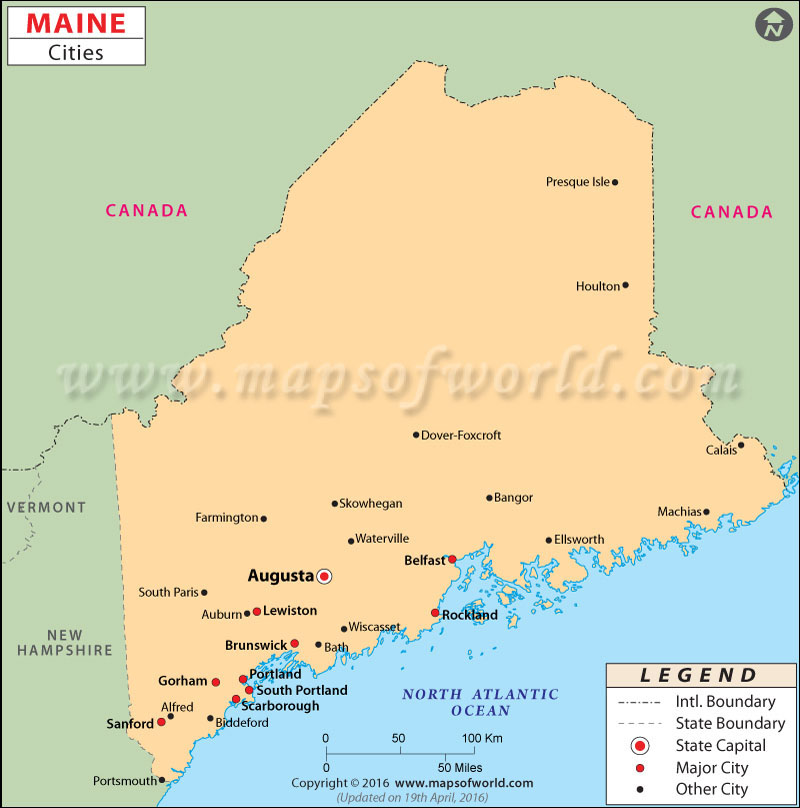 Lauded in the poems of Longfellow and portrayed in the horror stories of Stephen King, Maine is the easternmost and northernmost state in the New England region of the United States. The 'Pine Tree State' is renowned for conspicuous lighthouses, jagged coastline, rolling mountains, picturesque waterways, and delicious seafood.
The state capital is Augusta. Portland, the largest city in the state, oozes the elegance of the New England region. The Arts District in the city comprises several museums and cultural venues. Cities such as Lewiston, Bangor, South Portland, Auburn, and Rockland are known for striking coastal scenery.
Getting In and Around
Portland International Jetport (PWM) and Bangor International Airport (BGR) are two major airports in Maine. Amtrak's Downeaster passenger train serves the cities of Brunswick, Freeport, Portland, Saco, and Wells. Interstate highway I-95 connects the cities of Augusta and Saco, Portland, and Bangor to New Hampshire. U.S. Highways US 1, US 2, US 201, US 202, and US 302 form a dense road network.
List of Cities in Maine
| City Name | County | Population (2011) |
| --- | --- | --- |
| Auburn | Androscoggin | 22,985 |
| Augusta | Kennebec | 19,103 |
| Bangor | Penobscot | 33,011 |
| Bath | Sagadahoc | 8,493 |
| Belfast | Waldo | 6,660 |
| Biddeford | York | 21,386 |
| Brewer | Penobscot | 9,474 |
| Calais | Washington | 3,103 |
| Caribou | Aroostook | 8,144 |
| Eastport | Washington | 1,322 |
| Ellsworth | Hancock | 7,764 |
| Gardiner | Kennebec | 5,789 |
| Hallowell | Kennebec | 2,377 |
| Lewiston | Androscoggin | 36,491 |
| Old Town | Penobscot | 7,833 |
| Portland | Cumberland | 66,363 |
| Presque Isle | Aroostook | 9,641 |
| Rockland | Knox | 7,291 |
| Saco | York | 18,581 |
| Sanford | York | 20,909 |
| South Portland | Cumberland | 25,068 |
| Waterville | Kennebec | 15,697 |
| Westbrook | Cumberland | 17,540 |