Colorado City Maps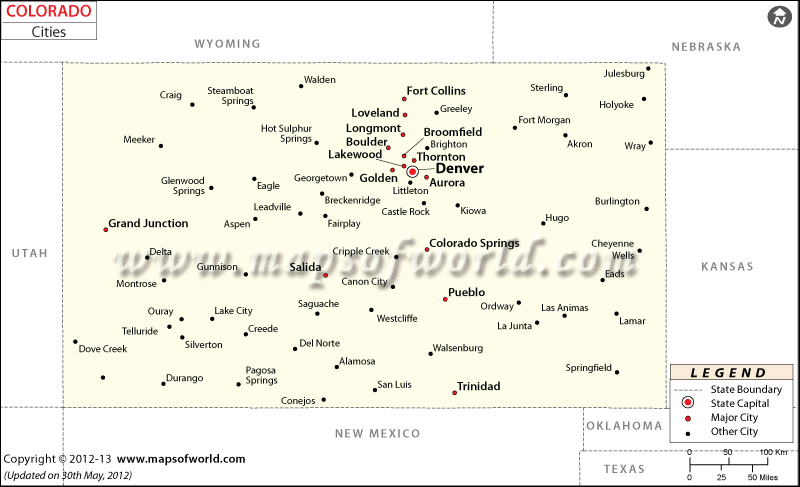 Colorado is the eighth largest state in the United States by area. There are 271 incorporated municipalities in Colorado. These municipalities comprise 196 towns, 73 cities, and two consolidated city and county governments. Denver is the capital as well as the largest city of Colorado. As of 2016, Denver comprised 693,060 inhabitants, making it the 19th most populous city in the United States. Colorado Springs is the second biggest city in terms of population, while Aurora is the third-largest. The Town of San Luis, which has a population of 629, is the oldest continuously occupied town in the state. The Town of Lakeside is the least populous in the state and comprises just 8 inhabitants.
Cities in Colorado
Nicknamed 'The Centennial State, Colorado is located in the southern Rocky Mountains in the western United States. Eighth largest by area, the state is famous for natural assets, winter recreational activities, and diverse culinary scene.
Denver, the Mile-High City, is the state capital. Denver Museum of Nature and Science, Denver Botanic Gardens, Downtown Aquarium, Elitch Gardens Amusement Park, and Molly Brown House are major tourist attractions in the city.
Colorado Springs lies near the base of the soaring Pikes Peak. The city of Aurora is mostly suburban in character. Fort Collins is a midsize city and is home to Colorado State University. Lakewood lies immediately west of Denver. Famous for outdoor sports, Boulder houses the main campus of the University of Colorado. Pueblo hosts Colorado's largest single event, the Colorado State Fair, held annually in summer.
Biggest Cities in Colorado
Denver – 600,158
Colorado Springs – 416,427
Aurora – 325,078
Fort Collins – 143,986
Lakewood – 142,980
Thornton – 118,772
Pueblo – 106,595
Arvada – 106,433
Westminster – 106,114
Centennial – 100,377
Transportation in Colorado
Denver International Airport (DEN) is the busiest airport in Colorado. Amtrak's California Zephyr and Southwest Chief pass through major cities in Colorado. Major interstate highways in Colorado are I-25, I-70, and I-76.
List of Cities and Towns in Colorado
City Name
County
Total Area
Aguilar
Las Animas
0.392 mi²
1.016 km²
Akron
Washington
2.629 mi²
6.809 km²
Alamosa
Alamosa
5.515 mi²
14.283 km²
Alma
Park
0.362 mi²
0.937 km²
Antonito
Conejos
0.403 mi²
1.045 km²
Arriba
Lincoln
0.440 mi²
1.140 km²
Arvada
Jefferson
Adams
35.759 mi²
92.616 km²
Aspen
Pitkin
3.874 mi²
10.033 km²
Ault
Weld
0.789 mi²
2.043 km²
Aurora
Arapahoe
Adams
Douglas
155.432 mi²
402.566 km²
Avon
Eagle
8.097 mi²
20.971 km²
Basalt
Eagle
Pitkin
1.990 mi²
5.153 km²
Bayfield
La Plata
1.441 mi²
3.733 km²
Bennett
Adams
Arapahoe
5.569 mi²
14.425 km²
Berthoud
Larimer
Weld
11.556 mi²
29.929 km²
Bethune
Kit Carson
0.162 mi²
0.420 km²
Black Hawk
Gilpin
1.945 mi²
5.037 km²
Blanca
Costilla
1.786 mi²
4.625 km²
Blue River
Summit
2.615 mi²
6.773 km²
Bonanza
Saguache
0.437 mi²
1.131 km²
Boone
Pueblo
0.371 mi²
0.962 km²
Boulder
Boulder
25.684 mi²
66.520 km²
Bow Mar
Arapahoe
Jefferson
0.834 mi²
2.161 km²
Branson
Las Animas
0.245 mi²
0.634 km²
Breckenridge
Summit
5.911 mi²
15.310 km²
Brighton
Adams
Weld
20.271 mi²
52.503 km²
Brookside
Fremont
0.465 mi²
1.204 km²
Broomfield
City and of Broomfield
33.600 mi²
87.024 km²
Brush
Morgan
2.474 mi²
6.407 km²
Buena Vista
Chaffee
3.455 mi²
8.949 km²
Burlington
Kit Carson
2.094 mi²
5.423 km²
Calhan
El Paso
0.867 mi²
2.245 km²
Campo
Baca
0.144 mi²
0.374 km²
Canon City
Fremont
12.511 mi²
32.403 km²
Carbondale
Garfield
2.044 mi²
5.295 km²
Castle Pines North
Douglas
9.012 mi²
23.342 km²
Castle Rock
Douglas
33.789 mi²
87.512 km²
Cedaredge
Delta
1.956 mi²
5.065 km²
Centennial
Arapahoe
28.869 mi²
74.771 km²
Center
Rio Grande
Saguache
0.826 mi²
2.140 km²
Central City
Gilpin
Clear Creek
2.426 mi²
6.283 km²
Cheraw
Otero
0.158 mi²
0.410 km²
Cherry Hills Village
Arapahoe
6.278 mi²
16.261 km²
Cheyenne Wells
Cheyenne
1.070 mi²
2.770 km²
Coal Creek
Fremont
1.272 mi²
3.294 km²
Cokedale
Las Animas
0.205 mi²
0.531 km²
Collbran
Mesa
0.608 mi²
1.574 km²
Colorado Springs
El Paso
194.906 mi²
504.805 km²
Columbine Valley
Arapahoe
1.039 mi²
2.691 km²
Commerce City
Adams
34.722 mi²
89.929 km²
Cortez
Montezuma
6.241 mi²
16.164 km²
Craig
Moffat
5.135 mi²
13.301 km²
Crawford
Delta
0.243 mi²
0.630 km²
Creede
Mineral
0.677 mi²
1.754 km²
Crested Butte
Gunnison
0.842 mi²
2.180 km²
Crestone
Saguache
0.309 mi²
0.800 km²
Cripple Creek
Teller
1.554 mi²
4.024 km²
Crook
Logan
0.134 mi²
0.346 km²
Crowley
Crowley
0.225 mi²
0.584 km²
Dacono
Weld
7.951 mi²
20.592 km²
De Beque
Mesa
4.338 mi²
11.235 km²
Deer trail
Arapahoe
1.075 mi²
2.785 km²
Del Norte
Rio Grande
1.008 mi²
2.610 km²
Delta
Delta
14.024 mi²
36.323 km²
Denver
City and of Denver
154.632 mi²
400.494 km²
Dillon
Summit
2.432 mi²
6.299 km²
Dinosaur
Moffat
0.785 mi²
2.032 km²
Dolores
Montezuma
0.728 mi²
1.886 km²
Dove Creek
Dolores
0.538 mi²
1.394 km²
Durango
La Plata
9.957 mi²
25.788 km²
Eads
Kiowa
0.470 mi²
1.217 km²
Eagle
Eagle
4.609 mi²
11.938 km²
Eaton
Weld
2.365 mi²
6.125 km²
Eckley
Yuma
0.477 mi²
1.235 km²
Edgewater
Jefferson
0.700 mi²
1.813 km²
Elizabeth
Elbert
1.250 mi²
3.237 km²
Empire
Clear Creek
0.259 mi²
0.670 km²
Englewood
Arapahoe
6.644 mi²
17.209 km²
Erie
Boulder
Weld
17.307 mi²
44.825 km²
Estes Park
Larimer
6.793 mi²
17.594 km²
Evans
Weld
10.539 mi²
27.297 km²
Fairplay
Park
1.152 mi²
2.984 km²
Federal Heights
Adams
1.778 mi²
4.605 km²
Firestone
Weld
10.549 mi²
27.322 km²
Flagler
Kit Carson
1.277 mi²
3.307 km²
Fleming
Logan
0.521 mi²
1.348 km²
Florence
Fremont
4.173 mi²
10.809 km²
Fort Collins
Larimer
55.533 mi²
143.829 km²
Fort Lupton
Weld
7.227 mi²
18.717 km²
Fort Morgan
Morgan
3.993 mi²
10.343 km²
Fountain
El Paso
24.020 mi²
62.212 km²
Fowler
Otero
0.524 mi²
1.357 km²
Foxfield
Arapahoe
1.278 mi²
3.309 km²
Fraser
Grand
3.546 mi²
9.183 km²
Frederick
Weld
13.575 mi²
35.159 km²
Frisco
Summit
1.787 mi²
4.629 km²
Fruita
Mesa
7.301 mi²
18.910 km²
Garden City
Weld
0.113 mi²
0.293 km²
Genoa
Lincoln
0.358 mi²
0.926 km²
Georgetown
Clear Creek
1.164 mi²
3.014 km²
Gilcrest
Weld
0.818 mi²
2.119 km²
Glendale
Arapahoe
0.554 mi²
1.434 km²
Glenwood Springs
Garfield
5.691 mi²
14.739 km²
Golden
Jefferson
10.019 mi²
25.949 km²
Granada
Prowers
0.749 mi²
1.939 km²
Granby
Grand
12.765 mi²
33.060 km²
Grand Junction
Mesa
38.594 mi²
99.957 km²
Grand Lake
Grand
1.057 mi²
2.737 km²
Greeley
Weld
46.651 mi²
120.824 km²
Green Mountain Falls
El Paso
Teller
1.069 mi²
2.768 km²
Greenwood Village
Arapahoe
8.279 mi²
21.443 km²
Grover
Weld
0.595 mi²
1.540 km²
Gunnison
Gunnison
3.233 mi²
8.373 km²
Gypsum
Eagle
7.721 mi²
19.998 km²
Hartman
Prowers
0.302 mi²
0.781 km²
Haswell
Kiowa
0.852 mi²
2.207 km²
Haxtun
Phillips
0.537 mi²
1.392 km²
Hayden
Routt
3.004 mi²
7.781 km²
Hillrose
Morgan
0.218 mi²
0.565 km²
Holly
Prowers
0.745 mi²
1.930 km²
Holyoke
Phillips
2.375 mi²
6.152 km²
Hooper
Alamosa
0.252 mi²
0.653 km²
Hot Sulphur Springs
Grand
0.759 mi²
1.966 km²
Hotchkiss
Delta
0.909 mi²
2.356 km²
Hudson
Weld
4.744 mi²
12.288 km²
Hugo
Lincoln
0.948 mi²
2.454 km²
Idaho Springs
Clear Creek
2.201 mi²
5.701 km²
Ignacio
La Plata
0.415 mi²
1.076 km²
Iliff
Logan
0.252 mi²
0.654 km²
Jamestown
Boulder
0.624 mi²
1.616 km²
Johnstown
Weld
Larimer
13.611 mi²
35.252 km²
Julesburg
Sedgwick
1.484 mi²
3.843 km²
Keenesburg
Weld
2.265 mi²
5.867 km²
Kersey
Weld
1.216 mi²
3.150 km²
Kim
Las Animas
0.358 mi²
0.928 km²
Kiowa
Elbert
0.887 mi²
2.298 km²
Kit Carson
Cheyenne
0.584 mi²
1.513 km²
Kremmling
Grand
1.320 mi²
3.419 km²
La Jara
Conejos
0.354 mi²
0.917 km²
La Junta
Otero
3.023 mi²
7.830 km²
La Veta
Huerfano
0.895 mi²
2.318 km²
Lafayette
Boulder
1.367 mi²
3.539 km²
Lake City
Hinsdale
9.607 mi²
24.882 km²
Lakeside
Jefferson
0.842 mi²
2.180 km²
Lakewood
Jefferson
42.500 mi²
110.000 km²
Lamar
Prowers
44.061 mi²
114.116 km²
Larkspur
Douglas
4.230 mi²
10.955 km²
Las Animas
Bent
1.496 mi²
3.874 km²
LaSalle
Weld
1.666 mi²
4.314 km²
Leadville
Lake
1.103 mi²
2.858 km²
Limon
Lincoln
2.161 mi²
5.598 km²
Littleton
Arapahoe
Jefferson
Douglas
13.875 mi²
35.935 km²
Lochbuie
Weld
Adams
3.767 mi²
9.757 km²
Log Lane Village
Morgan
0.274 mi²
0.709 km²
Lone tree
Douglas
9.572 mi²
24.793 km²
Longmont
Boulder
Weld
27.654 mi²
71.623 km²
Louisville
Boulder
7.994 mi²
20.703 km²
Loveland
Larimer
35.063 mi²
90.812 km²
Lyons
Boulder
1.254 mi²
3.249 km²
Manassa
Conejos
0.931 mi²
2.412 km²
Mancos
Montezuma
0.643 mi²
1.664 km²
Manitou Springs
El Paso
3.157 mi²
8.175 km²
Manzanola
Otero
0.276 mi²
0.716 km²
Marble
Gunnison
0.395 mi²
1.022 km²
Mead
Weld
9.698 mi²
25.117 km²
Meeker
Rio Blanco
3.509 mi²
9.088 km²
Merino
Logan
0.167 mi²
0.433 km²
Milliken
Weld
11.812 mi²
30.593 km²
Minturn
Eagle
7.754 mi²
20.082 km²
Moffat
Saguache
1.401 mi²
3.630 km²
Monte Vista
Rio Grande
2.611 mi²
6.762 km²
Montezuma
Summit
0.079 mi²
0.205 km²
Montrose
Montrose
17.798 mi²
46.096 km²
Monument
El Paso
4.881 mi²
12.642 km²
Morrison
Jefferson
2.219 mi²
5.747 km²
Mount Crested Butte
Gunnison
2.219 mi²
5.746 km²
Mountain View
Jefferson
0.093 mi²
0.241 km²
Mountain Village
San Miguel
3.378 mi²
8.750 km²
Naturita
Montrose
0.687 mi²
1.780 km²
Nederland
Boulder
1.582 mi²
4.098 km²
New Castle
Garfield
2.690 mi²
6.967 km²
Northglenn
Adams
Weld
7.502 mi²
19.430 km²
Norwood
San Miguel
0.292 mi²
0.755 km²
Nucla
Montrose
0.719 mi²
1.863 km²
Nunn
Weld
3.099 mi²
8.027 km²
Oak Creek
Routt
0.344 mi²
0.891 km²
Olathe
Montrose
1.451 mi²
3.758 km²
Olney Springs
Crowley
0.241 mi²
0.623 km²
Ophir
San Miguel
0.176 mi²
0.456 km²
Orchard City
Delta
11.414 mi²
29.563 km²
Ordway
Crowley
0.771 mi²
1.998 km²
Otis
Washington
0.412 mi²
1.067 km²
Ouray
Ouray
0.881 mi²
2.282 km²
Ovid
Sedgwick
0.162 mi²
0.420 km²
Pagosa Springs
Archuleta
4.881 mi²
12.642 km²
Palisade
Mesa
1.142 mi²
2.958 km²
Palmer Lake
El Paso
3.112 mi²
8.061 km²
Paoli
Phillips
0.305 mi²
0.791 km²
Paonia
Delta
0.854 mi²
2.211 km²
Parachute
Garfield
1.670 mi²
4.325 km²
Parker
Douglas
20.491 mi²
53.072 km²
Peetz
Logan
0.190 mi²
0.491 km²
Pierce
Weld
0.816 mi²
2.114 km²
Pitkin
Gunnison
0.270 mi²
0.699 km²
Platteville
Weld
2.538 mi²
6.572 km²
Poncha Springs
Chaffee
2.715 mi²
7.031 km²
Pritchett
Baca
0.233 mi²
0.604 km²
Pueblo
Pueblo
54.427 mi²
140.964 km²
Ramah
El Paso
0.245 mi²
0.636 km²
Rangely
Rio Blanco
4.150 mi²
10.750 km²
Raymer
Weld
0.726 mi²
1.881 km²
Red Cliff
Eagle
0.235 mi²
0.608 km²
Rico
Dolores
0.757 mi²
1.960 km²
Ridgway
Ouray
2.335 mi²
6.048 km²
Rifle
Garfield
5.672 mi²
14.691 km²
Rockvale
Fremont
1.917 mi²
4.965 km²
Rocky Ford
Otero
1.675 mi²
4.338 km²
Romeo
Conejos
0.233 mi²
0.604 km²
Rye
Pueblo
0.095 mi²
0.246 km²
Saguache
Saguache
0.398 mi²
1.032 km²
Salida
Chaffee
2.574 mi²
6.666 km²
San Luis
Costilla
0.559 mi²
1.449 km²
Sanford
Conejos
1.467 mi²
3.800 km²
Sawpit
San Miguel
0.031 mi²
0.080 km²
Sedgwick
Sedgwick
0.334 mi²
0.865 km²
Seibert
Kit Carson
0.343 mi²
0.888 km²
Severance
Weld
6.249 mi²
16.186 km²
Sheridan Lake
Kiowa
0.317 mi²
0.821 km²
Sheridan
Arapahoe
2.283 mi²
5.914 km²
Silt
Garfield
1.465 mi²
3.795 km²
Silver Cliff
Custer
15.466 mi²
40.056 km²
Silver Plume
Clear Creek
0.261 mi²
0.676 km²
Silverthorne
Summit
4.031 mi²
10.439 km²
Silverton
San Juan
0.847 mi²
2.195 km²
Simla
Elbert
0.559 mi²
1.447 km²
Snowmass Village
Pitkin
25.821 mi²
66.875 km²
South Fork
Rio Grande
2.477 mi²
6.415 km²
Springfield
Baca
1.123 mi²
2.909 km²
Starkville
Las Animas
0.073 mi²
0.189 km²
Steamboat Springs
Routt
10.153 mi²
26.296 km²
Sterling
Logan
7.610 mi²
19.709 km²
Stratton
Kit Carson
0.505 mi²
1.308 km²
Sugar City
Crowley
0.385 mi²
0.997 km²
Superior
Boulder
Jefferson
4.000 mi²
10.360 km²
Swink
Otero
0.264 mi²
0.685 km²
Telluride
San Miguel
0.738 mi²
1.911 km²
Thornton
Adams
Weld
35.951 mi²
93.113 km²
Timnath
Larimer
4.845 mi²
12.549 km²
trinidad
Las Animas
9.276 mi²
24.024 km²
Two Buttes
Baca
0.248 mi²
0.642 km²
Vail
Eagle
4.687 mi²
12.138 km²
Victor
Teller
0.269 mi²
0.697 km²
Vilas
Baca
0.128 mi²
0.331 km²
Vona
Kit Carson
0.221 mi²
0.573 km²
Walden
Jackson
0.335 mi²
0.868 km²
Walsenburg
Huerfano
3.166 mi²
8.201 km²
Walsh
Baca
0.447 mi²
1.158 km²
Ward
Boulder
0.574 mi²
1.488 km²
Wellington
Larimer
3.372 mi²
8.733 km²
Westcliffe
Custer
1.237 mi²
3.203 km²
Westminster
Adams
Jefferson
33.850 mi²
87.670 km²
Wheat Ridge
Jefferson
9.547 mi²
24.727 km²
Wiggins
Morgan
1.330 mi²
3.444 km²
Wiley
Prowers
0.349 mi²
0.905 km²
Williamsburg
Fremont
3.568 mi²
9.240 km²
Windsor
Weld
Larimer
24.756 mi²
64.118 km²
Winter Park
Grand
16.501 mi²
42.738 km²
Woodland Park
Teller
6.532 mi²
16.917 km²
Wray
Yuma
3.393 mi²
8.788 km²
Yampa
Routt
0.241 mi²
0.624 km²
Yuma
Yuma
3.157 mi²
8.176 km²