How Many Countries Does Canada Border?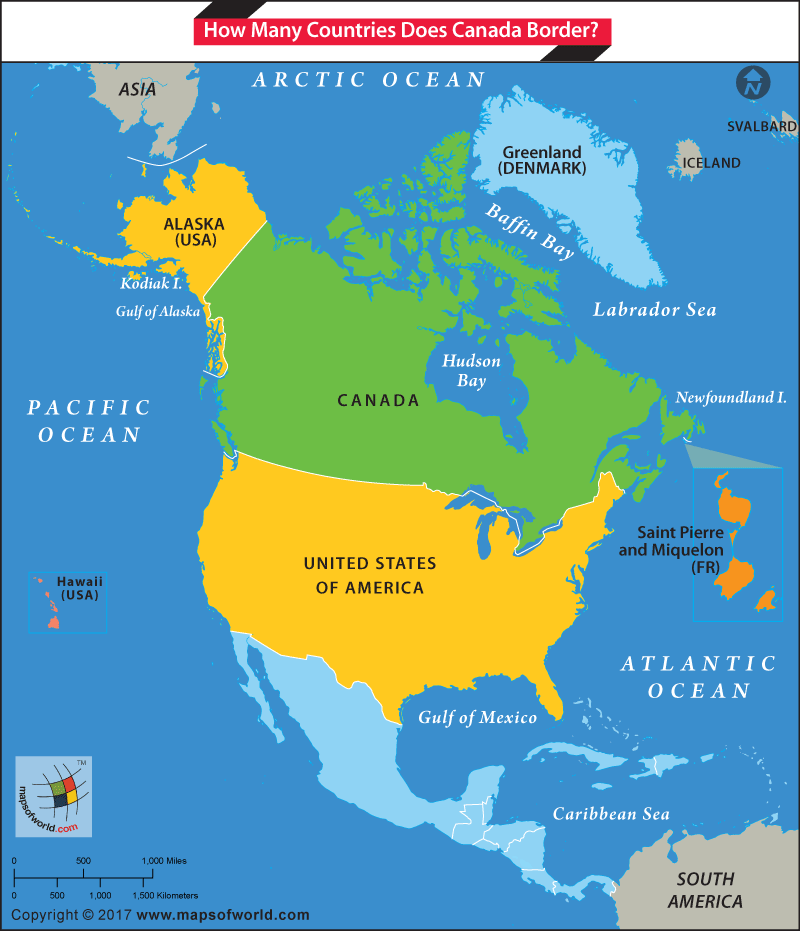 A few days ago we answered a question about countries with the greatest number of neighbors – China and Russia. Similarly, there are countries in the world which share no land borders with other nations. These are essentially island nations such as Australia and Sri Lanka. There are also nations such as Brunei, the Dominican Republic, Haiti, Lesotho, Portugal, Qatar, South Korea, Timor-Leste, and Vatican City, which share a land border with a single country. Canada too shares land borders with one single country – the United States of America. It, however, also shares maritime boundaries with Greenland (Denmark) and Saint Pierre and Miquelon (France).
The border between Canada and the United States is the longest border shared between two countries of the world. The Canada-US border is about 5,525 miles or 8,891 kilometers long. A great portion of this border – nearly 1,538 miles (2,475 kilometers) is shared by Canada (province of British Columbia and the Yukon federal territory) to the west with the US state of Alaska. Apart from these, there are 6 Canadian provinces and territories (Alberta, Manitoba, New Brunswick, Ontario, Quebec, and Saskatchewan) located along the border. There are twelve US states (apart from Alaska) along the border. These are Idaho, Maine, Michigan, Minnesota, Montana, New Hampshire, New York, North Dakota, Ohio, Pennsylvania, Vermont, and Washington.
These two North American nations also share maritime boundaries that cut across the Pacific, Atlantic and Arctic oceans and the Great Lakes. A great portion of the land border between the two nations runs through thickly forested regions, rugged mountains, and even water bodies such as the Saint Lawrence River.
The Canada-US border is not only the longest land border shared by two nations of the world, it is also the longest undefended border shared by any two nations of the world. The entire length of the US border with Canada is guarded and patrolled only by civilian law enforcement agencies.
The archipelago of Saint-Pierre and Miquelon is located some 15 miles off the Canadian coast to the south-east, across the Gulf of St. Lawrence. This is an overseas territory of France. In recent years there has been some talk (in Canada) of sharing this territory with France. If this comes to pass, Canada may have another land border, now shared with France. There has been some talk of taking over its administration altogether. Not many locals support this proposition, though.
Related Maps: