How Many Countries are There in the World?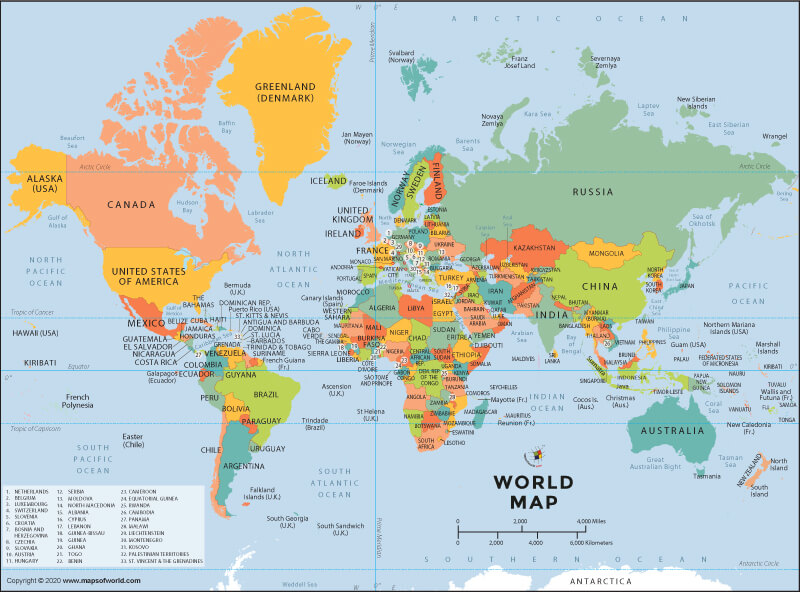 There are 195 countries in the world, including 193 UN member states and 02 non-member observer states (the Vatican [Holy See] and the State of Palestine).
Besides these 195 countries, many other countries or regions are either partially recognized by the UN, have disputes regarding their existence, or are dependent on other territories. That's why it is difficult to come to a definite number.
To reach a final number of countries in the world, the UN is a reliable source because there is a specific process of becoming its member. The process is again time-tested, proven, and democratic.
A country first has to apply for membership to be a part of the United Nations. The membership application will then be assessed and voted in. The 05 permanent member countries of the United Nations (USA, China, France, Russia, and the UK) have to approve a country to become a member.
There are many countries or regions that are not a part of the List of countries in the world, such as Hong Kong, The Cook Islands, Niue, Greenland, Puerto Rico, Macao, and many more.
Many political, historical, socio-economic, and geographical issues are coming in the way of full recognition of these countries. We'll discuss this in the last section of this blog.
 Let's first discuss the 195 countries in the world.
List of 195 Countries in the World (Alphabetically):
Afghanistan

Albania

Algeria

Andorra

Angola

Antigua and Barbuda

Argentina

Armenia

Australia

Austria

Azerbaijan

Bahamas

Bahrain

Bangladesh

Barbados

Belarus

Belgium

Belize

Benin

Bhutan

Bolivia

Bosnia and Herzegovina

Botswana

Brazil

Brunei

Bulgaria

Burkina Faso

Burundi

Cabo Verde

Cambodia

Cameroon

Canada

Central African Republic

Chad

Chile

China

Colombia

Comoros

Congo

Costa Rica

Côte d'Ivoire

Croatia

Cuba

Cyprus

Czechia (Czech Republic)

Denmark

Djibouti

Dominica

Dominican Republic

DR Congo

Ecuador

Egypt

El Salvador

Equatorial Guinea

Eritrea

Estonia

Eswatini

Ethiopia

Fiji

Finland

France

Gabon

The Gambia

Georgia

Germany

Ghana

Greece

Grenada

Guatemala

Guinea

Guinea-Bissau

Guyana

Haiti

Holy See (The Vatican)

Honduras

Hungary

Iceland

India

Indonesia

Iran

Iraq

Ireland

Israel

Italy

Jamaica

Japan

Jordan

Kazakhstan

Kenya

Kiribati

Kuwait

Kyrgyzstan

Laos

Latvia

Lebanon

Lesotho

Liberia

Libya

Liechtenstein

Lithuania

Luxembourg

Madagascar

Malawi

Malaysia

Maldives

Mali

Malta

Marshall Islands

Mauritania

Mauritius

Mexico

Micronesia

Moldova

Monaco

Mongolia

Montenegro

Morocco

Mozambique

Myanmar

Namibia

Nauru

Nepal

Netherlands

New Zealand

Nicaragua

Niger

Nigeria

North Korea

North Macedonia

Norway

Oman

Pakistan

Palau

Panama

Papua New Guinea

Paraguay

Peru

Philippines

Poland

Portugal

Qatar

Romania

Russia

Rwanda

Saint Kitts & Nevis

Saint Lucia

Samoa

San Marino

Sao Tome & Principe

Saudi Arabia

Senegal

Serbia

Seychelles

Sierra Leone

Singapore

Slovakia

Slovenia

Solomon Islands

Somalia

South Africa

South Korea

South Sudan

Spain

Sri Lanka

St. Vincent & Grenadines

State of Palestine

Sudan

Suriname

Sweden

Switzerland

Syria

Tajikistan

Tanzania

Thailand

Timor-Leste

Togo

Tonga

Trinidad and Tobago

Tunisia

Turkey

Turkmenistan

Tuvalu

Uganda

Ukraine

United Arab Emirates

United Kingdom

United States of America

Uruguay

Uzbekistan

Vanuatu

Venezuela

Vietnam

Yemen

Zambia

Zimbabwe
Countries as per Location
Out of the 195 countries in the world:
54 countries in Africa

48 countries in Asia

44 countries in Europe

23 countries in North America (including the Caribbean region)

12 countries in South America

14 countries in Oceania
Which Countries or Regions are not in the above List?
The countries and regions not in the above List of 195 countries are:
Taiwan
Its political status remains uncertain as it is no longer a member of the United Nations. Taiwan (officially known as the Republic of China) was replaced by the People's Republic of China (according to the United Nations General Assembly Resolution 2758) as "the only legitimate representative of China to the United Nations." The People's Republic of China claims Taiwan and refuses diplomatic relations with countries that recognize Taiwan as a country.
Kosovo
The Republic of Kosovo is a partially recognized state, located in Southeast Europe. It has territorial disputes with the Republic of Serbia. Kosovo unilaterally declared independence from Serbia on February 17, 2008. It went on to receive recognition by 112 United Nations member states as a sovereign state. However, since then, 15 UN members have withdrawn their diplomatic recognition. Serbia doesn't recognize Kosovo as a sovereign state. However, after 2013's Brussels Agreement, Serbia has accepted the institutions of Kosovo. Serbia continues to claim the Republic of Kosovo as the Autonomous Province of Kosovo and Metohija. However, it has now recognized the administration of the territory by Kosovo's elected government.
Greenland
It is the largest island in the world (located east of the Canadian Arctic Archipelago between the Arctic and Atlantic oceans). Though it is an autonomous territory within the Kingdom of Denmark, it has its own domestic affairs (including its parliamentary system of government).
The Cook Islands
It is a self-governing island country located in the South Pacific Ocean. It is in free association with New Zealand. Defense and foreign affairs of this self-governing island country are exercised by New Zealand, in consultation with the Cook Islands.
Niue
It is also a self-governing island country (just like the Cook Islands), located in the South Pacific Ocean. It is also in free association with New Zealand, which conducts most of the diplomatic relations on behalf of Niue.
Western Sahara
It is a disputed territory. Western Sahara was a former Spanish colony; however, in 1975, it was annexed by Morocco. The United Nations lists it as a non−decolonized territory. Thus Western Sahara is included in the UN List of Non-Self-Governing Territories. It has been a subject of the territorial dispute between Morocco and the region's indigenous Saharawi people, who are led by the Polisario Front.
34 Regions dependent on other Territories:
American Samoa (USA)

Anguilla (UK)

Aruba (Neth.)

Bermuda (UK)

British Virgin Islands (UK)

Cayman Islands (UK)

Channel Islands (UK)

Curacao (Neth.)

Faroe Islands (Denmark)

Falkland Islands (UK)

French Guiana (FR)

French Polynesia (FR)

Gibraltar (UK)

Guadeloupe (FR)

Guam (USA)

Hong Kong (China)

Isle of Man (UK)

Jan Mayen (Norway)

Macau (China)

Martinique (FR)

Mayotte (FR)

Montserrat (UK)

New Caledonia (FR)

Northern Mariana Islands (USA)

Puerto Rico (USA)

Réunion (FR)

Saint Barthelemy (FR)

Saint Helena (UK)

Saint Pierre and Miquelon (FR)

Sint Maarten (Neth.)

Tokelau (NZ)

Turks and Caicos (UK)

US Virgin Islands

Wallis & Futuna (FR)
Related Map: