How Many Time Zones does Canada have?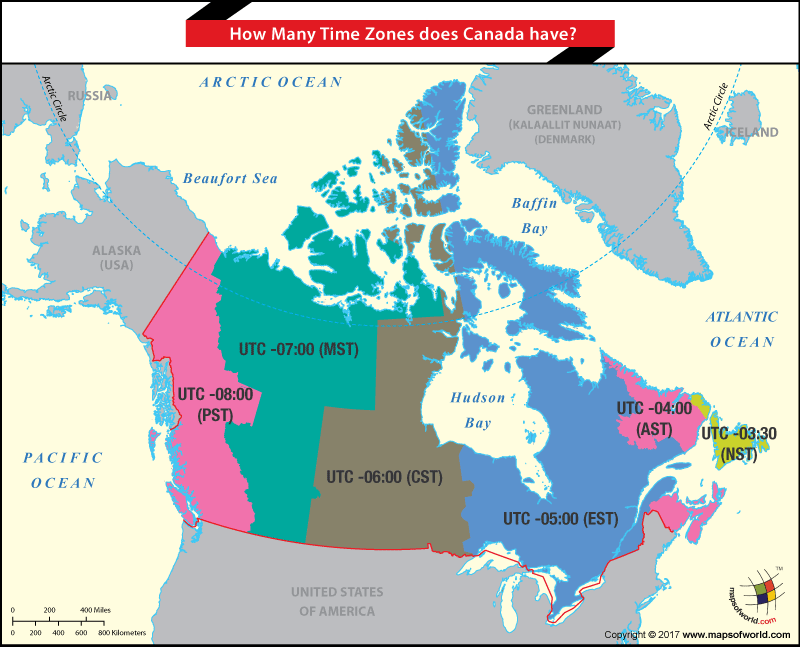 Canada has six Time-Zones. These six time-zones are Pacific Time zone (UTC−08:00), Mountain Time Zone (UTC−07:00), Central Time Zone (UTC−06:00), Eastern Time Zone (UTC−05:00), Atlantic Time Zone (UTC−04:00) and the Newfoundland Time Zone (UTC−03:30). Most of Canada uses the standard time. This begins from the first Sunday in November and ends on the second Sunday in March. During the rest of the year, the daylight-saving time is observed in some parts of the country.
Until the 1880s, there was no standard time zone and each municipality of Canada followed its own mean local solar time. However, the advent of the railways and every municipality having its own time, created problems for travelers. To overcome this problem, Canada was divided into six-time zones based on a proposal by Sir Sandford Fleming, who was a Scottish Canadian Railway engineer and inventor. Fleming also played a pivotal role in the creation of the time zone system of the world.
The Pacific Time Zone is observed entirely in the province of Yukon. It is also observed in most of British Columbia, and Tungsten in Northwest Territories.
Mountain Time Zone is observed in the province of Alberta. Far eastern regions of British Columbia and Tungsten in Northwest Territories are split between the Mountain Time Zone and the Pacific Time Zone. Mountain Time Zone, along with the Central Time Zone is also used in Kitikmeot Region in Nunavut and Lloydminster and vicinity in Saskatchewan.
Central Time Zone is fully used in the province of Manitoba. Some area of Nunavut and Manitoba also observe Central Time Zone. The Eastern Time Zone is observed in most of Quebec, Nunavut, and Ontario provinces.
Atlantic Time Zone is used in parts of Quebec, Labrador, except the southeastern tip, Nova Scotia, New Brunswick, and Prince Edward Island. The Newfoundland Time Zone is used in the entire Newfoundland and southeastern Labrador.
Related Maps: