Which Continent does Persia belong to?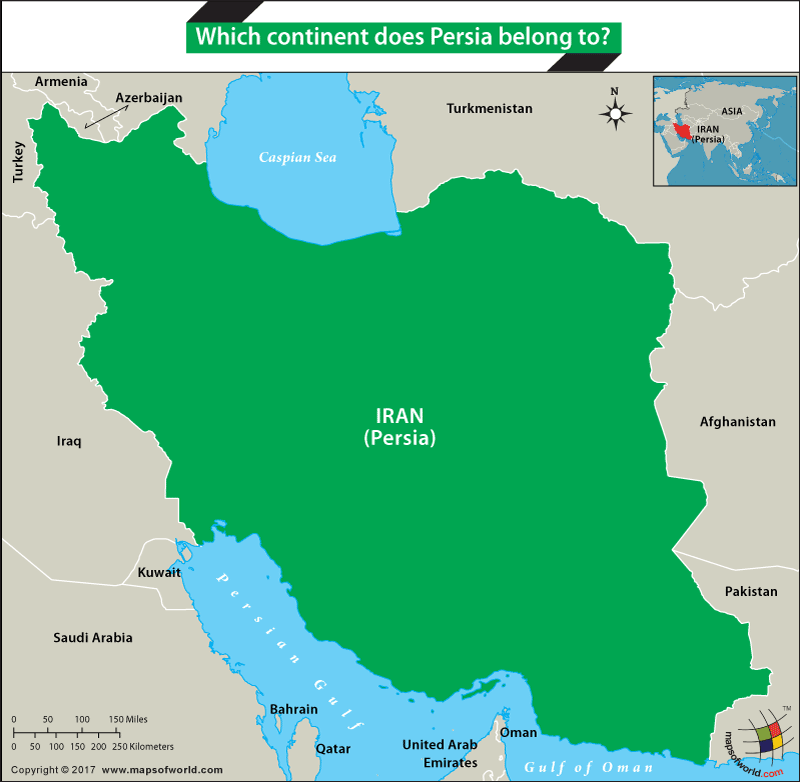 Where is Persia Located?
The name Persia, in modern usage, is a reference to the Islamic Republic of Iran. In fact, the names Persia and Iran are often used interchangeably. Iran is located in western Asia. It is bordered by Armenia, Azerbaijan, the Caspian Sea, and Turkmenistan to the north, Afghanistan, and Pakistan to the east, the Persian Gulf and the Gulf of Oman to the south, and Turkey and Iraq to the west.
Is Persia in Asia?
The name Persia may, however, not be used to refer to Iran in all contexts. The term Persia when used in a historic context may refer to the land ruled by any of the dynasties that built their empire around modern-day Iran. The first among these was the Achaemenid Empire which was built by Cyrus the Great (in approximately 500 BC). Based in southern Iran, Cyrus the Great built an empire that covered Medes, Lydia, and Babylon. In this context, Persia stretched into Eastern Europe as well. Subsequent Persian empires – the Parthian Empire, the Seleucid Empire, and the latter Sassanian Empire of the 7th century, thought centered on Iran, stretched across various parts of western and central Asia, eastern and southern Europe, and even northeastern Africa. Thus, to be able to determine which continent Persia belongs to, we will need to know the context in which the name is used. In contemporary usage, however, we may take it to mean the west Asian country of Iran.
The use of the name Persia to refer to Iran may have originated from the Greco-Roman usage of "Persian" for Pars or Fars, one of the 31 provinces of modern Iran. The indigenous people of Fars are the Persians but over time the term came to become a name for the people from all of Iran. This reference is incorrect since it ignores the presence of important ethnic groups such as the Kurds and the Turks in Iran.
The Iranians themselves do not use the name Persia to refer to their homeland. In 1935, after much deliberation, the country replaced the name Persia and adopted Iran as its name. Iran is the name that was used by the various rulers of the soil since the 1st century. It means land of the Aryans – an all-encompassing term that covers the various ethnic groups in the country.
Related Links:
Related Maps: