Is Canada part of the United Kingdom?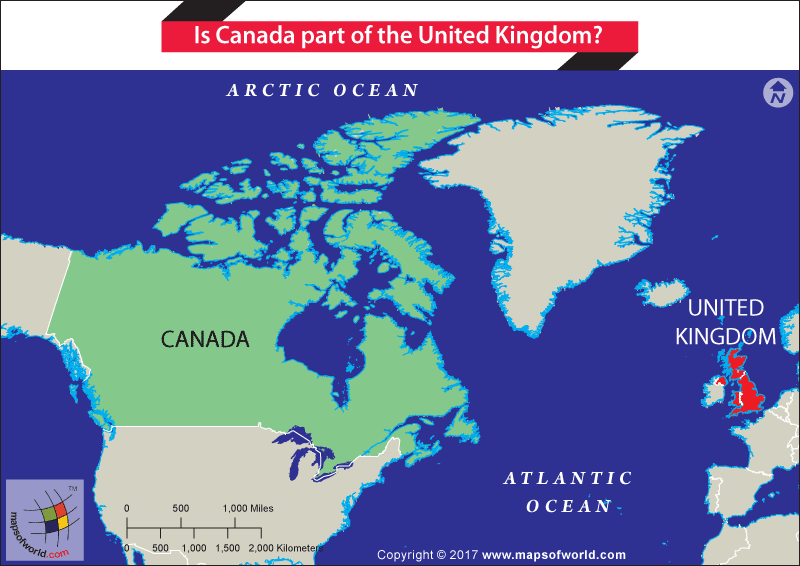 Is Canada part of the UK?
No. Canada is not part of the United Kingdom.
Canada is an independent country and part of the North American continent. Canada was a dominion of the United Kingdom till 1931, after which it attained full autonomy on 11 December with the signing of the Statute of Westminster, 1931.
The status of independence was not complete, since the Parliament of Canada requested the British Parliament to continue to exercise its powers to make amendments to the Canadian constitution.
It was only in 1982 that Canada initiated Patriation, a political process that led to the Parliament of the United Kingdom passing the Canada Act 1982, to grant full sovereignty to Canada.
On 17 April 1982, the Canada Constitution Act, 1982, was signed between Prime Minister of Canada Pierre Trudeau and Queen Elizabeth II, in her capacity as the Queen of Canada.
Parliamentary Democracy
Canada is a constitutional monarchy where the Queen of Canada (Elizabeth II) is sovereign. She is represented in Canada by a Governor-General.
The country follows a bicameral parliamentary democracy with the 105-member Senate representing the Upper House, and the 338-member House of Commons representing the Lower House. The government is headed by the Prime Minister who is chosen by the House of Commons.
Canada is a federal structure with unicameral legislatures, similar to the House of Commons, governing the provinces. The territories also have legislatures but with limited powers.
Canada's provinces and territories
Alberta (AB)
British Colombia (BC)
Manitoba (MB)
New Brunswick (NB)
Newfoundland and Labrador (NL)
Northwest Territories (NT)
Nova Scotia (NS)
Nunavut (NU)
Ontario (ON)
Prince Edward Island (PE)
Quebec (QC)
Saskatchewan (SK)
Yukon (YT)
About Canada
Canada is the 2nd largest country in the world after Russia. The country extends from the Atlantic Ocean on the east, to the Pacific Ocean on the west, and the Arctic Ocean to the north.
The total area is 3,855,103 sq miles. Of this, land comprises 3,511,023 sq miles and water 344,080 sq miles. With oceans on three sides, Canada has a long coastline of 125,567 miles and shares a land border with the United States that extends 5,526 miles, including a 1,539-mile border with Alaska.
As per Canada Census 2016, the population is 35,151,728, an increase of 5% or 1,675,040, over the last Census figures in 2011.
Canada remains attractive for migrants as the country offers an excellent quality of life and opportunity.
Related Links:
Related Maps and Articles: