What is the capital of Madagascar?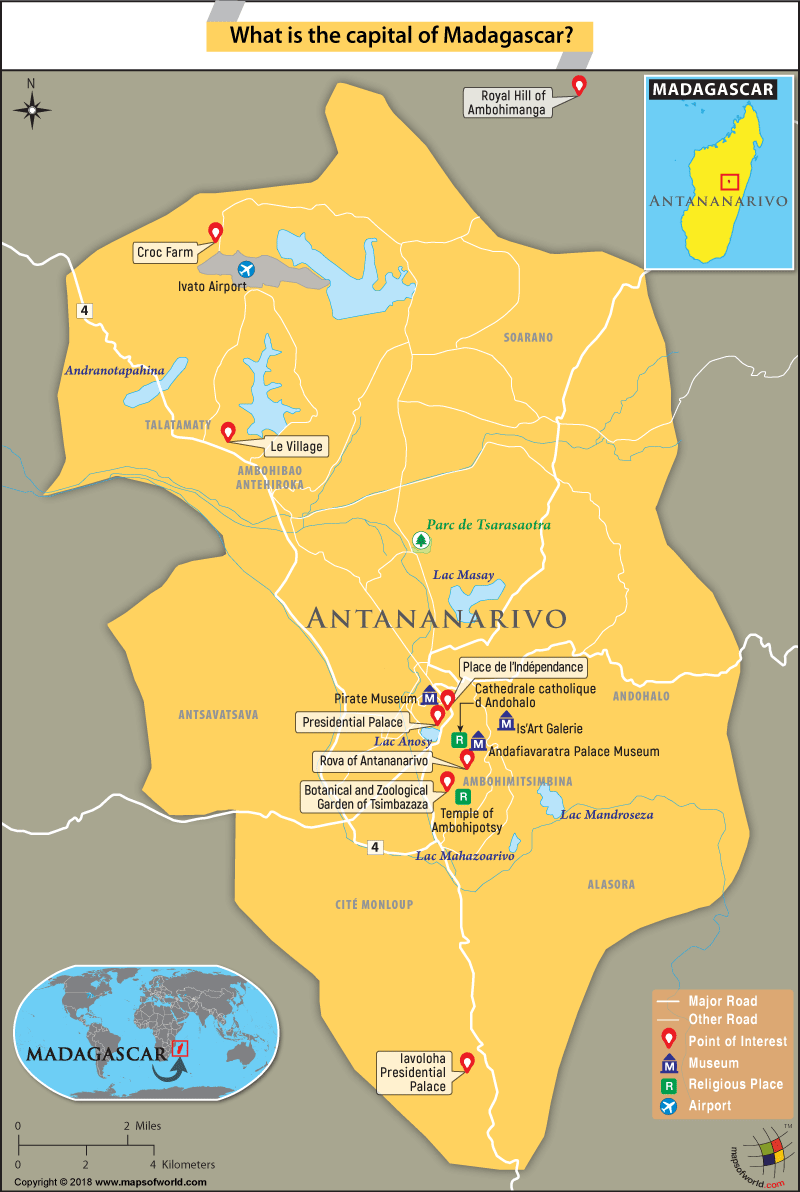 The Republic of Madagascar is an island country located in the Indian Ocean, off the southeastern coast of Africa. Antananarivo, (called Tananarive in French), is the national capital and the largest city in Madagascar. Antananarivo is commonly referred to by the colonial name for the city – Tana. Antananarivo is located in the main island of Madagascar (the fourth largest island in the world). The city stands on a hill and has an average altitude of 4,199 feet above sea level. The cool climate, the cultural vibrancy, and the colonial legacy make the capital of Madagascar a popular tourist center.
Tana or Antananarivo is a great city to explore. The stately colonial buildings and the colorful markets lend the city its charm. The Rova of Antananarivo palace complex – the administrative center of the Merina kingdom, the Andafiavaratra Palace museum, the Botanical Garden and Zoo, the beautiful Lake Anosy, the Cathedrale Catholique d Andohalo, the Parc de Tsarasaotra Wildlife reserve, the Pirate Museum, and the Archeology Museum are among the top attractions of Antananarivo city. The wonderful cafes and gourmet restaurants and the street markets draw visitors.
The city of Antananarivo is believed to have been founded in the early 17th Century by Merina king Andrianjaka, who established his capital here. It remained the capital of the Hova (members of a Malagasy clan) kings. It is now a unique mix of ancient Malagasy, French, and British architecture. Antananarivo is now a major commercial and trade hub and the economic nerve center of Madagascar.
Related Maps: