Map of Kentucky Cities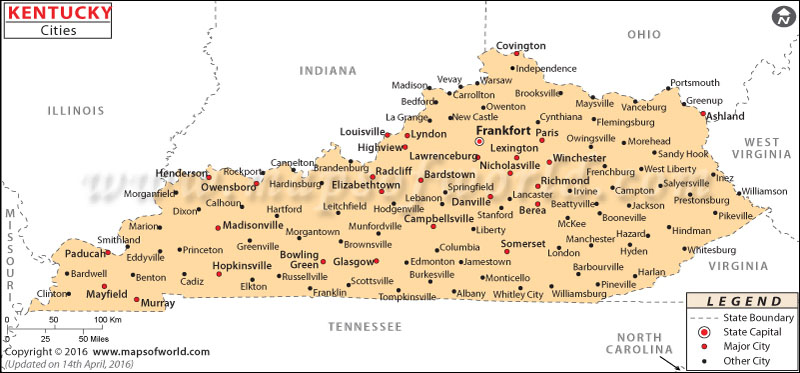 Map of Kentucky Cities
Learn all about the different cities in Kentucky with the Map of Kentucky Cities. This map allows you to explore the various cities of the state of Kentucky, making it easier to locate the cities on the map.
Cities in Kentucky
Kentucky has lots of cities, and each one is special and different. Some cities are really busy with lots of things happening, while others are peaceful and found in the countryside. Kentucky's cities have something for everyone. Whether you like the action of the city, the calm of nature, or the interesting things in town, Kentucky's cities have something unique. No matter if you love being outside, learning about the past, or enjoying art and fun, you'll discover your favorite thing in Kentucky's cities.
How Many Cities are in Kentucky
Kentucky has a lot of cities – exactly 425 of them. Each city adds its own special taste to the mix of experiences you can have in the state. Whether you want the busy feeling of a big city or the comfy feeling of a small town, Kentucky's cities give you lots of options. The Map of Kentucky Cities helps you find and explore each one easily. This way, you can enjoy your adventure in Kentucky to the fullest.
Largest Cities in Kentucky
Kentucky's biggest cities are like busy centers full of chances to have fun and explore. Some of the most important cities in Kentucky are Louisville, Lexington, Bowling Green, Owensboro, Covington, and Frankfort. These cities have cool things to see, special places, and lots of cultural stuff. People who live there and people visiting can enjoy many things and have a great time.
Safest Cities in Kentucky
Some cities in Kentucky really care about keeping people safe and happy. They do things to make sure everyone feels protected and welcome. Places like Fort Thomas, Prospect, Wilmore, Villa Hills, and Taylor Mill are known for being very safe. These cities work hard to have very little crime and make sure everyone feels really secure. This makes these cities great places for families and people to feel good.
Best Cities to Live in Kentucky
Kentucky has really great cities that give you a wonderful life with lots of good things. Some of the best places to live in Kentucky are Lexington, Louisville, Bowling Green, Owensboro, and Elizabethtown. These cities have good jobs, great schools, and fun things to do. Whether you love art, sports, or just want a cozy community, these cities have something special for everyone. They make sure you have a happy and enjoyable life.
Feel free to explore the Map of Kentucky Cities, you can find all the cities marked on the map.
List of Cities in Kentucky

City Name
County
Land Area
Louisville
Jefferson
342.2 sq mi (886.3 km²)
Lexington
Fayette
285.6 sq mi (739.7 km²)
Bowling Green
Warren
38.1 sq mi (98.7 km²)
Owensboro
Daviess
20.4 sq mi (52.8 km²)
Covington
Kenton
13.8 sq mi (35.7 km²)
Hopkins ville
Christian
30.8 sq mi (79.8 km²)
Richmond
Madison
23.1 sq mi (59.8 km²)
Florence
Boone
10.4 sq mi (26.9 km²)
Georgetown
Scott
16.0 sq mi (41.4 km²)
Elizabethtown
Hardin
25.8 sq mi (66.8 km²)
Nicholasville
Jessamine
13.1 sq mi (33.9 km²)
Henderson
Henderson
17.6 sq mi (45.6 km²)
Jeffersontown
Jefferson
10.0 sq mi (25.9 km²)
Frankfort
Franklin
14.6 sq mi (37.8 km²)
Paducah
McCracken
20.0 sq mi (51.8 km²)
Independence
Kenton
17.7 sq mi (45.8 km²)
Radcliff
Hardin
12.4 sq mi (32.1 km²)
Ashland
Boyd
10.8 sq mi (28.0 km²)
Madisonville
Hopkins
18.7 sq mi (48.4 km²)
Winchester
Clark
7.9 sq mi (20.5 km²)
Erlanger
Kenton
8.5 sq mi (22.0 km²)
Murray
Calloway
11.3 sq mi (29.3 km²)
St. Matthews
Jefferson
4.3 sq mi (11.1 km²)
Fort Thomas
Campbell
5.7 sq mi (14.8 km²)
Danville
Boyle
15.9 sq mi (41.2 km²)
Burlington
Boone
8.8 sq mi (22.8 km²)
Newport
Campbell
3.0 sq mi (7.8 km²)
Shively
Jefferson
4.6 sq mi (11.9 km²)
Shelbyville
Shelby
8.2 sq mi (21.2 km²)
Glasgow
Barren
15.5 sq mi (40.1 km²)
Berea
Madison
16.1 sq mi (41.7 km²)
Bardstown
Nelson
10.6 sq mi (27.5 km²)
Shepherdsville
Bullitt
10.0 sq mi (25.9 km²)
Somerset
Pulaski
11.3 sq mi (29.3 km²)
Lyndon
Jefferson
3.6 sq mi (9.3 km²)
Lawrenceburg
Anderson
5.9 sq mi (15.3 km²)
Middlesborough
Bell
7.6 sq mi (19.7 km²)
Mayfield
Graves
10.4 sq mi (26.9 km²)
London
Laurel
10.3 sq mi (26.7 km²)
Mount Washington
Bullitt
6.1 sq mi (15.8 km²)
Campbellsville
Taylor
5.1 sq mi (13.2 km²)
Maysville
Mason
21.4 sq mi (55.4 km²)
Edgewood
Kenton
4.2 sq mi (10.9 km²)
Versailles
Woodford
4.4 sq mi (11.4 km²)
Paris
Bourbon
6.0 sq mi (15.5 km²)
Alexandria
Campbell
7.0 sq mi (18.1 km²)
Elsmere
Kenton
2.6 sq mi (6.7 km²)
Franklin
Simpson
11.1 sq mi (28.7 km²)
Harrodsburg
Mercer
6.9 sq mi (17.9 km²)
Fort Mitchell
Kenton
3.2 sq mi (8.3 km²)
Hillview
Bullitt
3.3 sq mi (8.5 km²)
La Grange
Oldham
7.1 sq mi (18.4 km²)
Oak Grove
Christian
10.8 sq mi (28.0 km²)
Villa Hills
Kenton
4.4 sq mi (11.4 km²)
Flatwoods
Greenup
3.3 sq mi (8.5 km²)
Corbin
Whitley Knox
7.9 sq mi (20.5 km²)
Middletown
Jefferson
5.1 sq mi (13.2 km²)
Russellville
Logan
10.8 sq mi (28.0 km²)
Highland Heights
Campbell
2.6 sq mi (6.7 km²)
Pikeville
Pike
21.1 sq mi (54.6 km²)
Mount Sterling
Montgomery
4.4 sq mi (11.4 km²)
Morehead
Rowan
9.5 sq mi (24.6 km²)
Leitchfield
Grayson
10.9 sq mi (28.2 km²)
Taylor Mill
Kenton
6.3 sq mi (16.3 km²)
Cynthiana
Harrison
4.1 sq mi (10.6 km²)
Princeton
Caldwell
9.0 sq mi (23.3 km²)
Monticello
Wayne
5.9 sq mi (15.3 km²)
Central City
Muhlenberg
5.2 sq mi (13.5 km²)
Bellevue
Campbell
0.9 sq mi (2.3 km²)
Cold Spring
Campbell
4.7 sq mi (12.2 km²)
Fort Wright
Kenton
3.4 sq mi (8.8 km²)
Lebanon
Marion
5.3 sq mi (13.7 km²)
Douglass Hills
Jefferson
1.3 sq mi (3.4 km²)
Union
Boone
3.3 sq mi (8.5 km²)
Dayton
Campbell
1.9 sq mi (4.9 km²)
Williamsburg
Whitley
4.9 sq mi (12.7 km²)
Prospect
Jefferson Oldham
3.9 sq mi (10.1 km²)
Crestwood
Oldham
4.1 sq mi (10.6 km²)
Vine Grove
Hardin
4.7 sq mi (12.2 km²)
Hazard
Perry
5.3 sq mi (13.7 km²)
Columbia
Adair
4.9 sq mi (12.7 km²)
Ludlow
Kenton
1.2 sq mi (3.1 km²)
Benton
Marshall
4.2 sq mi (10.9 km²)
Greenville
Muhlenberg
4.7 sq mi (12.2 km²)
Scottsville
Allen
5.7 sq mi (14.8 km²)
Grayson
Carter
2.9 sq mi (7.5 km²)
Hurstbourne
Jefferson
1.8 sq mi (4.7 km²)
Carrollton
Carroll
2.0 sq mi (5.2 km²)
Williamstown
Grant Pendleton
17.0 sq mi (44.0 km²)
Crittenden
Grant
3.4 sq mi (8.8 km²)
Southgate
Campbell
1.4 sq mi (3.6 km²)
Crescent Springs
Kenton
1.5 sq mi (3.9 km²)
Wilmore
Jessamine
0.9 sq mi (2.3 km²)
Walton
Boone Kenton
4.3 sq mi (11.1 km²)
Stanford
Lincoln
3.1 sq mi (8.0 km²)
Paintsville
Johnson
2.8 sq mi (7.3 km²)
Lancaster
Garrard
1.9 sq mi (4.9 km²)
West Liberty
Morgan
4.4 sq mi (11.4 km²)
Beaver Dam
Ohio
2.6 sq mi (6.7 km²)
Russell
Greenup
3.0 sq mi (7.8 km²)
Morganfield
Union
3.0 sq mi (7.8 km²)
Prestonsburg
Floyd
12.9 sq mi (33.4 km²)
Hodgenville
Larue
2.1 sq mi (5.4 km²)
Providence
Webster
6.1 sq mi (15.8 km²)
Barbourville
Knox
2.7 sq mi (7.0 km²)
Crestview Hills
Kenton
1.9 sq mi (4.9 km²)
Marion
Crittenden
3.4 sq mi (8.8 km²)
Wilder
Campbell
3.8 sq mi (9.8 km²)
Park Hills
Kenton
0.8 sq mi (2.1 km²)
Graymoor-Devondale
Jefferson
0.8 sq mi (2.1 km²)
Indian Hills
Jefferson
2.0 sq mi (5.2 km²)
Dawson Springs
Hopkins Caldwell
3.8 sq mi (9.8 km²)
Stanton
Powell
2.1 sq mi (5.4 km²)
Irvine
Estill
1.5 sq mi (3.9 km²)
Hartford
Ohio
2.7 sq mi (7.0 km²)
Lakeside Park
Kenton
0.8 sq mi (2.1 km²)
Flemingsburg
Fleming
2.0 sq mi (5.2 km²)
Brandenburg
Meade
3.9 sq mi (10.1 km²)
Calvert City
Marshall
16.7 sq mi (43.3 km²)
Cadiz
trigg
2.9 sq mi (7.5 km²)
Eddyville
Lyon
7.8 sq mi (20.2 km²)
Springfield
Washington
3.7 sq mi (9.6 km²)
Eminence
Henry
2.9 sq mi (7.5 km²)
Simpsonville
Shelby
2.2 sq mi (5.7 km²)
Mount Vernon
Rockcastle
1.7 sq mi (4.4 km²)
Louisa
Lawrence
1.6 sq mi (4.1 km²)
Fulton
Fulton
3.0 sq mi (7.8 km²)
Russell Springs
Russell
4.5 sq mi (11.7 km²)
Raceland
Greenup
2.5 sq mi (6.5 km²)
Tompkinsville
Monroe
3.6 sq mi (9.3 km²)
Hickman
Fulton
3.6 sq mi (9.3 km²)
Morgantown
Butler
2.4 sq mi (6.2 km²)
Windy Hills
Jefferson
0.9 sq mi (2.3 km²)
Anchorage
Jefferson
3.0 sq mi (7.8 km²)
Hardinsburg
Breckinridge
3.5 sq mi (9.1 km²)
Horse Cave
Hart
2.7 sq mi (7.0 km²)
Jackson
Breathitt
2.7 sq mi (7.0 km²)
Junction City
Boyle
1.8 sq mi (4.7 km²)
Cave City
Barren
4.4 sq mi (11.4 km²)
Cumberland
Harlan
3.1 sq mi (8.0 km²)
Jenkins
Letcher
7.7 sq mi (19.9 km²)
Dry Ridge
4.6 sq mi (11.9 km²)
Falmouth
Pendleton
1.1 sq mi (2.8 km²)
Liberty
Casey
1.9 sq mi (4.9 km²)
Greensburg
Green
2.1 sq mi (5.4 km²)
Whitesburg
Letcher
3.2 sq mi (8.3 km²)
Elkton
Todd
2.1 sq mi (5.4 km²)
Albany
Clinton
2.3 sq mi (6.0 km²)
Pioneer Village
Bullitt
0.7 sq mi (1.8 km²)
Carlisle
Nicholas
1.3 sq mi (3.4 km²)
Sturgis
Union
1.6 sq mi (4.1 km²)
Salyersville
Magoffin
2.5 sq mi (6.5 km²)
Catlettsburg
Boyd
1.6 sq mi (4.1 km²)
Lebanon Junction
Bullitt
5.7 sq mi (14.8 km²)
Hurstbourne Acres
Jefferson
0.3 sq mi (0.8 km²)
Jamestown
Russell
3.0 sq mi (7.8 km²)
Harlan
Harlan
1.3 sq mi (3.4 km²)
Pineville
Bell
1.7 sq mi (4.4 km²)
Coal Run Village
Pike
8.6 sq mi (22.3 km²)
Lewisport
Hancock
1.0 sq mi (2.6 km²)
Midway
Woodford
1.1 sq mi (2.8 km²)
Munfordville
Hart
2.3 sq mi (6.0 km²)
Warsaw
Gallatin
0.7 sq mi (1.8 km²)
Worthington
Greenup
1.2 sq mi (3.1 km²)
Sebree
Webster
2.9 sq mi (7.5 km²)
Olive Hill
Carter
1.8 sq mi (4.7 km²)
Edmonton
Metcalfe
3.4 sq mi (8.8 km²)
Orchard Grass Hills
Oldham
0.4 sq mi (1.0 km²)
Owingsville
Bath
2.4 sq mi (6.2 km²)
Burkesville
Cumberland
2.6 sq mi (6.7 km²)
Vanceburg
Lewis
1.3 sq mi (3.4 km²)
Jeffersonville
Montgomery
2.5 sq mi (6.5 km²)
Audubon Park
Jefferson
0.3 sq mi (0.8 km²)
Loyall
Harlan
1.4 sq mi (3.6 km²)
Pewee Valley
Oldham
2.0 sq mi (5.2 km²)
St. Regis Park
Jefferson
0.4 sq mi (1.0 km²)
Worthington Hills
Jefferson
0.3 sq mi (0.8 km²)
Guthrie
Todd
1.7 sq mi (4.4 km²)
Earlington
Hopkins
2.5 sq mi (6.5 km²)
Clinton
Hickman
1.6 sq mi (4.1 km²)
Livermore
McLean
1.0 sq mi (2.6 km²)
Auburn
Logan
1.6 sq mi (4.1 km²)
Owenton
Owen
1.1 sq mi (2.8 km²)
Beechwood Village
Jefferson
0.3 sq mi (0.8 km²)
Beattyville
Lee
2.1 sq mi (5.4 km²)
Manchester
Clay
1.5 sq mi (3.9 km²)
West Buechel
Jefferson
0.6 sq mi (1.6 km²)
Barbourmeade
Jefferson
0.4 sq mi (1.0 km²)
Brodhead
Rockcastle
1.8 sq mi (4.7 km²)
Nortonville
Hopkins
1.1 sq mi (2.8 km²)
Augusta
Bracken
1.6 sq mi (4.1 km²)
Greenup
Greenup
1.2 sq mi (3.1 km²)
Clay
Webster
0.9 sq mi (2.3 km²)
Irvington
Breckinridge
0.9 sq mi (2.3 km²)
Whitley City
McCreary
2.3 sq mi (6.0 km²)
Cloverport
Breckinridge
1.5 sq mi (3.9 km²)
South Shore
Greenup
0.9 sq mi (2.3 km²)
Silver Grove
Campbell
1.7 sq mi (4.4 km²)
Coldstream
Jefferson
0.2 sq mi (0.5 km²)
Hebron Estates
Bullitt
0.6 sq mi (1.6 km²)
Camargo
Montgomery
2.2 sq mi (5.7 km²)
Clay City
Powell
0.9 sq mi (2.3 km²)
Heritage Creek
Jefferson
0.4 sq mi (1.0 km²)
Ryland Heights
Kenton
5.3 sq mi (13.7 km²)
Northfield
Jefferson
0.5 sq mi (1.3 km²)
La Center
Ballard
0.6 sq mi (1.6 km²)
Uniontown
Union
0.9 sq mi (2.3 km²)