Kentucky City Maps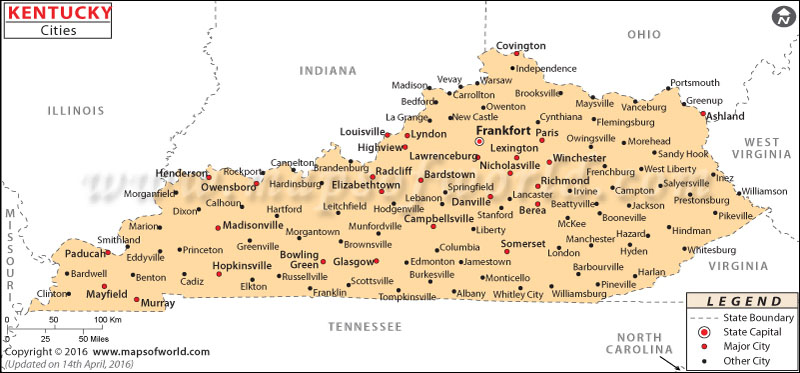 Kentucky is the 37th largest state in the United States by area and the 26th most populous. Kentucky is home to 419 active cities. Frankfort, the capital of Kentucky, is the fourth-smallest state capital in the country. Louisville is the largest city by population, with a population of around 597,337 people. Lexington is the second largest city, with a population of 295,803. The other cities in Kentucky with populations above 50,000 people are Bowling Green and Owensboro. Meanwhile, South Park View is the least populated city in the state and, according to the 2010 census, had a population of just seven.
Map of Kentucky Cities
Shaped by the Mississippi River in the West and fenced by Cumberland mountains in the East, Kentucky offers a soul-stirring travel experience. The birthplace of Abraham Lincoln, 'The Bluegrass State,' is known for thoroughbred horses, bourbon, bluegrass music, offbeat landmarks, and natural diversity.
Nicknamed 'Derby City,' Louisville is the largest city in Kentucky. Many buildings in the historically exuberant district of Old Louisville depict the Victorian-era styles of Romanesque, Beaux-Arts, and Italianate architecture. Known as the "Horse Capital of the World," Lexington houses Kentucky Horse Park, The Red Mile, Rupp Arena, and the University of Kentucky.
Frankfort's state capital lies in the Bluegrass region of central Kentucky. Bowling Green, Owensboro, Covington, and Hopkinsville are other cities in Kentucky worth visiting.
For Maps of Kentucky towns, you can visit Maptrove.com
Transportation in Kentucky
Cincinnati/Northern Kentucky International Airport (CVG) and Louisville International Airport (SDF) serve the state. The Cardinal and City of New Orleans are two Amtrak trains passing through the state. Interstate Highways (I-24, I-64, I-65, I-71, and I-75) and U.S. Highways (US 23, US 25, US 27, US 62, and US 127) traverse major cities in Kentucky.
List of Cities in Kentucky
| City Name | County | Land Area |
| --- | --- | --- |
| Louisville | Jefferson | 342.2 sq mi (886.3 km²) |
| Lexington | Fayette | 285.6 sq mi (739.7 km²) |
| Bowling Green | Warren | 38.1 sq mi (98.7 km²) |
| Owensboro | Daviess | 20.4 sq mi (52.8 km²) |
| Covington | Kenton | 13.8 sq mi (35.7 km²) |
| Hopkins ville | Christian | 30.8 sq mi (79.8 km²) |
| Richmond | Madison | 23.1 sq mi (59.8 km²) |
| Florence | Boone | 10.4 sq mi (26.9 km²) |
| Georgetown | Scott | 16.0 sq mi (41.4 km²) |
| Elizabethtown | Hardin | 25.8 sq mi (66.8 km²) |
| Nicholasville | Jessamine | 13.1 sq mi (33.9 km²) |
| Henderson | Henderson | 17.6 sq mi (45.6 km²) |
| Jeffersontown | Jefferson | 10.0 sq mi (25.9 km²) |
| Frankfort | Franklin | 14.6 sq mi (37.8 km²) |
| Paducah | McCracken | 20.0 sq mi (51.8 km²) |
| Independence | Kenton | 17.7 sq mi (45.8 km²) |
| Radcliff | Hardin | 12.4 sq mi (32.1 km²) |
| Ashland | Boyd | 10.8 sq mi (28.0 km²) |
| Madisonville | Hopkins | 18.7 sq mi (48.4 km²) |
| Winchester | Clark | 7.9 sq mi (20.5 km²) |
| Erlanger | Kenton | 8.5 sq mi (22.0 km²) |
| Murray | Calloway | 11.3 sq mi (29.3 km²) |
| St. Matthews | Jefferson | 4.3 sq mi (11.1 km²) |
| Fort Thomas | Campbell | 5.7 sq mi (14.8 km²) |
| Danville | Boyle | 15.9 sq mi (41.2 km²) |
| Burlington | Boone | 8.8 sq mi (22.8 km²) |
| Newport | Campbell | 3.0 sq mi (7.8 km²) |
| Shively | Jefferson | 4.6 sq mi (11.9 km²) |
| Shelbyville | Shelby | 8.2 sq mi (21.2 km²) |
| Glasgow | Barren | 15.5 sq mi (40.1 km²) |
| Berea | Madison | 16.1 sq mi (41.7 km²) |
| Bardstown | Nelson | 10.6 sq mi (27.5 km²) |
| Shepherdsville | Bullitt | 10.0 sq mi (25.9 km²) |
| Somerset | Pulaski | 11.3 sq mi (29.3 km²) |
| Lyndon | Jefferson | 3.6 sq mi (9.3 km²) |
| Lawrenceburg | Anderson | 5.9 sq mi (15.3 km²) |
| Middlesborough | Bell | 7.6 sq mi (19.7 km²) |
| Mayfield | Graves | 10.4 sq mi (26.9 km²) |
| London | Laurel | 10.3 sq mi (26.7 km²) |
| Mount Washington | Bullitt | 6.1 sq mi (15.8 km²) |
| Campbellsville | Taylor | 5.1 sq mi (13.2 km²) |
| Maysville | Mason | 21.4 sq mi (55.4 km²) |
| Edgewood | Kenton | 4.2 sq mi (10.9 km²) |
| Versailles | Woodford | 4.4 sq mi (11.4 km²) |
| Paris | Bourbon | 6.0 sq mi (15.5 km²) |
| Alexandria | Campbell | 7.0 sq mi (18.1 km²) |
| Elsmere | Kenton | 2.6 sq mi (6.7 km²) |
| Franklin | Simpson | 11.1 sq mi (28.7 km²) |
| Harrodsburg | Mercer | 6.9 sq mi (17.9 km²) |
| Fort Mitchell | Kenton | 3.2 sq mi (8.3 km²) |
| Hillview | Bullitt | 3.3 sq mi (8.5 km²) |
| La Grange | Oldham | 7.1 sq mi (18.4 km²) |
| Oak Grove | Christian | 10.8 sq mi (28.0 km²) |
| Villa Hills | Kenton | 4.4 sq mi (11.4 km²) |
| Flatwoods | Greenup | 3.3 sq mi (8.5 km²) |
| Corbin | Whitley Knox | 7.9 sq mi (20.5 km²) |
| Middletown | Jefferson | 5.1 sq mi (13.2 km²) |
| Russellville | Logan | 10.8 sq mi (28.0 km²) |
| Highland Heights | Campbell | 2.6 sq mi (6.7 km²) |
| Pikeville | Pike | 21.1 sq mi (54.6 km²) |
| Mount Sterling | Montgomery | 4.4 sq mi (11.4 km²) |
| Morehead | Rowan | 9.5 sq mi (24.6 km²) |
| Leitchfield | Grayson | 10.9 sq mi (28.2 km²) |
| Taylor Mill | Kenton | 6.3 sq mi (16.3 km²) |
| Cynthiana | Harrison | 4.1 sq mi (10.6 km²) |
| Princeton | Caldwell | 9.0 sq mi (23.3 km²) |
| Monticello | Wayne | 5.9 sq mi (15.3 km²) |
| Central City | Muhlenberg | 5.2 sq mi (13.5 km²) |
| Bellevue | Campbell | 0.9 sq mi (2.3 km²) |
| Cold Spring | Campbell | 4.7 sq mi (12.2 km²) |
| Fort Wright | Kenton | 3.4 sq mi (8.8 km²) |
| Lebanon | Marion | 5.3 sq mi (13.7 km²) |
| Douglass Hills | Jefferson | 1.3 sq mi (3.4 km²) |
| Union | Boone | 3.3 sq mi (8.5 km²) |
| Dayton | Campbell | 1.9 sq mi (4.9 km²) |
| Williamsburg | Whitley | 4.9 sq mi (12.7 km²) |
| Prospect | Jefferson Oldham | 3.9 sq mi (10.1 km²) |
| Crestwood | Oldham | 4.1 sq mi (10.6 km²) |
| Vine Grove | Hardin | 4.7 sq mi (12.2 km²) |
| Hazard | Perry | 5.3 sq mi (13.7 km²) |
| Columbia | Adair | 4.9 sq mi (12.7 km²) |
| Ludlow | Kenton | 1.2 sq mi (3.1 km²) |
| Benton | Marshall | 4.2 sq mi (10.9 km²) |
| Greenville | Muhlenberg | 4.7 sq mi (12.2 km²) |
| Scottsville | Allen | 5.7 sq mi (14.8 km²) |
| Grayson | Carter | 2.9 sq mi (7.5 km²) |
| Hurstbourne | Jefferson | 1.8 sq mi (4.7 km²) |
| Carrollton | Carroll | 2.0 sq mi (5.2 km²) |
| Williamstown | Grant Pendleton | 17.0 sq mi (44.0 km²) |
| Crittenden | Grant | 3.4 sq mi (8.8 km²) |
| Southgate | Campbell | 1.4 sq mi (3.6 km²) |
| Crescent Springs | Kenton | 1.5 sq mi (3.9 km²) |
| Wilmore | Jessamine | 0.9 sq mi (2.3 km²) |
| Walton | Boone Kenton | 4.3 sq mi (11.1 km²) |
| Stanford | Lincoln | 3.1 sq mi (8.0 km²) |
| Paintsville | Johnson | 2.8 sq mi (7.3 km²) |
| Lancaster | Garrard | 1.9 sq mi (4.9 km²) |
| West Liberty | Morgan | 4.4 sq mi (11.4 km²) |
| Beaver Dam | Ohio | 2.6 sq mi (6.7 km²) |
| Russell | Greenup | 3.0 sq mi (7.8 km²) |
| Morganfield | Union | 3.0 sq mi (7.8 km²) |
| Prestonsburg | Floyd | 12.9 sq mi (33.4 km²) |
| Hodgenville | Larue | 2.1 sq mi (5.4 km²) |
| Providence | Webster | 6.1 sq mi (15.8 km²) |
| Barbourville | Knox | 2.7 sq mi (7.0 km²) |
| Crestview Hills | Kenton | 1.9 sq mi (4.9 km²) |
| Marion | Crittenden | 3.4 sq mi (8.8 km²) |
| Wilder | Campbell | 3.8 sq mi (9.8 km²) |
| Park Hills | Kenton | 0.8 sq mi (2.1 km²) |
| Graymoor-Devondale | Jefferson | 0.8 sq mi (2.1 km²) |
| Indian Hills | Jefferson | 2.0 sq mi (5.2 km²) |
| Dawson Springs | Hopkins Caldwell | 3.8 sq mi (9.8 km²) |
| Stanton | Powell | 2.1 sq mi (5.4 km²) |
| Irvine | Estill | 1.5 sq mi (3.9 km²) |
| Hartford | Ohio | 2.7 sq mi (7.0 km²) |
| Lakeside Park | Kenton | 0.8 sq mi (2.1 km²) |
| Flemingsburg | Fleming | 2.0 sq mi (5.2 km²) |
| Brandenburg | Meade | 3.9 sq mi (10.1 km²) |
| Calvert City | Marshall | 16.7 sq mi (43.3 km²) |
| Cadiz | trigg | 2.9 sq mi (7.5 km²) |
| Eddyville | Lyon | 7.8 sq mi (20.2 km²) |
| Springfield | Washington | 3.7 sq mi (9.6 km²) |
| Eminence | Henry | 2.9 sq mi (7.5 km²) |
| Simpsonville | Shelby | 2.2 sq mi (5.7 km²) |
| Mount Vernon | Rockcastle | 1.7 sq mi (4.4 km²) |
| Louisa | Lawrence | 1.6 sq mi (4.1 km²) |
| Fulton | Fulton | 3.0 sq mi (7.8 km²) |
| Russell Springs | Russell | 4.5 sq mi (11.7 km²) |
| Raceland | Greenup | 2.5 sq mi (6.5 km²) |
| Tompkinsville | Monroe | 3.6 sq mi (9.3 km²) |
| Hickman | Fulton | 3.6 sq mi (9.3 km²) |
| Morgantown | Butler | 2.4 sq mi (6.2 km²) |
| Windy Hills | Jefferson | 0.9 sq mi (2.3 km²) |
| Anchorage | Jefferson | 3.0 sq mi (7.8 km²) |
| Hardinsburg | Breckinridge | 3.5 sq mi (9.1 km²) |
| Horse Cave | Hart | 2.7 sq mi (7.0 km²) |
| Jackson | Breathitt | 2.7 sq mi (7.0 km²) |
| Junction City | Boyle | 1.8 sq mi (4.7 km²) |
| Cave City | Barren | 4.4 sq mi (11.4 km²) |
| Cumberland | Harlan | 3.1 sq mi (8.0 km²) |
| Jenkins | Letcher | 7.7 sq mi (19.9 km²) |
| Dry Ridge | Grant | 4.6 sq mi (11.9 km²) |
| Falmouth | Pendleton | 1.1 sq mi (2.8 km²) |
| Liberty | Casey | 1.9 sq mi (4.9 km²) |
| Greensburg | Green | 2.1 sq mi (5.4 km²) |
| Whitesburg | Letcher | 3.2 sq mi (8.3 km²) |
| Elkton | Todd | 2.1 sq mi (5.4 km²) |
| Albany | Clinton | 2.3 sq mi (6.0 km²) |
| Pioneer Village | Bullitt | 0.7 sq mi (1.8 km²) |
| Carlisle | Nicholas | 1.3 sq mi (3.4 km²) |
| Sturgis | Union | 1.6 sq mi (4.1 km²) |
| Salyersville | Magoffin | 2.5 sq mi (6.5 km²) |
| Catlettsburg | Boyd | 1.6 sq mi (4.1 km²) |
| Lebanon Junction | Bullitt | 5.7 sq mi (14.8 km²) |
| Hurstbourne Acres | Jefferson | 0.3 sq mi (0.8 km²) |
| Jamestown | Russell | 3.0 sq mi (7.8 km²) |
| Harlan | Harlan | 1.3 sq mi (3.4 km²) |
| Pineville | Bell | 1.7 sq mi (4.4 km²) |
| Coal Run Village | Pike | 8.6 sq mi (22.3 km²) |
| Lewisport | Hancock | 1.0 sq mi (2.6 km²) |
| Midway | Woodford | 1.1 sq mi (2.8 km²) |
| Munfordville | Hart | 2.3 sq mi (6.0 km²) |
| Warsaw | Gallatin | 0.7 sq mi (1.8 km²) |
| Worthington | Greenup | 1.2 sq mi (3.1 km²) |
| Sebree | Webster | 2.9 sq mi (7.5 km²) |
| Olive Hill | Carter | 1.8 sq mi (4.7 km²) |
| Edmonton | Metcalfe | 3.4 sq mi (8.8 km²) |
| Orchard Grass Hills | Oldham | 0.4 sq mi (1.0 km²) |
| Owingsville | Bath | 2.4 sq mi (6.2 km²) |
| Burkesville | Cumberland | 2.6 sq mi (6.7 km²) |
| Vanceburg | Lewis | 1.3 sq mi (3.4 km²) |
| Jeffersonville | Montgomery | 2.5 sq mi (6.5 km²) |
| Audubon Park | Jefferson | 0.3 sq mi (0.8 km²) |
| Loyall | Harlan | 1.4 sq mi (3.6 km²) |
| Pewee Valley | Oldham | 2.0 sq mi (5.2 km²) |
| St. Regis Park | Jefferson | 0.4 sq mi (1.0 km²) |
| Worthington Hills | Jefferson | 0.3 sq mi (0.8 km²) |
| Guthrie | Todd | 1.7 sq mi (4.4 km²) |
| Earlington | Hopkins | 2.5 sq mi (6.5 km²) |
| Clinton | Hickman | 1.6 sq mi (4.1 km²) |
| Livermore | McLean | 1.0 sq mi (2.6 km²) |
| Auburn | Logan | 1.6 sq mi (4.1 km²) |
| Owenton | Owen | 1.1 sq mi (2.8 km²) |
| Beechwood Village | Jefferson | 0.3 sq mi (0.8 km²) |
| Beattyville | Lee | 2.1 sq mi (5.4 km²) |
| Manchester | Clay | 1.5 sq mi (3.9 km²) |
| West Buechel | Jefferson | 0.6 sq mi (1.6 km²) |
| Barbourmeade | Jefferson | 0.4 sq mi (1.0 km²) |
| Brodhead | Rockcastle | 1.8 sq mi (4.7 km²) |
| Nortonville | Hopkins | 1.1 sq mi (2.8 km²) |
| Augusta | Bracken | 1.6 sq mi (4.1 km²) |
| Greenup | Greenup | 1.2 sq mi (3.1 km²) |
| Clay | Webster | 0.9 sq mi (2.3 km²) |
| Irvington | Breckinridge | 0.9 sq mi (2.3 km²) |
| Whitley City | McCreary | 2.3 sq mi (6.0 km²) |
| Cloverport | Breckinridge | 1.5 sq mi (3.9 km²) |
| South Shore | Greenup | 0.9 sq mi (2.3 km²) |
| Silver Grove | Campbell | 1.7 sq mi (4.4 km²) |
| Coldstream | Jefferson | 0.2 sq mi (0.5 km²) |
| Hebron Estates | Bullitt | 0.6 sq mi (1.6 km²) |
| Camargo | Montgomery | 2.2 sq mi (5.7 km²) |
| Clay City | Powell | 0.9 sq mi (2.3 km²) |
| Heritage Creek | Jefferson | 0.4 sq mi (1.0 km²) |
| Ryland Heights | Kenton | 5.3 sq mi (13.7 km²) |
| Northfield | Jefferson | 0.5 sq mi (1.3 km²) |
| La Center | Ballard | 0.6 sq mi (1.6 km²) |
| Uniontown | Union | 0.9 sq mi (2.3 km²) |